The Lembeh Frogfish is an interesting cryptic fish which represented a species that was has been known and beloved to underwater photographers for decades. While this species was first described as Antennarius subteres way back in 1909, and placed in the new genus Nudiantennarius in 1957, our understanding of the frogfish group of marine fish has grown substantially in the half century since.
Also known as the ocellated frogfish, since Lembeh Indonesia is a very popular dive spot for underwater photographers to capture images of cryptic marine life, Nudiantennarius subteres is perhaps one of the most photographed in the world. Armed with a cornucopia of images and much more information about this fish, a modern redescription helps to illuminate what is special about this particular frogfish.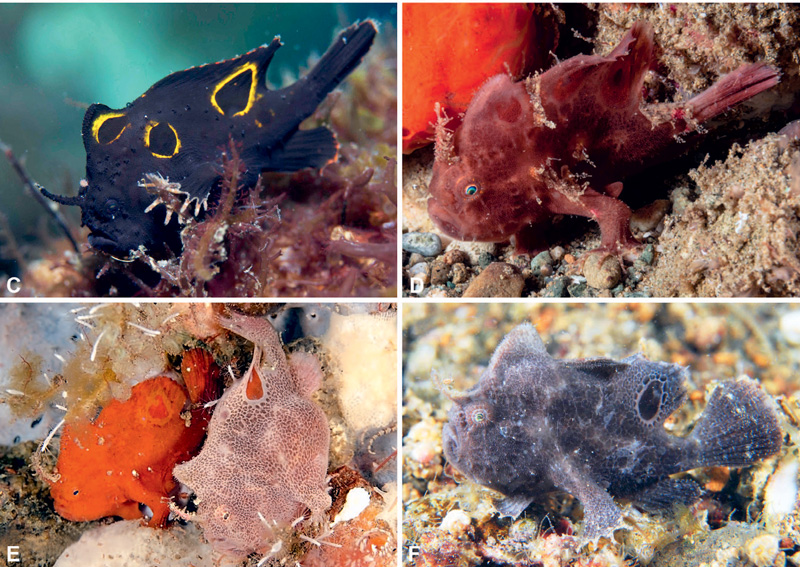 What is particularly unique about the Lembeh Frogfish is that unlike its warty counterparts, it has much smoother skin with fewer tiny spines in its skin, giving the body a somewhat naked appearance. This smoother appearance might prevent it from looking like coral, coralline algae or rock, it sure does help look more like the sponges in the muck diving habitats this species prefers.
While uber common around Lembeh, Indonesia, Nudiantennarius subteres was first described from specimens in Luzon, Philippines but it is also known from as far as Bali. The refinement ofNudiantennarius subteres was done by Theodore Pietsch and Rachel Arnold in the November issue of the Copeia journal.