Are you ready for this!?! WWC is going to rock it all weekend long on Reef2Reef.com with 2 days of corals discounted up to 70% off or more, over 200 $5 frags, raffle prizes, and tons of fun! There will be 2500+ frags, etc offered up during the sale, which is their most ever! The discounts are going to be CRAZY!
Sale starts Saturday, May 18th at 10 A.M. EST and goes on for 14 hours straight until Midnight EST. The sale will resume again on the 19th for 14 more hours beginning at 10 A.M. and will then end at Midnight EST that Sunday night.
RULES
They will post "what you see is what you get" (WYSIWYG) corals in this thread with a title, picture, the sale price and a link to purchase it from WWC's site. You can only go through the link posted here to buy the coral. You must complete checkout first to win the coral. The same item can be in multiple carts simultaneously, first one to finish checkout wins it and takes it out of stock.
ATTENTION – REWARDS POINTS CANNOT BE REDEEMED DURING LIVE SALES. You can however, earn points for every purchase made during the live sale. They will enable rewards spending Tuesday morning.
All orders are final, no refunds on livestock. No exchanges, credits, promotional gift cards, coupons, or extra discounts can be used towards any items in the sale. Their 10-Day Guarantee applies to all corals WWC ships.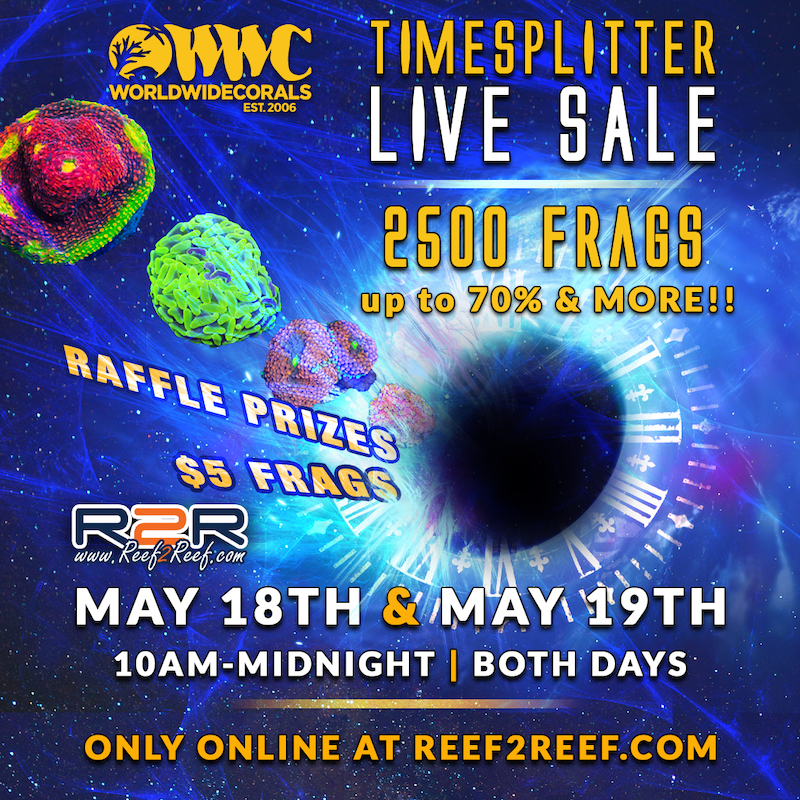 Communication will be through thread posts and Private Messages only. [Over 2500+ corals total will be posted at random times throughout the whole 28 hours. Expect a batch of 4 – 10 new corals posted every few minutes. You snooze, you lose! It can sometimes be difficult to win items at peak times. Just have patience it is a long sale and items are easier to win as time goes on, please stay positive.
NO FREE SHIPPING unless combined with a non Live Sale/Aftersale and/or eBay order that already has shipping paid for. You must purchase a shipping unit for your Live Sale / After Sale purchases.
*Please include your full name from your order in any PM or post communications regarding orders. They will not be able to identify you from your R2R screen name.
$5 FRAGS
WWC will post corals priced at $5 each throughout the sale! You can buy a maximum of 2, and you must buy at least 1 non-$5 coral for each $5 coral you purchase.
RAFFLE PRIZES
Ecotech Marine – S2 Vectra – Valued $299
AI Prime Refugium Light – Valued $209.99
2 Sets will be drawn – Reef Code and 64 Oz Mag Liquid and 64 Oz Replenish – Valued $100
WWC High End Zoa Duo (WWC Purple Monster and WWC AOI) – Valued $300
WWC Monti Pack (WWC Sunfire Grafted Cap, WWC OG Grafted Monti and WWC Mystic Sunset) – Valued $280
There are 2 ways to enter the drawings. Make a purchase during the sale, or make one post in this thread every hour during the sale hours (10 A.M. – Midnight both days 18 – 19th). If you do both you get 2 entries. You can only win one prize.
Drawing results will be posted within 1 week of sale. Those who make a post every hour PLEASE DO NOT say "check in" just make at least one meaningful post every hour during sale hours. You must PM WWC after the sale if you believe you qualified so they can verify your posts and include you in the giveaway.
SHIPPING
Shipping during the sale and after will be $29.99 ($19.99 for FL residents).
Purchase your shipping unit as soon as possible to secure your delivery date as shipment numbers are limited by day.
You only need to pay for one shipping unit. Just choose "Live Sale Shipping/Local Pickup" at checkout so you are not charged for again for shipping.
No piggyback shipping with other people. WWC will not hold any orders except for weather/FedEx related issues.
In-store pickups will be allowed by appointment only (call or email) before 5/24, on or after Friday you may come in without appointment. Just choose "Live Sale Shipping/Local Pickup" at checkout.
Out of state shipments will be delivered Wednesday 5/22, Thursday 5/23, Friday 5/24 and Wednesday 5/29 (FedEx will not deliver on Tuesday 5/28 due to Memorial Day).
Florida shipments will be delivered on Thursday 5/23 and Friday 5/24.
Click below to purchase priority overnight shipping.
Choose which day you would like to receive your order. WWC will refund your shipping unit if you do not purchase anything during the sale.
WWC hopes you can join them for an incredible time on Reef2Reef.com this weekend! With 2500 frags going up for sale your head will be spinning from so many spectacular corals! The discussions will be entertaining and the discounts absolutely insane! So don't miss out on the best time you can have online!