The Coral Spawning Lab has successfully spawned and raised the Elegance Coral, Catalaphyllia jardinei, for the first time in captivity. The corals spawned in October 2021 at the UK-based lab and approximately 100 juveniles have survived this far, to 11 months old. This marks yet another captive breeding success for the groundbreaking ex-situ coral conservation team headed up by Dr. Jamie Craggs of the Horniman Museum London, who mimic actual lunar phases and wild spawning events to induce spawning in captivity. 
Elegance corals are popular aquarium subjects, the majority of which are wild collected from Australia, but in January this year imports of Catalaphyllia jardinei were prevented from all of Australia into the entire European Union and its 27 member countries, and from the Great Barrier Reef (Queensland,) into the UK. Elegance corals can be successfully fragged and divided with a coral saw and we have a three-year-old specimen that not only survived the fragging process – it is now four times larger. The ability to be able to actually produce "Cats" successfully has enormous implications for both wild, in-situ conservation and commercially, however, in providing fully captive-bred, genetically diverse, captive-raised Catalayphyllia for the aquarium trade. From what we've seen from the parent specimens, they are classic, green Australian Catalaphylia jardinei – the most common type, but the potential is there now to breed some of the much more desirable Elegance corals with yellow flesh and blue tips, or with yellow tips, or even to cross them for the ornamental aquarium trade.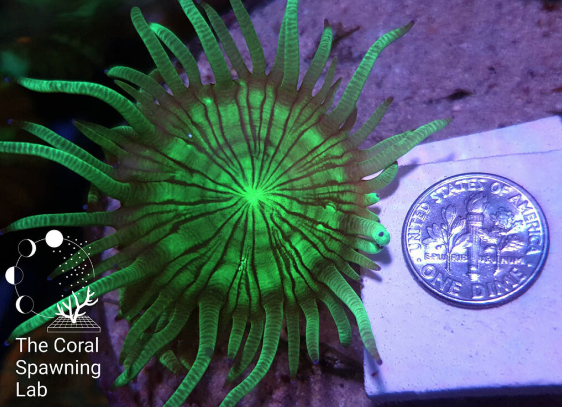 The reef aquarium hobby is moving at pace, and every year we make huge advances in coral husbandry and home propagation techniques, but the work that Dr. Jamie Craggs, Vincent Thomas, and Professor Mike Sweet are making with the captive reproduction of corals are possibly the single most important advance in reefing right now. We have long maintained that reefers are actually the solution to coral conservation, not the problem, and the success that the Coral Spawning Lab is having in actually breeding corals (not fragging,) but using the same widely available equipment, corals and husbandry practices means that our hobby (and corals as a whole,) have a very bright future. Dr. Craggs actually spawned these corals at home, in a system that later became the basis for the now commercially available, turn-key coral spawning labs. Just look at how far the marine aquarium hobby has come.