Mark Martin @ Blue Zoo Aquatics broke the news to Reef Builders this afternoon – Captive Bred Pinnatus Batfish (Platax pinnatus) have hit the US.  The first retail offering of a 2″ tall captive bred Pinnatus Batfish is happening now!
Pinnatus Batfish juveniles,  while stunning, have a pretty dismal track record in captivity and often make it onto the "best avoid" or "expert only" lists.  Thankfully, we can assume that being captive bred, these new imports should prove more resilient than wild caught counterparts.  Additionally, these may be the smallest Pinnatus Batfish you've ever seen, maximizing the time you can enjoy its stunning juvenile coloration. It goes without mentioning that this is a fish that will outgrow most home aquariums (to a size of well over 18 inches).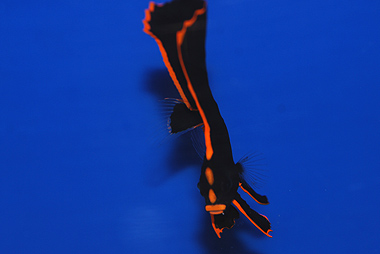 They are being captive bred in Indonesia, we assume primarily for the foodfish market.  Thus, this species joins the list of aquacultured fish that we can enjoy due to other people's appetites (such as captive bred Panther Groupers and Maculosus Angelfish).  In the long run, you may need to plan a nice dinner of your pet (might we suggest a soy-ginger marinade wrapped in Banana leaves?) but in the meantime, you can enjoy this stunning species relatively guilt-free.  Getting hungry just thinking about it.