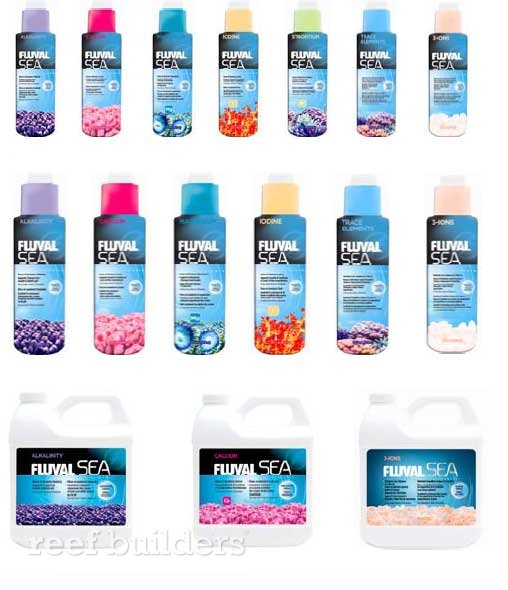 Fluval's new push into saltwater aquatics, is not stopping with just Sea marine salt. They have unveiled a new line of additives for saltwater aquariums.  Fluval's Sea additives cover the gamut with trace elements including Alkalinity, Calcium, Magnesium, Iodine, Strontium, as well as a "all-in-one" additive called "Trace Elements". Sea Trace Elements has "11 key trace elements in naturally-found proportions present in seawater." Those ingrdients in Trace Elements break down to: EDTA, Sodium Ferric EDTA, Zinc Sulfate, Nickel Chloride, Sodium Molybdate, Copper Sulfate, Vanadium Oxysulfate, Manganese Sulfate, Cobalt Sulfate, Sodium Selenite, Chromium Chloride and Beryllium Sulfate.
Another interesting additivite is their Fluval Sea "3-ions" product. "Fluval Sea 3-Ions Supplement is a concentrated blend of 3 essential ions –calcium, magnesium and strontium – at proportions that maintain optimal ionic balance." Fluval states  that all of their new Sea 3 Ions additivtes use USP grade (Pharmaceutical Grade) Calcium Chloride, which as most of us know is best for your reef. While the hardcore reef builders might make fun of these additives, casual reefers will be sure to pick these products up at their local fish store. All of the additives come in two sizes 237ml, and 473ml. There is a much larger 2L size available for additives like Fluval Sea "3 Ions" and calcium for example.  Expect to see these landing in store shelves very soon. You can read a little more PR blurb below the break.
Fluval Sea Marine Supplements have been formulated with ultra pure ingredients and address all the necessary basic elements that are regularly depleted in marine aquariums, especially reef aquariums. The basic requirement of regular water changing is irreplaceable when properly maintaining any marine aquarium. Marine aquariums these days can house a very large variable mix of corals, many of which will deplete specific compounds faster than others. Fluval Sea meets all their needs. Regular small supplementation using the full line of these highly effective supplements ensures that vertebrates and invertebrates alike enjoy ocean-like conditions in a captive environment. It's important to remember that unlike the endless replenishment of micro and macro elements in the sea, the aquarium is a fixed limited environment, where these elements are metabolized or consumed they need to be replaced.