Over my many years in the marine aquarium hobby, I've constructed various and sundry coral frag racks out of egg crate light diffuser, ranging from simple one-tiered platforms to somewhat more complex stair-step configurations. It's relatively easy to do; I just use a pair of diagonal cutters to snip out sections of the egg crate in the desired geometric shapes to form the platforms and supports of the rack. Then I join the components together with either cyanoacrylate glue or plastic zip ties.
While cheap and easy to make, these racks do have their downsides. For one, they're not especially attractive, so they can detract from a system's aesthetics depending on whether they're placed in a display or dedicated frag tank. Also, the egg crate material tends to become brittle and prone to breakage with prolonged exposure to salt water, so there's a limited lifespan to the rack. Cleaning egg crate can be a real pain as well, with all those little square-shaped cells presenting a nice growing surface for algae.
With the goal of overcoming these challenges while offering reef hobbyists a unique way to organize and showcase their coral frags, our friends at Innovative Marine have designed the sleek, multi-tiered, customizable AUQA Gadget ReefRack, which will be available online and at your local fish store beginning September 21.
The ReefRack, offered in 32-, 50-, and 102-hole models, assembles in seconds with no tools (a plus for those of us who are "all thumbs"). Expandable shelves slide out and lock in place easily (with a frag plug) to accommodate more frags as needed. Constructed with cell-cast acrylic, the ReefRack is laser-cut to ensure a proper fit for plugs up to 15mm in diameter. Also, a flow-through channel in the base allows water to pass through freely and helps prevent detritus accumulation.
Not only is each model adjustable, but ReefRacks are also designed to be combined—by interlocking, stacking, placing them back to back, etc.—so if you're growing out more frags than one rack can hold or you find you have more fragging space available, you can mix and match any or all of the models to create your own design. If bottom space is at a premium, the ReefRack 32 is equipped with magnets so it can be mounted to the glass higher up in the tank.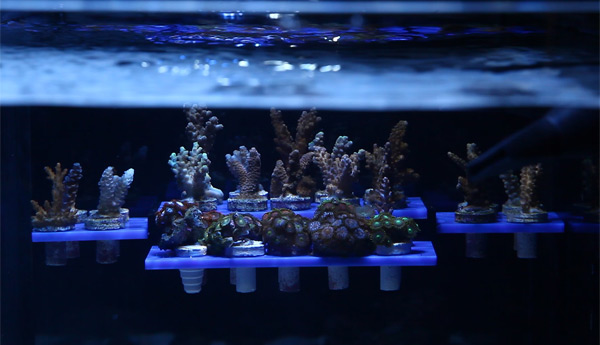 Here are the features of each ReefRack model:
ReefRack 32
Cell-cast-acrylic construction
4 tiers
Sliding, removable shelves
32 holes for frags
Magnetic strength up to half-inch glass
Fits most coral frag plugs up to 15mm in diameter
ReefRack 50
Cell-cast-acrylic construction
5 tiers
Sliding, removable shelves
50 holes for frags
Laser-cut flow ports
Fits most coral frag plugs up to 15mm in diameter
ReefRack 102
Cell-cast-acrylic construction
5 tiers
Sliding, removable shelves
102 holes for frags
Laser-cut flow ports
Fits most coral frag plugs up to 15mm in diameter
To learn more about the ReefRack and see a few examples of the many possible combinations you can create, check out the video below: