Not to make you feel old, but ten years ago was when Nintendo brought out the Wii, and Pluto was still a planet. Yeah I can't believe they did that to Mickey Mouse's dog either. The first one billionth song was purchased on iTunes and my beloved Steelers beat the Seahawks to win yet another Super Bowl.
And why pray tell am I bringing up what was happening ten years ago? Well mainly to demonstrate how much things had advanced in the ten short years since 1996, and also to give a baseline for the year in which some feel the hobby really started to explode in both popularity and success.
It was the year before digital photography and LED lighting completely took over the hobby and dramatically changed everything. There were no daily blogs and high end monitoring was still in the development phase. MACNA was in Houston and had approximately 600 visitors and Reef Central was pretty much the only online service to go to for all questions reef related. In a similar vein to the article from last week, corals and what was happening with them, were still the main force that helped drive the hobby's popularity.
For the hobby it was the year that T-5 lighting was being tried successfully in a number of tanks and rudimentary forms of tank automation were finally making some headway. It was also the year that Tetra merged or bought up Kent Marine, Aquarium Systems and Marineland, marking the biggest merger in the aquarium industry in years.
Looking back, this merger should have made it clear that the hobby was poised to grow and that some companies saw that there was money to be made in it. The hobby becoming capable of producing profits was a double edged sword however, in that on the one hand it meant that some things became more expensive, while on the other it meant that more new products and innovation would also follow this money.
In this regard, 2006 saw the rise of the "limited edition" or named corals. Love him or hate him, Steve Tyree saw that there was a desire by hobbyists to have more and more colorful corals, but for the most part many of these were in limited supply. So Steve started Reeffarmers and started making some of these corals available, albeit at first in a limited quantity, and for higher prices than most of us had been used to.
Regardless of your feelings for Steve and what this started, in 2006 some of his corals were the most desired in the hobby. One of these was the Blue Matrix Acropora. This deep blue coral with silver or light blue highlights depending on the lighting, was one of the first all blue corals along with the Oregon tort, at that time.
Because of this, these corals commanded a then unheard of price of over $100 per frag. This may not seem like much now, but back then most frags sold for between $15-$25 for 3/4 to 1 inch frags. So needless to say in addition to causing quite a fuss in the hobby it also started some hobbyists to start in the fragging businesses.
Steve was not limited in his endeavor in just propagating Acropora, as he also found and propagated some other relatively unknown corals then as well. One of the more beautiful of these was the pink Cyphastrea decadia that was not only one of the first pastel pink corals in the hobby, but it also had red polyps that differed from the main body. For these reasons, and also because at that time very few of us even knew what a Cyphastrea was, this was a much desired coral in 2006.
But Steve was not done yet, that year he also made what was up to that point a rather common type of coral become one of the most desired and this was his "Sunset Montipora". Up until he found it and grew it out, most Montiporas in the hobby were digitate or flat and for the most part just one color.
This coral was impressive in that its bright orange body was highlighted with its fluorescent green polyps. Needless to say this coral was an eye catcher wherever it was seen and started many of us to start searching for new comparable Montiporas.
Seeing how impressive this Montipora could be, reinvigorated many of us to get back into keeping Montiporas and letting them grow to large sizes. Even though some of us had been keeping Montiporas off and on for years, most of us really didn't appreciate how impressive these corals could look as due to their space requirements, they grew like weeds, we got rid of them before they took up too much space in our tanks.
Fortunately one of the things that was also occurring in 2006 is that more and more of us were keeping bigger and bigger tanks, and as a result we could finally grow these corals out so that we could enjoy their beauty even if they weren't as impressive as the sunset. In my own case my 1200-gallon tank had finally grown in and was full of large heads of many sps corals including the Montiporas.
In a similar vein, because many of us could not or would go for $100 for a 1" frag of an Acropora, the shift was on from keeping Acropora that only had some color on the tips to corals that were colored throughout. However, nice Staghorn Acroporas, such as in the picture, were still much in demand as they were the perfect coral to fill the back of our larger and larger tanks.
One of the other group of Acroporas that were also some of the favorites in 2006 were the Acropora millepora. These corals offered the best of both worlds as under the right conditions they would fill up a lot of space in our larger and larger tanks, but unlike many corals available they came in a wide variety of colors.
Green, blue, purple, red, orange and pink along with combinations of these colors was one of the main reasons these corals were so desired. In addition, under the right conditions these corals often showed the greatest polyp extension of any corals we kept.
The last Acropora that was one of the desired corals of that time is the so-called Paletta pink tip. (Please note I did not name this coral) This bright green coral only shows its bright pink tips when it is growing rapidly at which time the pink tips can get to be over 2" in length.
During that time I probably gave away, traded or sold several hundred frags of this coral throughout the US. It is still one of my favorites, even though I have killed my colony off a couple of times for stupid reasons, I am happy and fortunate that I distributed it so widely.
While I am sure that my love for Acroporas has shown through, 2006 is also the year that some other corals started to gain larger footholds in the hobby. The first of these are the Mussids. These LPS corals started to attract more and more attention in 2006 as more varieties with brighter colors became available.
Back then these corals were kind of neglected as more and more of us went to brighter and brighter tanks. Fortunately the hobbyists who did not want the sun in their living room found that there were colorful corals that were non-sps out there that would thrive in their tanks.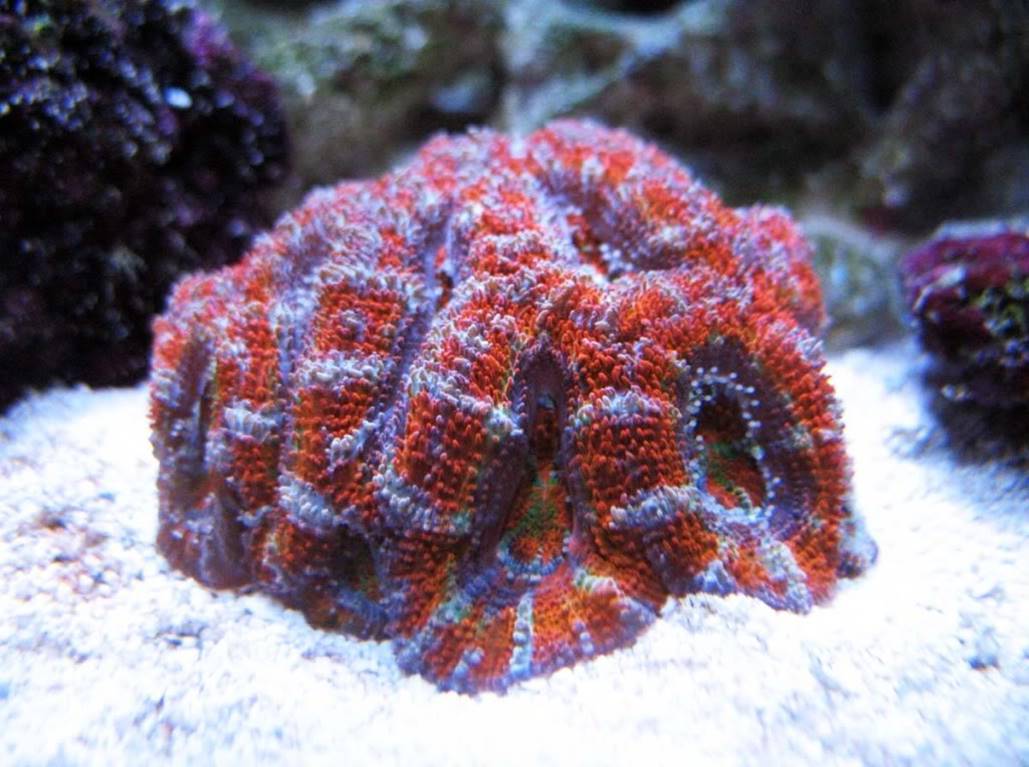 These corals included the now very familiar Acanthastrea, Blastomussa, and Micromussa, to name the most desired of this group. As with all new corals it took a while and some trial and error to understand the requirements and proper husbandry for these corals, but once these were understood, these corals rapidly became a favorite in the hobby. Remember this was even before Australia started shipping in the vividly colored rainbow and other Bowerbanki members of this family.
This was also before blue LED lighting changed the colors of the corals in the hobby forever as well. Despite this, chalice corals were also starting to become desired corals in the hobby as well. While at the time most of the chalice corals coming in were not as brightly colored as the Acans, their flat shape and ability to thrive in less than the brightest light made them also a wanted coral to have.
Despite the lighting at the time not really bringing out their colors, they still were an interesting contrast in the tank. What is even more amazing is that at that time many of the chalices I purchased cost $25 to $50 for colonies as big as my two hands. Think of how in demand they would be today if that were still the price.
The demand for new and different corals in 2006 was just starting to grow, and then, like now the desire was to find the most colorful or unique corals. Fortunately, as this demand has grown so too has the availability of more and more colorful corals of every type. I feel lucky that I have gotten to watch as the hobby has grown to where it is today and that most of this has been hobbyist driven.
I say that as for the most part the successful husbandry and propagation of many of these corals was achieved by hobbyists and if they had not done this many of these corals would still be thought to be impossible to keep. I look forward to writing in ten years what the "hot corals "of 2016 were. If I missed a coral that you think was hot back then please let me know your pick in the comments below.