With Labor Day fast approaching, vacations winding down and the kids going back to school, it's a sure sign that the end of summer is upon us. And with Fall and the colder weather, many of us start spending more time with our tanks.
While our time with our tanks is often reduced in the summer due to travel, outdoor activities and simply enjoying a more laid back time of the year, getting back to our tanks is not as bad as it can be for some in the freshwater side of the hobby.
Maybe it is because of the nature of this hobby that many of us are obsessive about our tanks so we don't really neglect them too badly in the summer, or maybe it is because of the expense. But unlike in the past when I remember seeing freshwater tanks that had been neglected all summer and were full of skinny fish, glass you could not see through, and equipment that was barely functioning, most of the reef tanks I have come across never get that bad.
However, that is not to say that at this time of the year many of us get back into the swing of things and our tanks more enthusiastically than we did during the summer months. As result of my own experience, I know that I too get more excited about my tanks at this time of year and as a result have learned a few things that have made getting back into them more enjoyable.
While I try to test all of my tanks regularly, that is at least weekly and for some tests daily, in the summer testing seems to occur slightly less frequently and at times in the past not at all for short periods. So now when getting back into things I start testing and recording the results for everything.
I test salinity, temperature, pH, alkalinity, calcium, magnesium, phosphate, ammonia, nitrate, nitrite, strontium and potassium. For all of these I go back to testing them all at least once a week for the whole month of September. Also before I do them I calibrate as many things as I can including the thermometer, refractometer and pH and other probes.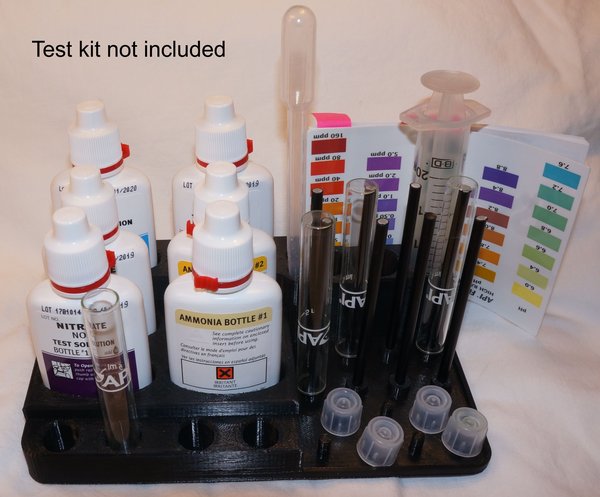 While we may test during the summer, if you are like me calibration often gets neglected. Also when testing, the tests should be done twice for everything being testing. Human nature being what it is, I have found that if we get a good test reading we tend to believe it is correct and accurate, while if it is off from where we think it should be we tend to retest.
One of the things I know about myself is that if I do not do something very often I have a much greater propensity to make a mistake when I do it again. Such is the case with testing, and since for some of these tests I did not do them regularly in the summer I know that there is a possibility that on doing them now it is easy to make a mistake.
This mistake could give a false reading and as such I don't think there is any reason to think that this mistake will always show a bad level of something, it could just as easily result in a good reading. Therefore, when I start doing my regular water testing every test is run twice. And if the readings vary a great deal I do them two more times.
Once this calibration and testing are done and the readings are confirmed and logged, I note what levels are off and what changes or additions need to be made. As with most things about this hobby I try to make these changes and adjustments gradually over time.
If my alkalinity is down one degree of carbonate hardness (1dkh) or more I do not add buffer to bring it up to the desired level immediately. Instead over 3-4 days or more, the alkalinity is gradually increased. At the same time that this is occurring, the calcium and magnesium levels are also tested and watched as from experience I know that if you move the level of one thing you can also affect other levels so all related levels are monitored as well.
While I am doing this I also try to determine why something changed and make adjustments accordingly. The change may be the result of the corals growth over the summer and their requiring more of something, or a hose that has become clogged or simply laziness on my part and not having replenished substrate in a reactor or a supplement.
Adjusting things may entail increasing the volume of a compound being pumped by the doser, lowering the pH in the calcium reactor or something else. Again this needs to be done slowly and closely monitored. Again measuring and logging changes is always a good idea, but especially so when getting more involved with our tanks again.
This renewed testing often results in our finding things that are not quite what we expected. And as we all know when something in our tank is amiss the first thing that is often suggested is to do a water change. While I agree with this, as with most things I suggest that you take it slow when you do one if one has not been done for a while.
If none or few water changes were done during the summer, I suggest that a 10% change be done initially, and that not more than 25% even if things are pretty dire. Most of our corals can tolerate less than perfect conditions, and can even get accustomed to them if this happened slowly, however what they seemingly don't tolerate well is drastic change.
So as with most things in this hobby, doing water changes slowly is better than a big rapid change. During these water changes it is also a good idea to remove any detritus that has accumulated over the summer. A dead spot full of detritus can act as a nutrient sink and thus be the locus for where cyanobacteria or other problems stem from.
Also, if you need to change the carbon, GFO or other resins at this time, don't do it all on the same day, and especially not on the same day as the water change. Make the necessary changes over a few days rather than all at once to also reduce the likelihood of shocking your tank's inhabitants.
As we all know, when the water quality in our tanks is not quite right one of the first things that may happen is algae problems. So for many of us when we start paying more attention in the Fall we notice that algae in one form or another may be making an appearance in our tanks.
This may just mean dirtier glass, or spots of turf algae on the overflows or even the cross beams where flow is highest or some sprouting up within the branches of the corals themselves. While most of us are diligent at removing it when we see it, the time we spend away from our tanks in the summer may allow it to become more problematic.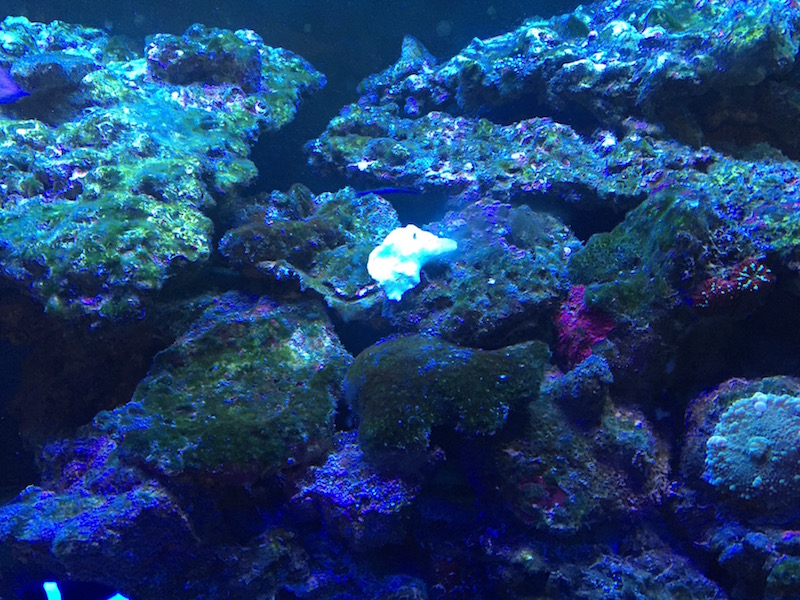 Unlike for most things where going slow is the mantra, removing or eliminating algae for me is something I try to do fast. So while the water chemistry is being adjusted I do everything I can to remove any algae present in my tanks as quickly as possible. First I try to physically remove as much as possible by pulling, scraping or siphoning it out of the tanks.
At the same time, more algae consuming organisms will be added, especially if it is clear that losses to their numbers occurred during the summer. Lastly, since these are only bandaids, I try to determine the reason why it has come back, and this means going over the water quality readings to see why this has happened.
As I said, since most of us do not totally neglect our tanks in the summer, this is usually not a big issue, but if the algae is allowed gain a foothold it can become a major issue, especially in light of the recent articles showing that some algae can produce compounds that are deleterious to corals. So before this happens any algae that is noticed should be removed quickly and the cause for its rise determined.
Besides water quality issues and algae growth, one of the other first things that get noticed more when we are more attentive to our tanks is how much our corals have grown over the summer. As a result, once we notice this growth we also notice how some of our corals are growing into one another and also that some of our corals have shifted and are fighting with their neighbors.
As a result, when this is noticed, we know we have to start moving corals and/or cutting and trimming some of them to reduce the aggression. Cutting, trimming and moving corals, especially with sps corals is a common occurrence in ur tanks. However, I have found it is not a good idea when you see corals that need trimmed or moved that you do all this at once.
Cutting and trimming usually causes the corals to produce a lot of slime and to be stressed. Therefore, you don't want to trim all the corals at once and cause a massive amount of stress at once. Look for the corals that are most stressed by the border wars with their neighbors and trim those first and then look at the ones most likely to be a problem in the weeks to come and trim them once things have settled in the tank.
By the same token moving a coral can also produce some stress to the coral and the tank, so don't move a bunch of corals at once either. You are never going to come down one morning and see that the expensive frag you bought has turned into a beautiful colony overnight.
However, if you stress that table Acropora or another expensive colony you may come down to find that it has completely bleached out over night. So if you can keep the stress level in your tank to a minimum you might be able to reduce the likelihood of this happening.
While testing and trimming are the first steps in getting the tank back to where you want it to be, there are also lots of other things that usually need to get done at this time of year. When I'm back indoors full time, one of the other things I always look at is water flow.
Over the summer, I have found that due to time constraints I often do not clean and refurbish my pumps and powerheads like I do in the cooler months. So during my Fall inspection, all of the powerheads are taken off line and cleaned as is the return pump. Once they are cleaned and replaced I make sure that the water flow is still adequate.
Over time as corals grow they tend to create more drag on the flow in the tank, so as a result the overall flow within a tank diminishes. If this occurs a larger powerhead is installed to replace a smaller one to make up for this drag. Similarly, over time calcification can occur on the return lines from the pump resulting in diminished flow.
So if possible I suggest the return lines be taken off and cleaned to reduce this. Reducing this constriction and keeping the return pump clean can go a long way in keeping this expensive item from needing to be replaced.
Just as cleaning the powerheads can keep the flow within the tank at a premium, so too can cleaning the lights. However, just as with adjusting the tank's parameters cleaning the lights should also be done gradually. I say this as over one lazy summer salt spray reduced the output of my lights by over 25%.
I did not think much of this, so when the salt was removed from the glass in front of the halide lamps it increased the intensity to such a degree that some bleaching of the corals occurred. So now if a light intensity is reduced due to salt spray or some other reason when it is removed, the light is either moved higher or the photoperiod is reduced to keep this kind of shock from happening. The same intensity reduction should also be done if the bulbs themselves are changed.
While all of the above mentioned items help and can get the tank back to the place you want it to be, there are a couple of things that should be inspected at this time of year for our own protection. First among these is all heaters should be inspected, and tested.
During the summer very few of our tanks need heaters, so for the most part they just sit in the tank or sump unused. However even though they do not turn on they still can be bumped and cracked, or lose a seal and take in water or just malfunction due to not being on for several months.
Unfortunately, as I have learned the hard way, if any of these things occurred during their time off, when they are needed a crack or broken seal can allow for electricity to be in the water and cause quite a shock to occur. So now one of the things that I now do every Fall is take out all the heaters from every tank, and inspect them for problems.
Then they are placed in a bucket of saltwater to make sure they still heat and that they won't electrocute me. For this an ampmeter is used to make sure that no stray current is emitted. In similar fashion the ampmeter is also employed on every tank to make sure that none of them have stray current in them from not only the heaters but also broken cords on powerheads or salt spray that has gotten into the lights or other electrical components. To further reduce this problem all wiring, plugs, GFIs and cables around the tanks are inspected for salt creep as well, so that the likelihood of being shocked or worse is reduced.
Getting back full bore into the hobby is one of the good things about Fall in my opinion. We get to see our tanks more at night when they really shine, the conferences are in full swing, and the our LFSs and online vendors are stocked with lots of new fish and corals for us to stock our tanks with, so to me it is a great time of year.
While getting our tanks back to where they were before Summer took its toll may be a bit of a chore, when done right and taking our time it usually is not difficult to get them back fairly quickly. For many of us, doing this is a labor of love rather than a chore and that is how much of what we do in the hobby should be.