Jelly Cam
Thanks to the Monterey Bay Aquarium, you can now tune in LIVE to watch Sea Nettle Jellyfish (Chrysaora fuscescens) in their open sea exhibit. The jelly cam gives you a front row seat to these graceful invertebrates smoothly pulsing through the water.
Sea nettle jellyfish, also known as the Pacific sea nettle are found in the East Pacific ocean from Alaska to California, Japan, Kamchatka, the Aleutian Islands and the Bering Sea. Sea nettles are especially popular in aquarium displays because of their brilliant color, impressive size, and relative ease of care within a purpose built jellyfish display tanks.
Jellyfish need to be kept in a circular tank with smooth edges, designed to create a kreisal flow. This circular design directs water to spin in a circular motion and keeps the jellyfish from hitting the walls and damaging their bells.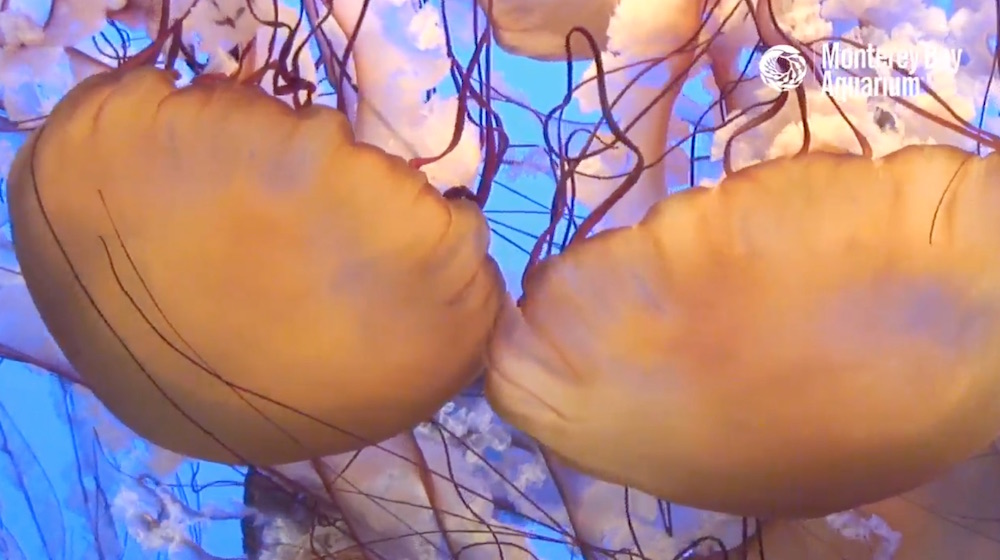 Sea nettles have a golden-brown bell and can grow to approximately 17.7 inches (45 cm) in diameter. The elegant spiraling tentacles and 24 undulating maroon tentacles may trail behind 12 to 15 feet (3.6 to 4.6 m).
The tentacles act as arms covered with stinging cells. When the tentacles touch prey, the stinging cells paralyze it and stick tight. From there, the prey is moved to the mouth-arms and finally to the mouth, where it's digested.
Sometimes all we need is a minute to sit back, relax, and enjoy the gentle pulse of the sea nettle.Perhaps it's the mystical synthesizer accompanying the jellyfish, but five minutes of this live feed will have you destressed and ready to tackle the day.