Water Testing
Testing your water isn't the most exciting part of reefkeeing, but it is an important weekly ritual. Without water testing, it is difficult to know what's happening in your aquarium and what corrections you can make to create the optimal living conditions for your animals.
Knowing what to test and how to test is the first step, while interpreting the tests and understanding what caused the results can help you become a better reefer.
Nitrates
Nitrates are the byproducts of nitrifying bacteria in your aquarium breaking down ammonia and nitrites. During this period nitrifying bacteria are colonizing your tank and establishing the biological filtration needed to complete this process.
Nitrates build up as organic waste breaks down in your tank. They can build up from over feeding and from fish waste. Increased levels of nitrates can feed unwanted algae in your aquarium and cause slow growth in SPS corals. On the flip side, LPS corals will appreciate higher nitrate levels so when you are considering a solution to your test results you need to keep in mind what types of corals you are growing.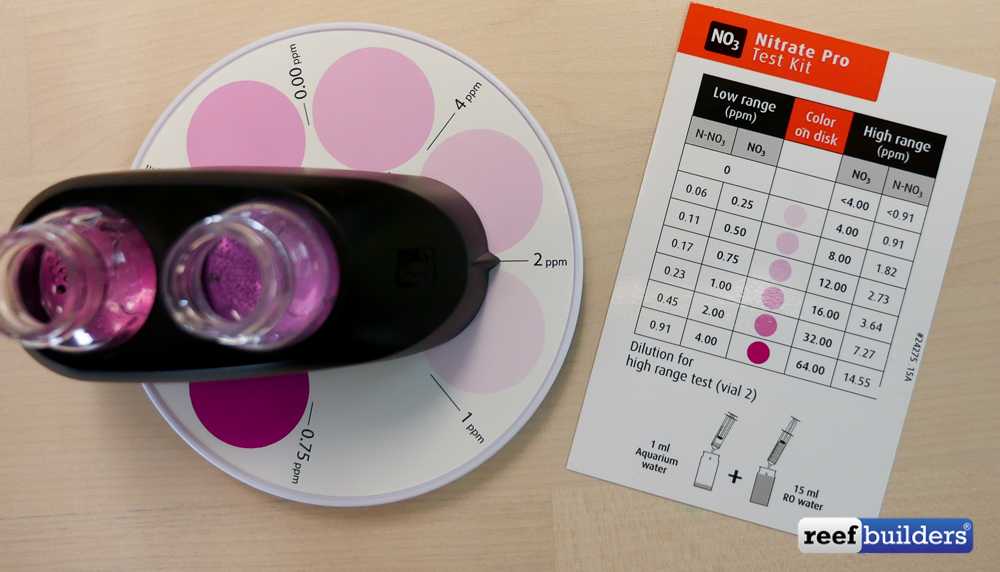 Nitrates are measured in part per million, and you want to keep these levels between 0 and 10ppm. You can let these level build up, and depending who you ask, anywhere below 50ppm is still considered safe for your tank.
Removing Nitrates
The easiest and most effective way to remove nitrates from your aquarium is by doing regular water changes. If you are trying to lower your nitrate levels you want to do this gradually. If you have high levels of nitrates say +50ppm start by doing a 10% water change and then testing your water again in a few days.
You want your nitrates to start falling without having a dramatic swing. Continue testing your water and doing weekly water changes until your levels are back down around 10ppm or lower. Gradually reducing these levels is easier for fish and corals.
Phosphates
Nitrates and Phosphate go hand in hand when trying to control nuisance algae. Phosphate is often the limiting nutrient for algae growth and excessive level of phosphate can be fueling the growth of algae. Too much phosphates can also inhibit calcification in corals, while no phosphate at all can starve corals.
The ideal levels for phosphate are below 0.02ppm, however, like Nitrates, it depends on who you ask. Some reefers have success between 0.05 and 0.07ppm while other swear by 0.02ppm or less. What's important to understand is how phosphates accumulate in the aquarium and what you can do to reduce it.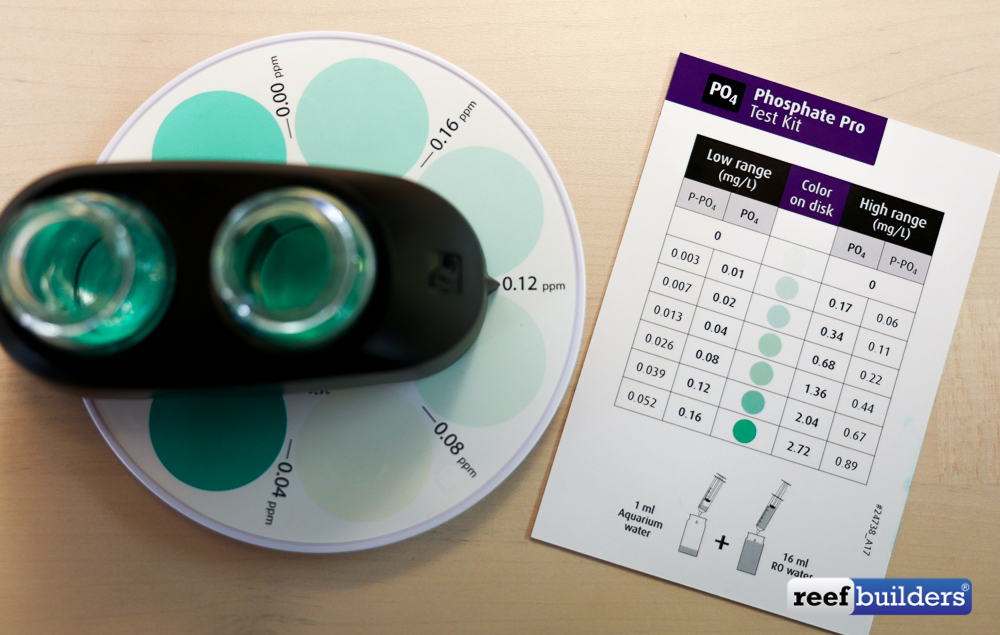 Phosphates can enter your aquarium through untreated tap water, which is why RODI water is recommended for mixing aquarium water. Phosphates can also come from fish food, and fish waste and removing phosphate from your aquarium takes a bit more work than just regular water changes.
Removing Phosphates
Protein skimmers work to remove organic waste from the aquarium, which is a prime culprit in phosphate accumulation. Make sure your protein skimmer is the appropriate size for your tank and make sure to clean your skimmer regularly. If you are still noticing high levels of phosphate after fine tuning your skimmer perhaps your are overfeeding your fish, or have a high density of fish in a small sized aquarium.
Another way to reduce phosphate is through the use of a media reactor and Granular Ferric Oxide (GFO). GFO can be placed in a bag in an area with enough current but it is most effective when it is in a media reactor. GFO is especially popular because it will absorb phosphate slowly, avoiding any dramatic parameter swings.
You can also control phosphate by adding a refugium with macro-algae in line with your aquarium. The plants use phosphate to grow, removing it from the aquarium. Macro-algae can also help reduce nitrate levels and can be a nice addition to a reef tank.
There are other ways to control phosphate including liquid phosphate removers, products containing Aluminum Oxide, and biological nutrient reduction with products like Red Sea NO3-PO4-X.
Whatever method you use to control these nutrients, is less important than devoting yourself to a regular testing schedule and tracking the changes in your tank. Regular testing gives you a peek into the invisible world of nutrient accumulation in your aquarium and keeping these parameters in check will provide the ideal habitat for your fish and corals.