As the year winds down we tend to look back on our failures and successes and the major events of the year, as well as ahead to the things that we want to accomplish and what we are looking forward to. When you reach my age, there are typically more things to look back on than there are to look forward to, but if you play your cards right there is always something to look forward to.
Over the years I have set or helped set up well over a hundred tanks for both myself and others. Looking back on pictures, actually old slides in some cases, I was able to see or remember that over that time, I set up at least 15 reefs tanks of varying sizes just for myself. Currently, I am still running 5 different reef tanks and a planted freshwater tank.
During that span, my first reef tank was a 55-gallon disaster reef, which was typical at that time. I say disaster because due to its narrow front to back dimensions coupled with an overly tall depth, it was a disaster waiting to happen.
Through the years my main display tanks have progressed through sizes of 120, 240, 540, 1200 and 300 gallons in size, with numerous secondary tanks to accompany them or on which I often experimented. And while I have difficulty naming my favorite coral or fish, I can easily name my favorite tank: it was the 540-gallon sps tank.
This tank was my favorite for several reasons. First, at the time, over 20 years ago, it was the first really "big" tank that I had ever done or that most other hobbyists had ever seen. Second, it was packed full of the nicest Acropora and other sps corals that were available at the time and the colonies were colorful, robust and healthy. It was easy to maintain for its size too, as most of the equipment sat outside of the tank and not under the stand.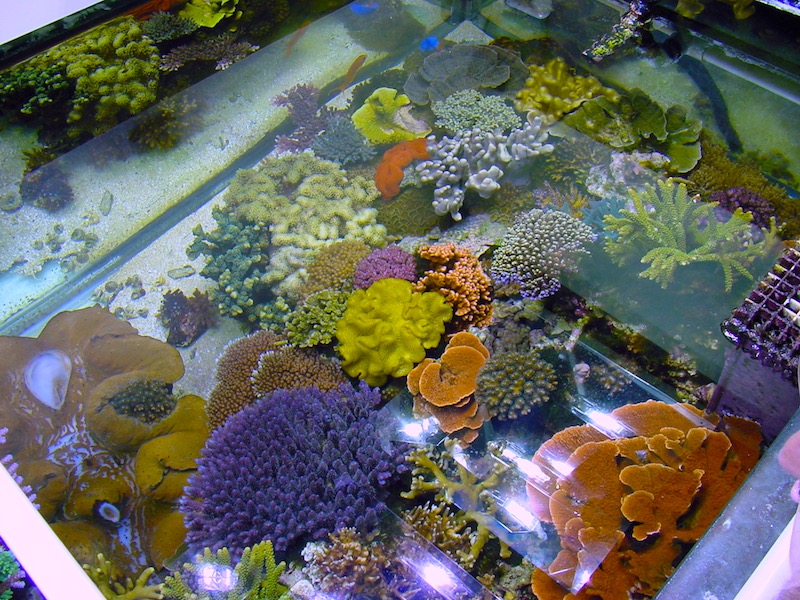 Lastly, it sat on a hand built, by me and a friend, walnut stand built around 6x6s with a matching walnut hood. As a result, not only were the tank and its inhabitants stunning, but the matching hood and stand made the whole enterprise aesthetically pleasing to view. There was also one last aspect of this tank that I loved as well, and that is I built it so that it could easily be viewed from the top, which as we all agree is the best view.
Obviously, this leads to the question, then why did you get rid of it? And the obvious answer is: stupidity and the ever pressing desire to go bigger. That is, I was stupid, in that as shown above, over the years I constantly went to bigger and bigger tanks. So despite how beautiful this tank looked and how happy it made me and how easy it was to maintain, I still felt the need to go bigger.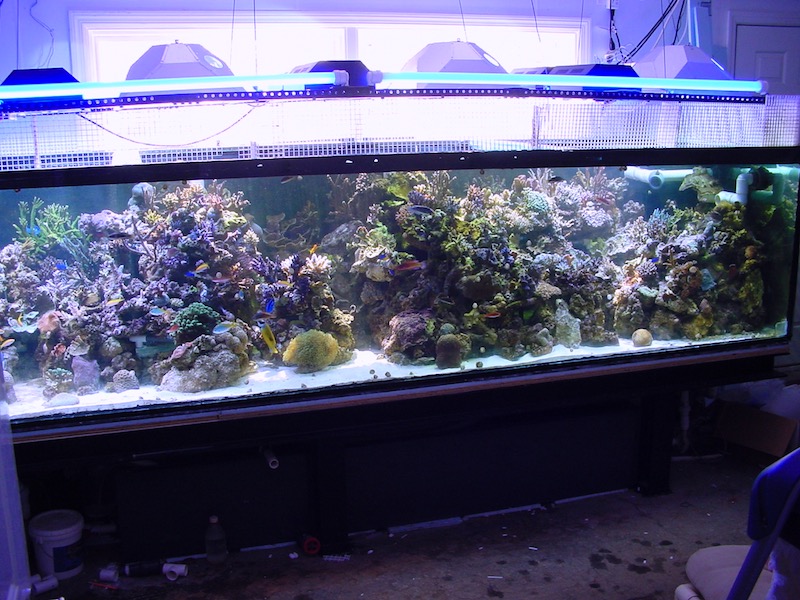 That was one of the biggest mistakes I ever made. I say that, as despite the success that I had with the 1200 it never, at least to me, looked as nice or was as easy to take care of as was the 500. And this was the case despite the fact that it was filled with everything that was originally in the 500.
Right now my 300-gallon tank is doing well, as are the frag tank and nano tank that share a common sump with it. So why am I considering going to a bigger tank again. There are several reasons. The first of which is that this tank is now 7 years old and its sitting on a wooden stand that I worry about as it is not constructed out of 6x6s or even 4x4s so I worry about its long-term strength and durability.
Second in my haste to get this tank constructed and set up, my 1200 was slowly dying in my ex-wife's house, everything was placed underneath it in such a way that it takes the flexibility of an eleven-year old gymnast to move or adjust anything under the tank. Also having 6 tanks requires too much time so I hope to consolidate things, as I will explain, and get my tanks down to a reasonable number.
And lastly, I am trying to relive my youth and hopefully set up a tank that is as beautiful to look at as it is easy to maintain, like my old 540-gallon tank was. So for these reasons, by mid-2018 I hope to go back to the future and set up what I hope will be the last tank I set up for myself.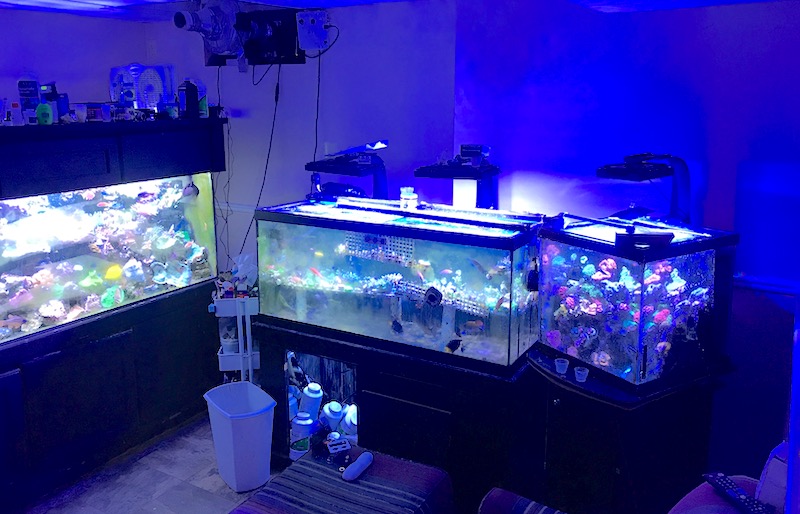 Since it is only December and I am planning this to be up in July, you know I am already doing some serious planning for this tank. So the first thing I am looking at is the tank itself, where it will sit, and how it will be brought into the house. I have not decided on a builder yet as I am looking at several right now, getting feedback from friends who have bought big tanks from them and making sure this tank will last.
I am hoping to find one that will be built to last 20 years, as by that time I probably will be winding things down. It will be glass, of course, as I still have not found an acrylic tank that will not scratch. I initially thought it would be rimless, but since long term durability is my biggest concern, I am now leaning toward it being braced and possibly Euro braced.
The front panel will be high visibility glass but the rest will not as viewing will mainly only be done from the front. I am not going to have it be anything exotic like L-shaped or with a bow-front, as I do not want the tank but rather what is in it to be the center of attention. So it will be a standard rectangle, but a rather large one. Large in that it will be 84" long by 48" deep and 30" tall.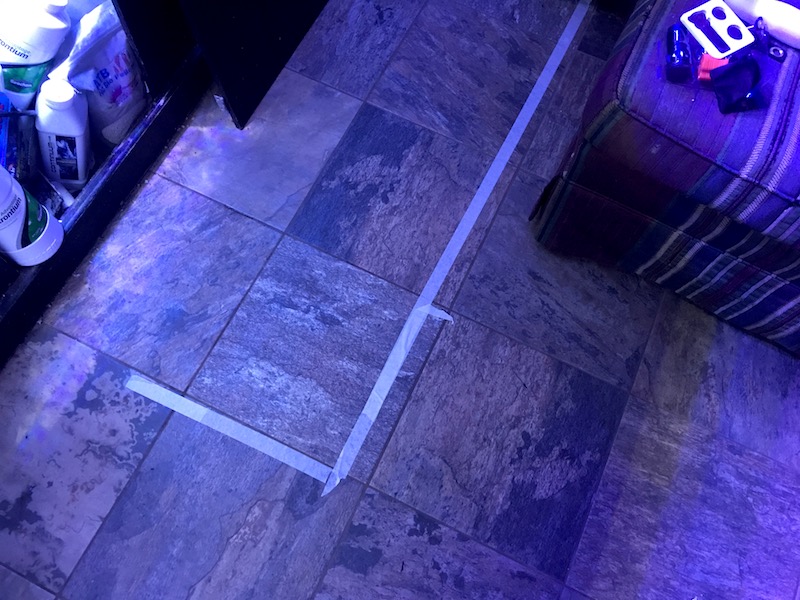 As with just about every tank I have ever built it will utilize virtually all of the possible space available. Unfortunately, it is also presenting a bit of a dilemma as even though it will be in the basement on a cement slab and can be brought in through the garage, the question is how can it be brought in easily?
This is problematic as it will weigh almost 800 pounds empty and its bulky size and the narrow area and door it will come through will make moving it problematic at best. One of the things I am currently working on is I am building a replica of the tank out of 2X2s so that before I order the tank the way to bring it into the house will be established.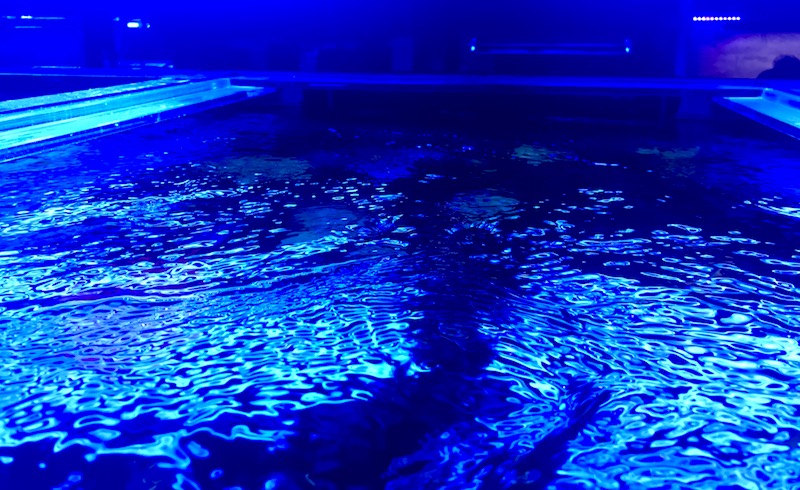 This may mean taking out a door as well as a wall by the stairs, so as should be the case when setting up any big tank or any tank for that matter, planning everything is crucial. So my goal by the end of January is to have it established if and how this tank can be brought into the house and where it will rest. This tank will also be different from all of my past tanks in a couple of significant ways.
First there won't be any holes in the bottom or on the sides. That is there won't be typical overflow boxes but rather like the tanks of my friends Sanjay and Jason Fox there will a cut-out in one side of the tank where an overflow box will be attached outside of the tank.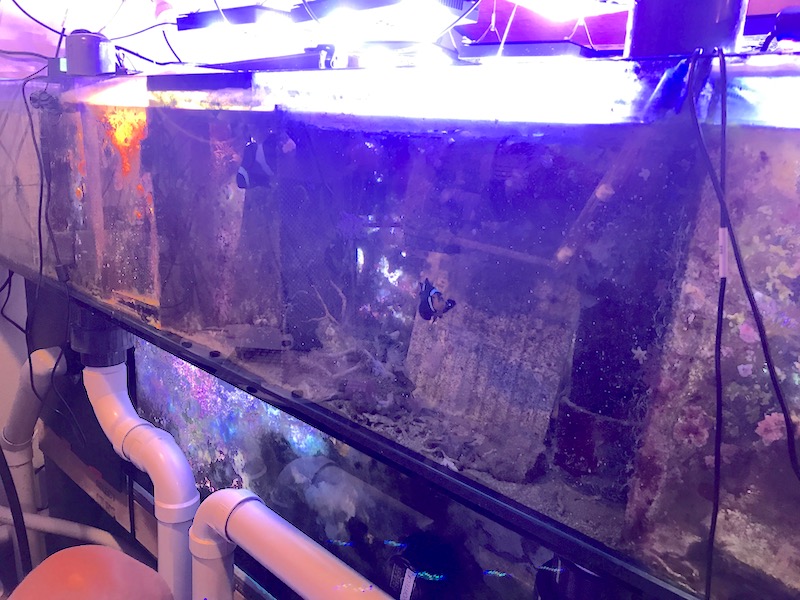 This will allow for easy cleaning and maintenance of the box and also allow for some mechanical filtration to be used that can be easily maintained and replaced within the overflow itself. Second this will be the only hole in any of the glass in the tank. In past tanks with holes on the bottom of the overflows or on the sides or bottom fro closed loops, invariably some kind of leak developed over time at these areas or even worse cracks developed around the holes.
So for these reasons there will be no other holes in the tank. Lastly, unlike most of the tanks I've seen with these kind of overflow, this overflow will be on the short side of the tank as opposed to on the back. This is being done so that when a water change is going to be done, all of the pumps pushing water toward the overflow will be turned on and those creating flow in any other direction will be turned off. This will hopefully force a significant amount of detritus over the overflow so that it can be readily removed during the water change. As I said, one of the goals of this tank is to have it be very easy to maintain.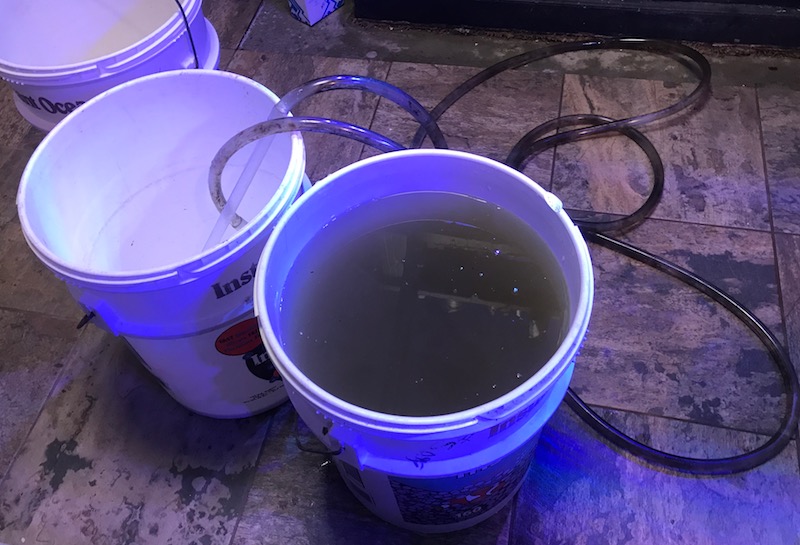 Another way I hope to make it easy to maintain is by having it rest on a powder coated metal stand with no equipment under the tank. Since there will be no equipment under the tank it does not have to be as high as most typical stands are. In addition to be more stable and durable than a wooden stand, this lower stand, no more than 30" tall, will allow the entire tank and stand to be no taller than 60" at the top, which will allow for easy viewing from the top of the tank. Since I hope to be able to have it built with only Euro bracing this should allow for a completely unencumbered view from the top, which if I do things right should be impressive.
Since the sump will not be under the tank, it can be as big as I would like it, which at present I am planning on it occupying the space where my current 300-gallon tank rests. However, I am only planning on it being either 120 or 180 gallons in size, with it only occupying a 72" X 24" footprint.
Since it will be out and open it will allow for several improvements over the current sumps now employed that are all located under the tanks. First the water coming from the tank via the overflow will only have to move a little over six feet to get to the first chamber of the tank.
The overflow will have holes in it large enough to allow for three 2" pipes to draw water off of it and into the first section of the sump. This water will be split off via valves to either allow water to flow into the sump or it will flow across a frag tank that will rest above the first portion of the sump.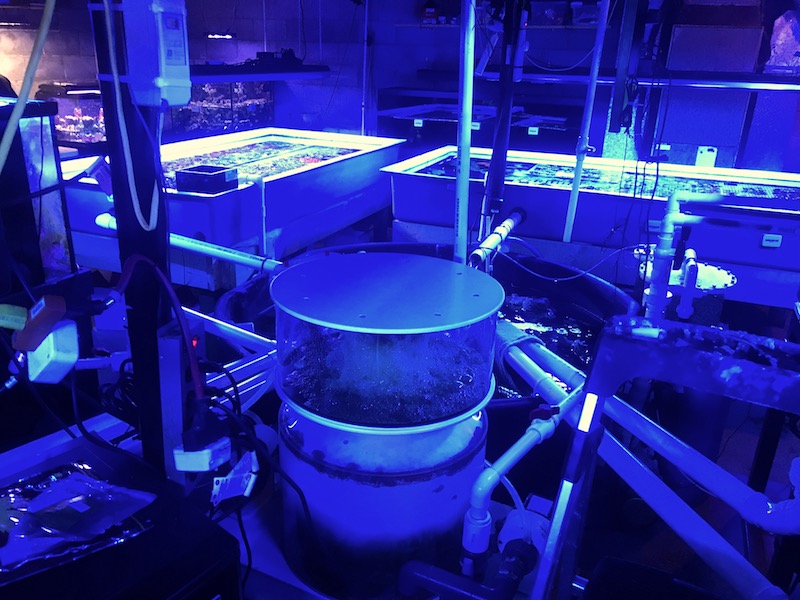 Doing this will allow for good flow in the frag tank and remove the need for a separate pump that now feeds my current frag tank. From here the water will flow across a couple of baffles to allow detritus to settle. It will then flow through a refugium filled with Miracle Mud and chaeto after which it will flow to the section holding a skimmer and media reactor from which it will be pumped back into the main tank. There will be no mechanical filtration as such as I have not really seen much of an improvement or change when this has been employed on the 300.
I have not decided on which protein skimmer yet, as I am still evaluating a couple, and hope to have a decision made soon. It will sit in the sump as will everything that can overflow as one of my goals is no more water on the floor. Another of my criteria is that I want it to be slightly oversized for this tank, as I always overstock my tanks by a large degree so having one that can handle a large bio-load is essential.
It also needs to have a self-cleaning cleaning head. As it has been my experience that regardless of the protein skimmer, the more often its neck and scum cup are cleaned the more efficient it is. So a self-cleaning head is a must for this new skimmer. I also plan on having it connect to an overflow box, so that should it start to overflow for any reason it will automatically shut off and keep from filling the room with stinky overflow gunk.
Other media reactors will also be used, including a GFO reactor as well as a carbon reactor. I currently run these on all of my tanks, except the soft coral tank with good success so I plan on sticking with what I have been doing. I have an ozone reactor as well a nitrate reactor in storage, and to date I have only used the ozone reactor during an ick outbreak so these will probably not be used on the new tank unless something unforeseen happens.
Other than these I do not plan on using any other media reactors however I may experiment with using a dosing pump to pump in trace elements and AcroPower in small amounts daily. I am currently experimenting with this and am seeing some improvement in coloration, but this may simply my own bias so I won't be sure until I stop doing it in a few weeks to see what happens.
In terms of water flow, which to me is still a very neglected part of most reef tanks, I am planning on increasing the flow in this tank above what I am doing now in the 300. For this I plan on using much of the same techniques and technology that is currently being employed, but will use significantly more of it.
Having seen the tanks of people who I consider masters it is very clear that they all employ a lot more water movement than do most of us. So for this reason I hope to have at least 30,000 to 40,000 gallons of flow per hour in this tank. I also plan on having it set up so that there will be both random flow as well as strong current throughout the tank. In order to do this I will employ Tunze and Vortech powerheads as well as SeaSweeps and gyre pumps and also Vectra pumps for the return from the sump as well as a modified version of closed loops.
And as mentioned above I plan on setting this flow up in such a way that when a water change is imminent the pumps can be modified to maximize pushing detritus into the sump via the overflow. For this I may employ a couple of large pumps that will only be turned on for this.
In terms of lighting, for once I am not going to experiment or try to improve on anything and I will use what I have been using with great success the past few years. Radion G4 LEDs along with ReefBrite Blue Strips. This tank will employ 8 of these lights along with 3 ReefBrite strips. I have been using this combination now for over 4 years with great success so I will use it on this tank as well.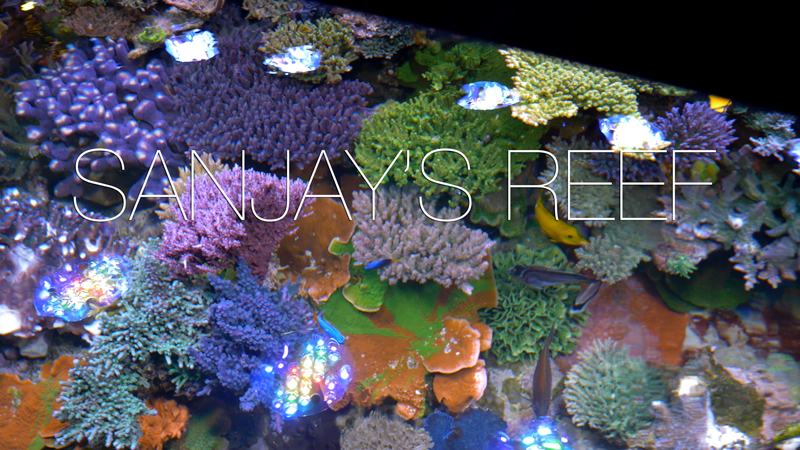 Calcium and mineral supplementation will be accomplished again with something I have been using for the last 6 months: a Dastaco Calcium reactor. This reactor out of Europe has made a significant improvement in keeping the alkalinity of my tanks stable as well as easy to maintain.
I will need to get one larger than the one I am currently employing, but in my experience once I have set it to the desired level it keeps that level rock steady while requiring very little intervention. However, it does little for magnesium levels, so for this I will continue to do weekly testing and will add magnesium as necessary during the weekly water change. I will also continue to do regular ICP testing to reduce the likelihood of any major water chemistry issues coming about.
I am not planning on using much automation on this tank, as for the most part I currently only use automation to monitor things not to make adjustments or control things. So I will continue to use the Tunze monitor I am currently using, as well as Nest cameras to keep track of the tank as well as to allow me to easily see the sump and the monitor.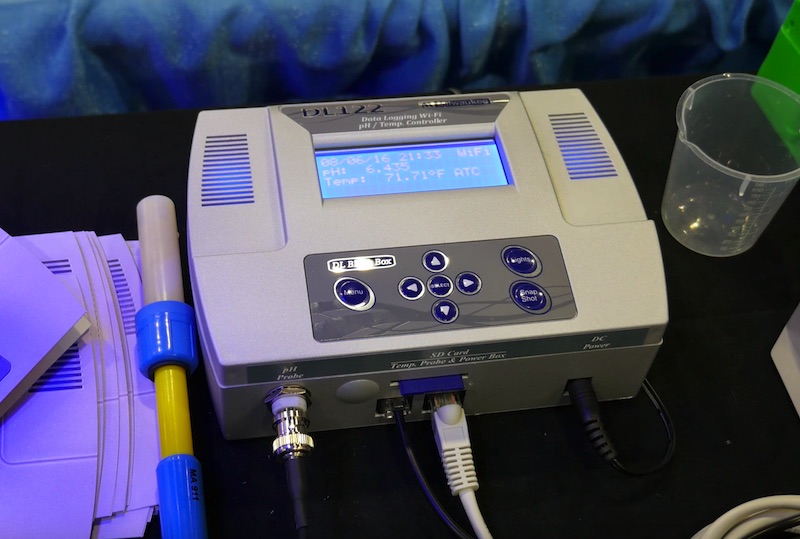 I am not a big fan of automation as I have heard too many horror stories and from my own experience found it to be unreliable long-term, and to be honest I am not good with technology that requires me to do a significant amount of programming. So for these reasons, there will not be controller running this tank, but hopefully as they come out some better monitors of the tank's water chemistry and other parameters.
However, there are a few little additions I might add or experiment with on this tank. I am considering the automatic plankton reactor I saw in Italy as one such possible addition. If I don't do that I may start culturing plankton any way and adding it daily to the tank to see what happens. Unfortunately, when I have added frozen or other plankton substitutes to my current tanks the main thing I have seen is a significant increase in Aiptasia, peanut snails and fanworms, without any significant changes in the coral.
But hopefully this might be different if live plankton were employed, so I may try this. I am also toying with adding some form of continuous feeder to see if this also improves things. Many of these devices I have seen are homemade, but for this tank this may be a worthwhile investment in time to experiment with. Since all equipment will be away from the tank and easily managed making changes or adding things should be much easier to accomplish than is currently the case.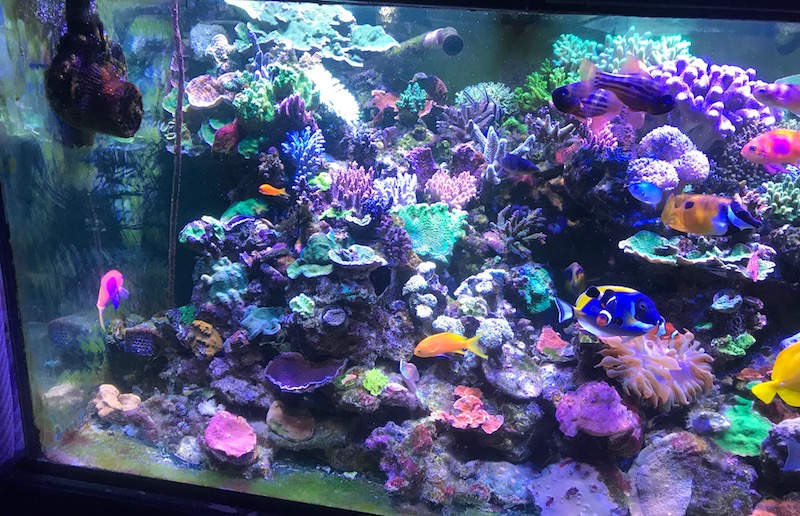 Contemplating building and setting up what I believe will be my last tank is exciting and a bit sad. For me at least setting up a new tank has always been one of the most exciting things to look forward to in the hobby.
To those who know me well, they would say that as it gets closer it almost becomes an obsession, which is probably true. As I continue to plan for this tank and get closer to the actual build I will keep you informed via articles here or via the videos I do. I think I have thought of most things, but I really would like to hear ideas from you and if you think I have missed something or can make an improvement or you have an idea I would enjoy hearing it.
I still view this hobby as cooperative, so if you have an idea or thought but are afraid to post it here, please drop me a note on Facebook. Obviously when the tank is being set up and is done I will share that with you as well. Hopefully 2018 will be better than this past year for a number of reasons. This year was one of the first years I can remember where I did not set up a new tank either for myself or for anyone else. So now that I am planning a new tank for next year I have something exciting to look forward to.
I hope you all have a Happy and Healthy New Year.