When deciding what fish to get for our new reef tank, a captive-bred Banggai cardinalfish was always at the top of my list. Hardy, and adaptable and full of personality we knew the Banggai cardinal would be a perfect fit.
The Banggai cardinalfish has always caught my attention. Being small and not especially demanding when it comes to swimming space. Instead, they mostly stay in the water column moving back and forth in a flicking motion. mimicking the movements in their natural environment.
Adult banggai are well suited to systems as small as 30 gallons. We are currently housing our baby Banggai in an 8g aquarium and quickly planning our second tank well over 30 gallons.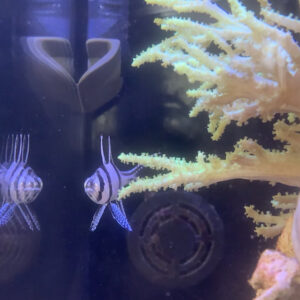 Like all cardinals, Banggais are nocturnal, so you will want to provide lots of caves and ledges where they can hide. Eventually, your new fish will adapt to daytime feeding and come out more frequently during the day.
Banggai cardinalfish has a lovely silver color with tiny white polka dot patterns on their fins. They also have three vertical black bands, with one passing through the eye, and a broad forked tail.
In the wild Banggai cardinalfish hide amongst spiny sea urchins and use these black and silver colors to camouflage amounts that spines. The spines of the urchin are often twirling about with a similar flickering motion.
On one occasion we even found a school of Banggais hiding inside a sea anemone! Perhaps all the good urchins were taken…
The Banggai's natural diet consists of small benthic and planktonic crustaceans, and it will accept a wide variety of small. They prefer meaty foods in captivity, such as mysid shrimp, enriched brine shrimp, plankton, bloodworms, and chopped crustacean and mollusk flesh.
Captive-bred Banggai
Banggai cardinalfish come from a small group of islands in Indonesia, (Banggai Islands), and for this reason, it would be easy to over harvest.
Luckily, Banggai is a type of fish called mouthbrooders and the baby Banggai has no planktonic larval stage. Instead, adults males keep the babies in their mouths until they are big enough to swim free.
The female Banggai produces around forty eggs which the male Banggai quickly sucks up into its mouth. The eggs incubate inside the Banggai mouth for about one month. During this incubation period, it's believed that the male Banggai cardinalfish doesn't eat.
This makes Banggai one of the easiest marine species to breed in captivity and captive-bred specimens are routinely available. In fact, the little guy we bought was born and raised in Canada. Be sure to choose captive-bred Banggai instead of wild-caught.