We recently when we came across this 9 gallon macroalgae tank and reached out to Tigahboy to feature his creation on Reef Builders. It's not often we come across such a healthy example of a simple planted saltwater aquariums so we hope you enjoy this just as much as we do.
Tigahboy writes that he became totally enamored with macroalgae when he added a few pieces to his prior reef tanks (you can find them here in his first tank build thread). He said he has always been drawn to the freshwater planted tank/scape aesthetic, so decided to take a chance and try saltwater planted tank with macroalgae as the star.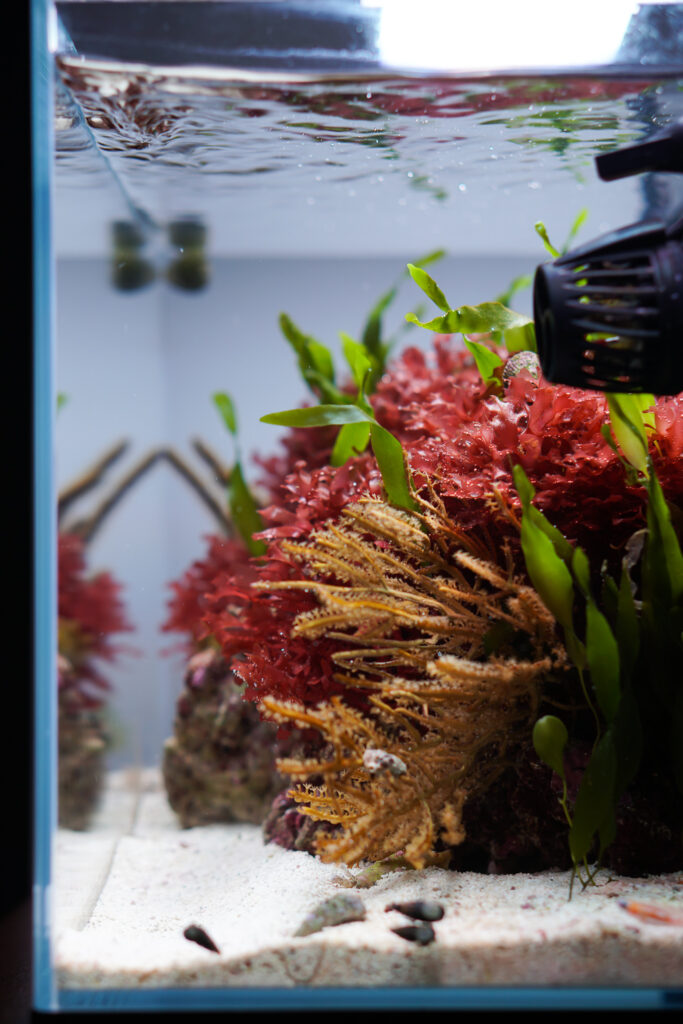 –
Set-up
Tank: Ultum Nature System 45A (9 gallons)
Light: Twinstar Light II 450E (full spectrum planted tank lights)
Pump: Sicce Syncra 0.5
Media: InTank Filter Floss Holder (was made for a WB7), InTank Filter Floss, and MarinePure Bio Cubes
Heater: Cobalt Neo-Therm 75w Heater
Substrate: Caribsea Fiji Pink Sand
LR: KPAquatics Premium Live Rock
–
Inhabitants
Macroalgae: Gracilaria hayi (red macroalgae), Caulerpa prolifera (red macroalgae), and Hypnea pannosa (blue macroalge)
Coral: Pterogorgia citrina (Yellow Sea Whip Gorg) and Pterogorgia anceps (Purple Ribbon Gorg)
Fish: Coryphopterus personatus (Masked Gobies)
Inverts: Various hermits and snails
Current dosing regimen:
•Brightwell Aquatics CheatoGro (fertilizer)
•NeoNitro (nitrates)
•NeoPhos (phosphates)
•Ferrion (ferrous iron)
•ATI Essentials Pro Part 1 (alk)
Tigah Boy says he tries to keep the phosphates at 0.05 and nitrates at 5 (but of course you can go higher and macroalgae will love that). With these parameters, he has pretty good growth so he sticks to these levels.
For dosing, he uses Brightwell Aquatics ChaetoGro and sticks to the recommended dosing on the package, he said he likes this product the most because of the added iron. And well by the looks of his luscious tank we would have to agree his methods have proven successful!
---
Do you have a reef tank you think we should feature? Tag us on Instagram @reefbuilders and using the hashtag #reefbuilders