Waterbox Aquariums has redesigned their popular MARINE series aquariums to create the MARINE X with new features aquarium hobbyists will love. New features include glass overflow with removable weir teeth, dual returns, and a sump filtration system.
The MARINE X series was designed with entry-level aquarium enthusiasts in mind. Each MARINE X series model includes the aquarium, laminated plywood cabinet, sump and plumbing kit.
In addition to these new features, Waterbox Aquariums has partnered with AquaIllumination to create the ultimate aquatic environment with +PLUS HD Edition aquarium bundles. You now have the option to add AI Prime™ 16HD Lighting & Flex Arm(s) with any of their tank models.
The MARINE X 60.2, 90.3, and 110.4 models come standard with dual returns and the newly designed removable weir teeth system, allowing for easy maintenance and cleaning. The system comes with ready-to-assemble plumbing that provides easy installation and the precision gate valve allows for micro-adjustments to keep your system running ultra-quiet.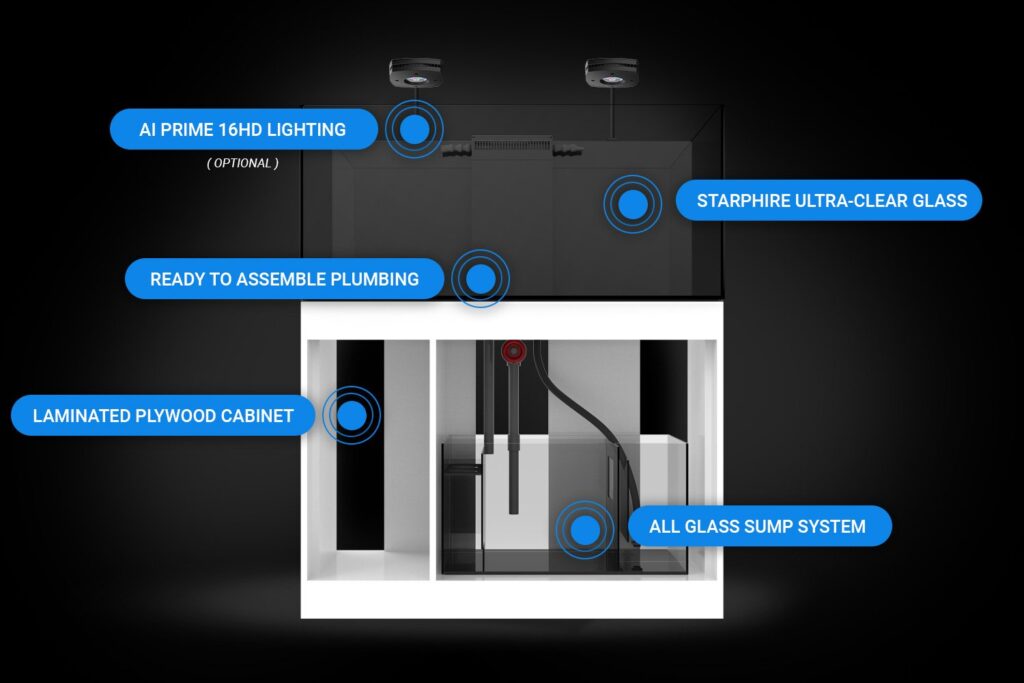 One of the upgrades for the new MARINE X is the newly designed sump and baffle system which incorporate 4″ filter socks on the 60.2, 90.3 & 110.4 models. Filter socks are appropriately sized for your aquarium for ultimate water clarity and filtration.
The sump also includes skimmer and media reactor chambers, RO reservoir with an integrated auto top off system, and a return pump chamber designed to accommodate popular reef aquarium return pumps.
The MARINE X is offered in 4 sizes, their classic 35.1 and 60.2 sizes, with two new sizes 90.3 and 110.4 gallons. The MARINE X series aquariums are available in three finishes Black, White Oak and comes reef ready all under $2000 USD.