One of the dirty little secrets of the hobby is that fish a large number of fish come with parasites. Even though most of them look healthy when we buy them, and who would buy a sick fish, the stress of collection, transport, holding, and placement in multiple new tanks often leads to these parasites being able to overcome the immune system of these fish.
This problem, in my opinion, has gotten worse over the past couple of years as I am now seeing fish that I never thought got sick coming in with maladies I had not seen very often in the past. An addendum to this dirty little secret is that quarantining and treating these fish before adding them to a tank is the only means for reducing the likelihood of these fish infecting the entire tank, yet only a small percentage of hobbyists have a quarantine tank.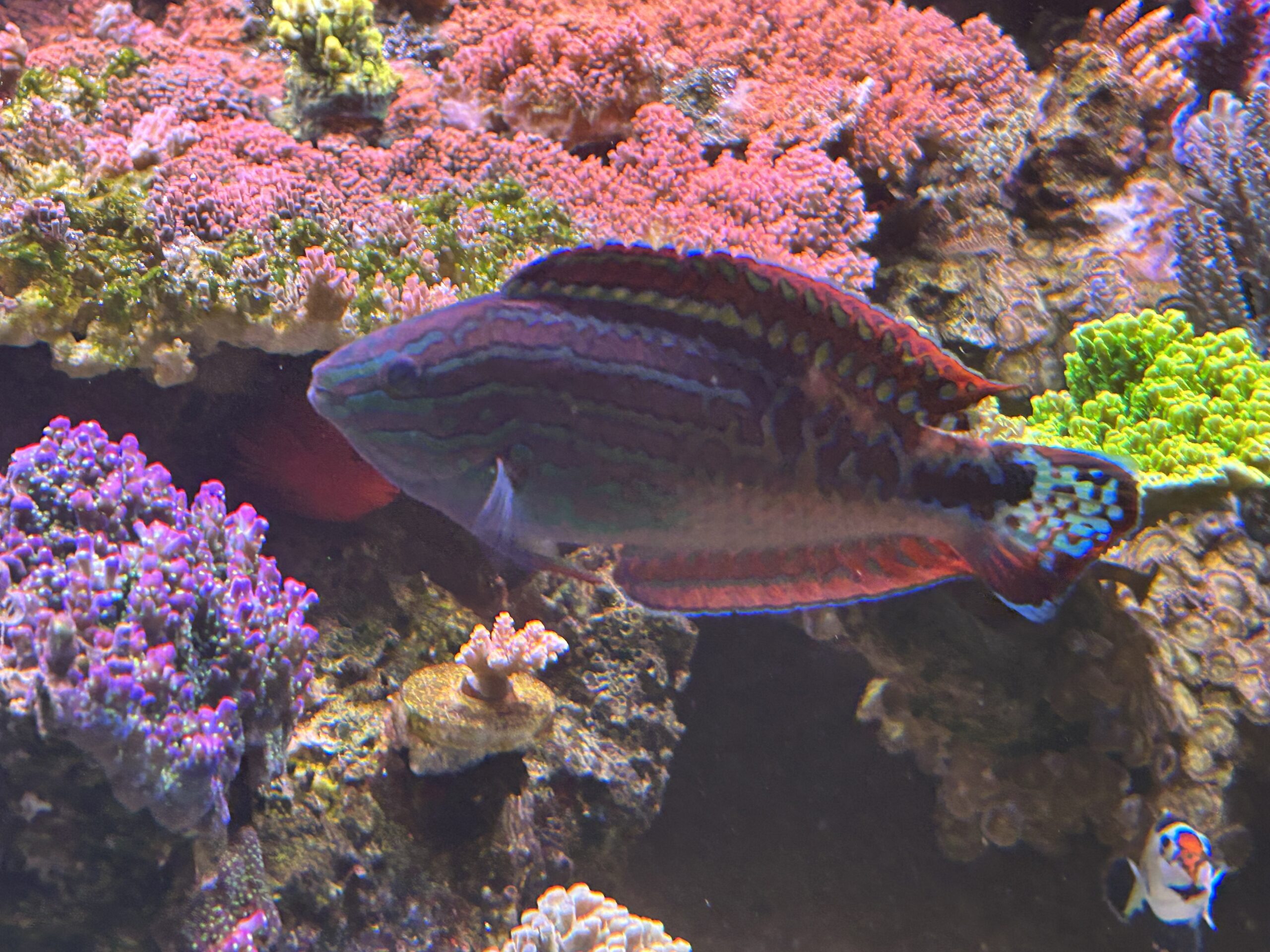 This does not make sense as setting up a quarantine tank is not expensive and compared to the cost of having to replace an entire tank of fish, it is actually quite cheap. So why do hobbyists play Russian Roulette with their tank's health every time they add a new unquarantined fish when quarantining and treating is relatively easy? 
Truth be told, up until the last year I did not quarantine my new fish as I had been lucky and had rarely seen any diseases on fish over the years. And since much of this hobby is based on precedent, that is once I did something that is pretty much how I always did it, since I did not quarantine from the beginning, I did not add it to my protocols. This is why for those getting started in the hobby I strongly suggest they start quarantining all new fish right from the start so that it becomes a habit that they maintain as long as they are getting in fish.
The reason this all changed is that new batches of common fish like chromis and anthias, all came in looking healthy, but within two weeks of adding them to any tank, they all died from Uronema. This free-swimming pathogen has become rampant throughout the industry and once in a system it attacks and kills any fish it infects. There is no full reef tank treatment that I know of, and once fish are infected, especially internally, it is difficult to eradicate.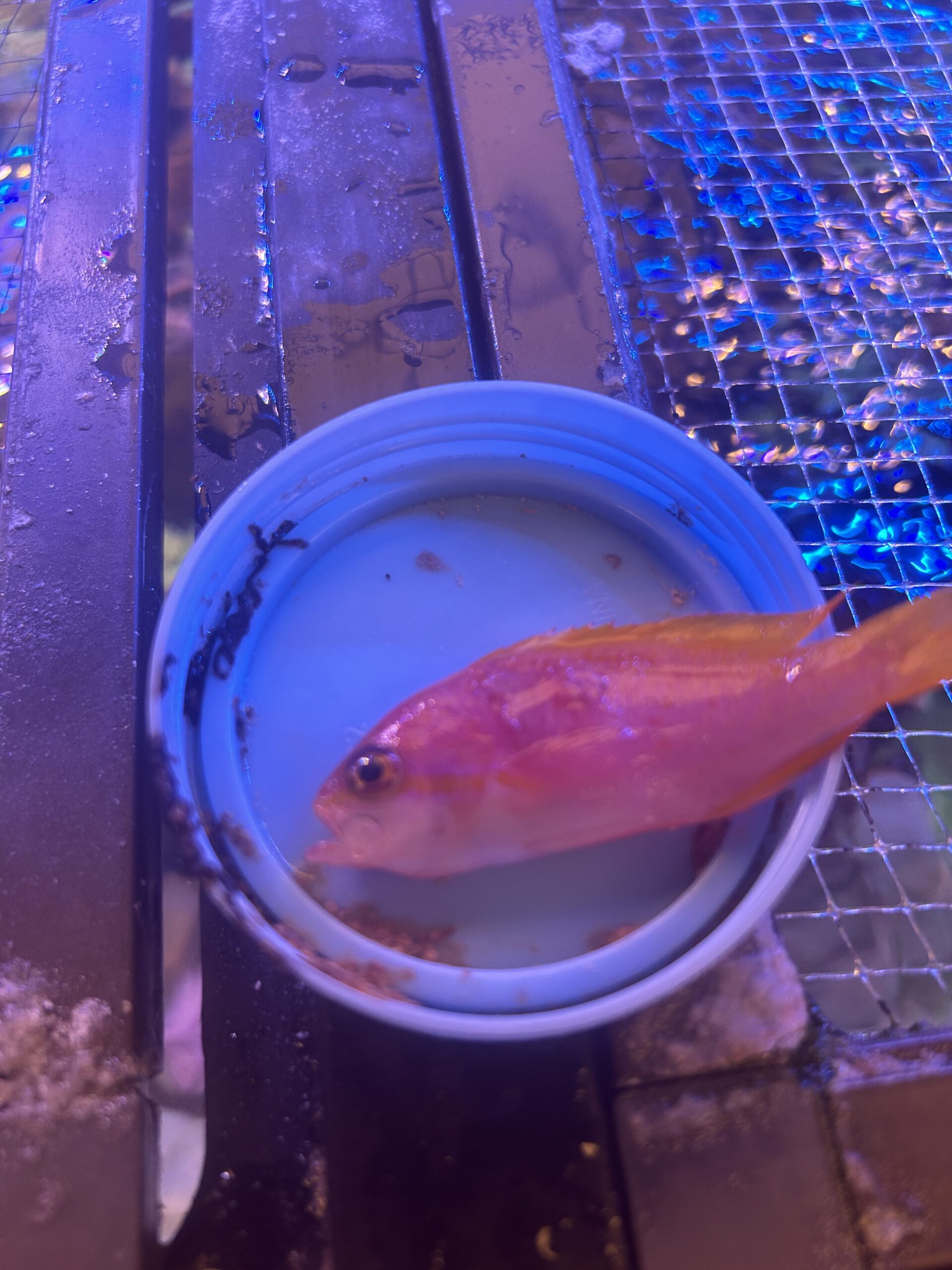 After losing too many fish to this pathogen I realized it was time to set up a quarantine system to hold all new fish before introducing them to my display tanks. Otherwise, I knew that eventually one pathogen, be it ick, velvet, or Uronema, would wipe out a tank's fish population. 
What is fish quarantine?
Quarantining fish is not a new concept, it has been around for decades, but sadly it is not practiced by many as unless you are getting fish in regularly, it seems wasteful to have a tank up and running with nothing in it. Quarantining fish simply is introducing them into a separate tank, not the display tank, so that they can be observed, acclimated to captive conditions, and treated should the need arise away from the fish and corals that are housed in the main display system. This allows for any problems, be they eating, behavioral, or disease-related to be managed and resolved before the fish is introduced to the main display tank.
As with everything in the hobby, this takes time and patience and cannot be rushed. Rushing a fish through quarantine is like not quarantining it at all so it needs to be understood that it will take at least a month after a fish is purchased for it to go through quarantine before it should be introduced into the display tank. 
How to set up a quarantine tank
Setting up a quarantine tank is relatively simple as only a few readily available items are needed. It should be set up well before fish are to be added so that the bacterial bed is established before new fish are added. This is necessary to prevent high ammonia levels found in a new tank from stressing or killing the new additions.
The best tank for a quarantine setup ranges in size from 10-40 gallons. The size chosen depends on the space available, the number of fish requiring quarantine and the understanding that 100% water changes are going to be done frequently. The reason 100% water changes are recommended after each phase of treatment is that not only does this remove both dead and alive pathogens and waste, but it also reduces ammonia, and stress hormones produced by the fish as this process is stressful and bacteria. For this reason, a tank should be chosen so that these water changes are easy.
In addition to a tank, these other items are necessary, a heater and thermometer, air pump and air stone or powerhead that can aerate, ammonia alert badge, established bioballs or an established sponge filter, and a starter bacterial culture. These last two items are crucial in order to keep ammonia from occurring in the quarantine tank. The tank is set up just as you would a normal tank, but without live rock or decorations as they can absorb the copper and medications.
Since there is no rock for the fish to hide in, it is a good idea to have some cut PVC tubes for the fish to hide in so that they do not feel stressed. It is a good idea to keep the lighting low and minimize approaches to the tank to reduce stressing the fish. I also strongly suggest that a lid of some type be on the tank to keep the fish from jumping, which new fish are prone to do.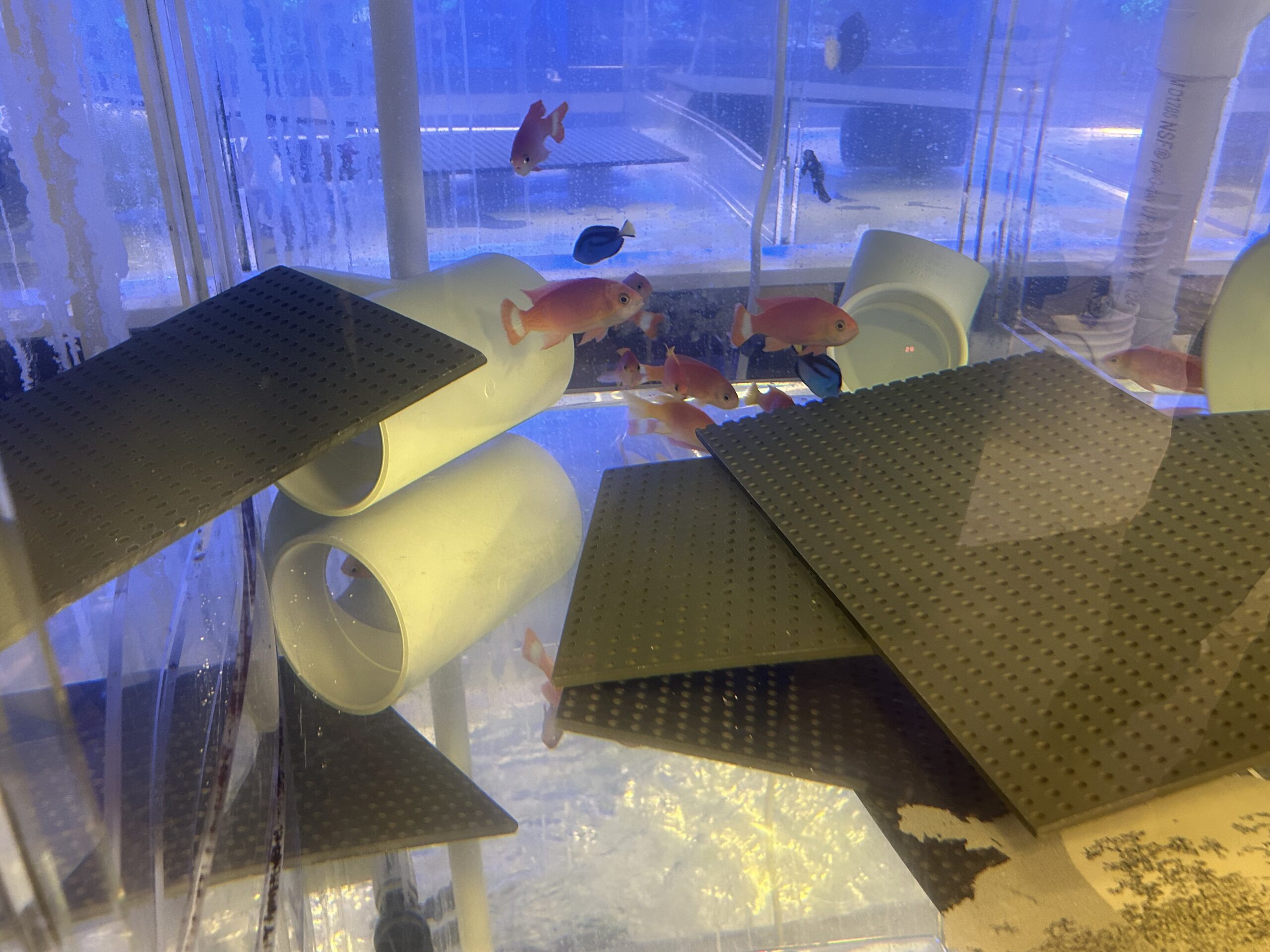 In addition to these, it is good to have extra sea salt, a mixing container as large as the tank, a heater for this container as well as hoses and siphon equipment, a turkey baster, copper test, and various medications for treating all of the maladies that may crop up.
There are a variety of diseases that can occur in saltwater fish, but the most common are ick velvet, bacterial infections, and flukes. Because these are the most common a standard treatment for all incoming fish has been developed using copper, nitrofurazone, and a quick freshwater dip. I have used this quarantine treatment for the past three years with good results.
I should note that not all fish tolerate copper, especially wrasses, so check on the species you are going to treat before using copper on them. If you are treating wrasses it may be necessary to introduce the full dose of copper slowly over days to allow the wrasses to acclimate to it. 
Freshwater dips
The standard procedure that I use is that all new fish are first given a freshwater dip for 2 ½ -3 minutes in RO/DI water that has been matched for temperature. During this time the turkey baster is used to "baste "the fish and drive off any flukes. If flukes are found then these fish will be treated for flukes during quarantine. The fish are then removed and placed in a 50:50 hyposalinity solution for 5 minutes. This solution is 50% tank water and 50% freshwater.
From there the fish are removed and added to the quarantine tank to which 200mg of Nitrofurazone/10 gallons has been dissolved. After the fish are added CopperPower is added to the tank according to the package directions. The water should then be tested to make sure that the copper level is nominal and after 12 hours ammonia testing should also be done regularly.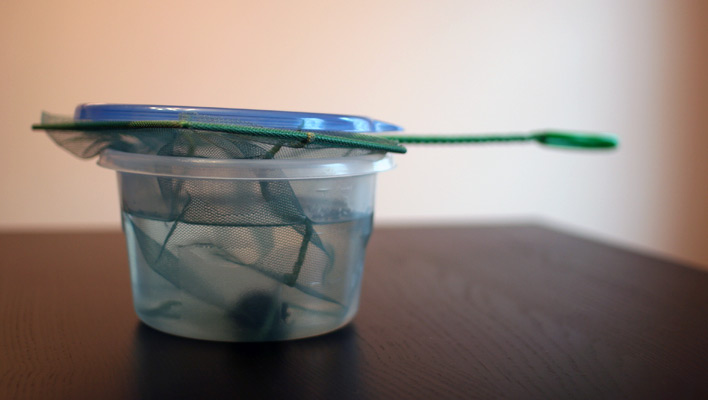 An alternative to using copper and one that may be better for copper-intolerant fish is to use hyposalinity in the quarantine tank. I have brought the salinity down to 1.010 for a month, it was done gradually to keep ick and possibly velvet in check. Some wholesalers follow a similar procedure for all of their fish tanks, so this is not an experimental treatment. Also, the key is to lower the salinity over a few days, not just a fast drop so that any shock to the fish is limited. There is some suggestion that it may take longer for this procedure to work up to a month, so keep this in mind. 
After three days a total water change should be undertaken and the replacement water should match the old water in terms of temperature, salinity, and alkalinity.  Water changes should then be undertaken every 3 days thereafter until the fifteen-day mark is reached. After each change, Coppersafe and Nitrofurazone should be re-added to the tank. Minimal feeding should be done during the first three days and the fish should be closely observed for pathogens and behavioral issues. 
After three days, feeding can be commenced and any leftover food should be vacuumed out so that ammonia levels do not rise. Leftover food can also feed Uronema, so this is another reason it needs to be removed.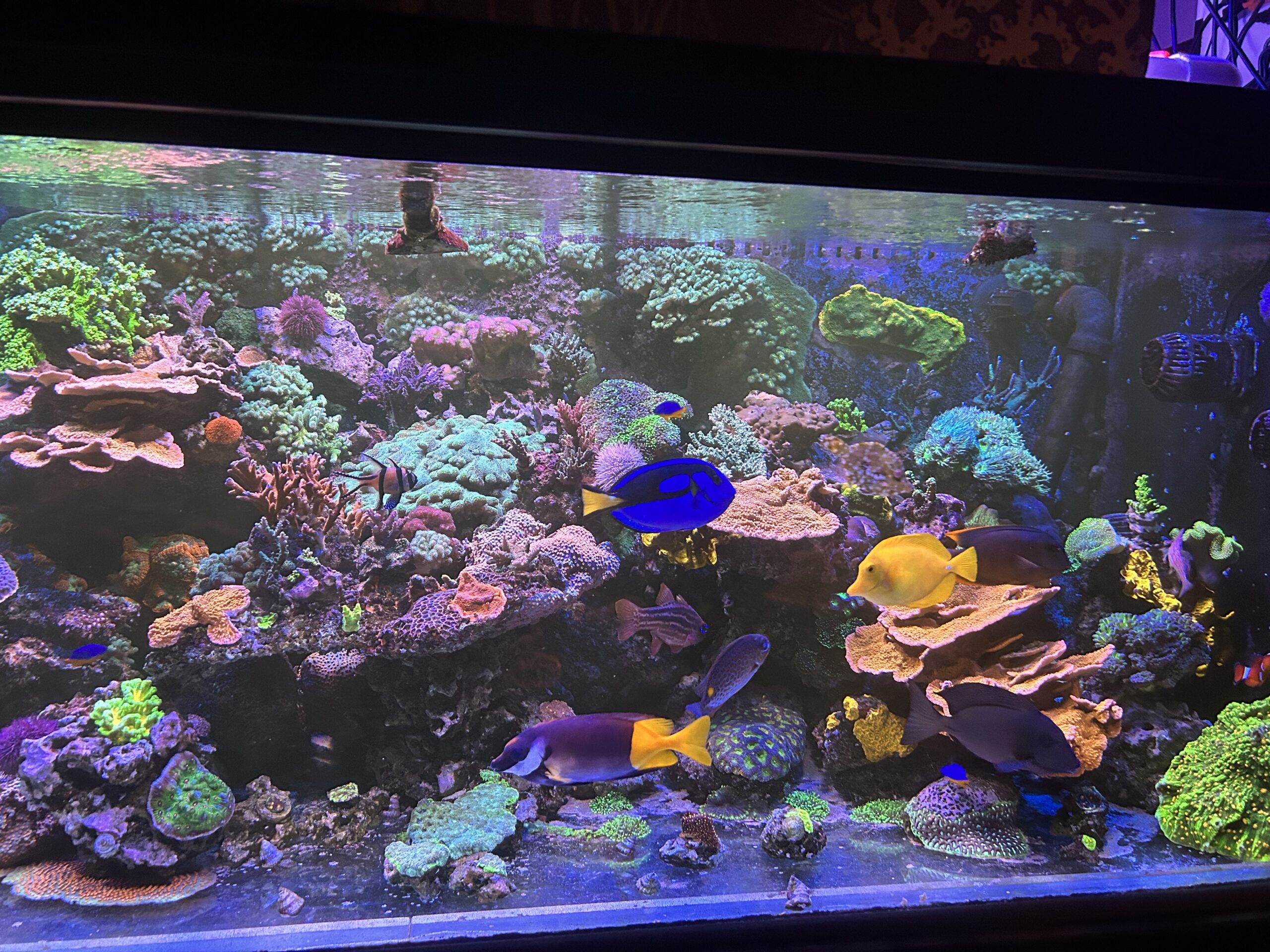 The quarantine process should be undertaken for a minimum of 15 days with no signs of disease. If disease or a pathogen is observed, or if new fish are added to the quarantine system, the clock starts again fourteen days of clean fish need to be observed before the fish can be added to the main display tank.   
Due to the seemingly higher incidence of diseases in some of the fish coming in, setting up a quarantine tank has become more essential. While it may seem time-consuming or a waste at first, if you are ever unfortunate enough to lose a tank full of fish due to one new fish you had to have bringing in some unwanted hitchhikers it will quickly become apparent as to why it is critical to keep bad actors out of your tanks.
The procedures outlined here are rather simple, and there are much more elaborate methods and treatments available for just about any disease or pathogen you come across. The key when you are starting out is to start out doing things right, like quarantining all fish, and then it will become a habit. Be patient when you get new fish and treat them properly and they will then live a long time in your tanks, often longer than they would in the wild.