For those of us who started with freshwater tanks, the general rule for acclimating a new fish was to simply float the bag until the temperatures matched, gradually add some tank water to gradually acclimate the fish to the tank's parameters and then take out the fish and dump the water.
Over time, we learned that this was not necessarily the best way to acclimate new fish. For new saltwater fish acclimating this way is downright disastrous, but sadly proper acclimation is rarely talked about and as a result, the mortality rates of new fish are significantly high and much higher than when proper acclimation is practiced.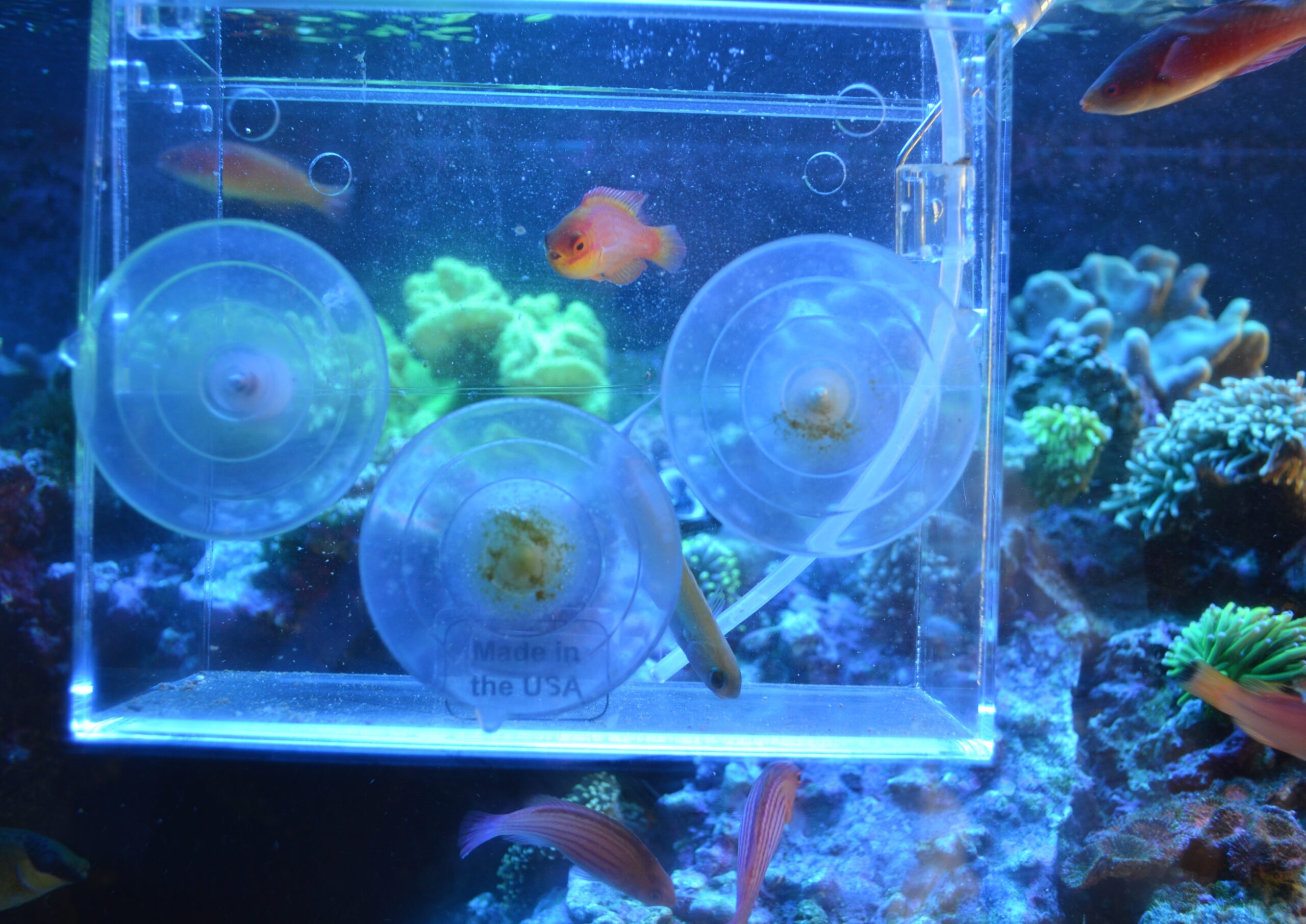 Following the strategy that has taken me years to develop the mortality rate for new fish is now only 10-20%, when in the past it was probably as high as 50-70%. Since I consider this level to still be way too high, I am working on getting it to be even lower.
Territoriality
Most animals are territorial to some degree and as a result, they tend to protect their territory when it is threatened. Reef fish are some of the most territorial of all animals, with some fish controlling and protecting tens if not hundreds of square meters of reef. This is often taken for granted when we add a fish that once had a territory the size of a room in our house and put it into a tank that is less than a cubic meter in size.
So while its space has shrunk dramatically in size, the fish's desire to defend its territory has not diminished so it tends to defend a large section of a tank, and anything that is new that is added, especially fish, is seen as a threat. For this reason alone, acclimating all new fish requires much more effort than simply floating the fish in the bag and gradually acclimating it.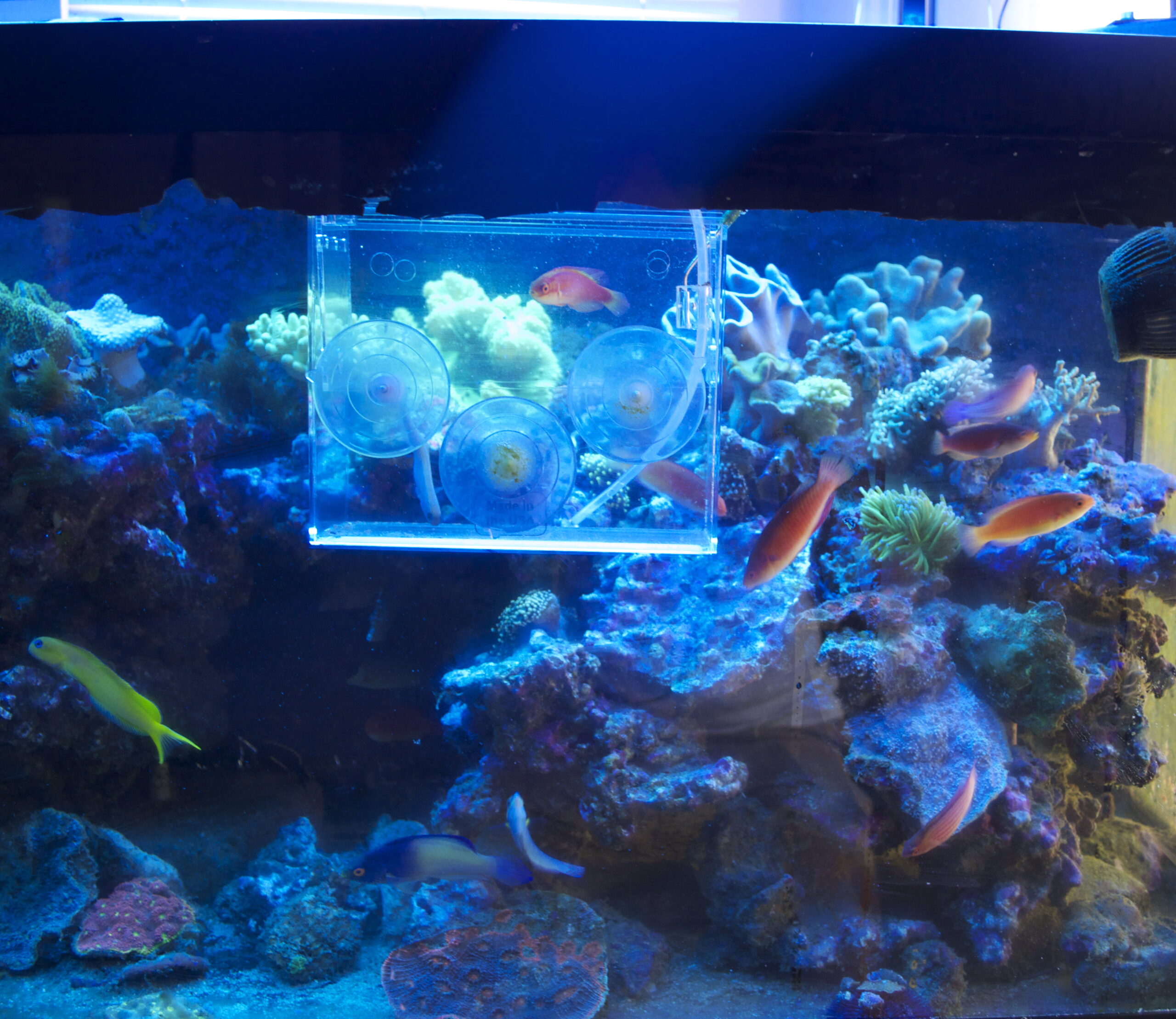 As mentioned in my last article, all new fish should go into a quarantine tank before being added to the main display tank. Unfortunately, I know from experience that fewer than 10% of all hobbyists especially new ones, set up a quarantine tank. For this reason, acclimating fish properly is even more important if these fish are going to survive.
While I already mentioned territoriality and the aggression that goes with it as needing to be accounted for when new fish are introduced, this is just one aspect that needs to be managed when new fish are introduced. Other factors include food and feeding, water chemistry including temperature, lighting, the lighting cycle, and lastly the aquascape. These all need to be taken into account when new fish are being added to a tank.
Unfortunately, the highest amount of mortality occurs in fish during the first month after they are introduced. This is why it is so critical that they be properly acclimated. The first step in this process is to acclimate them to the tank's water conditions. During this process the new fish are first floated in their bag to equilibrate the temperature and the top of the bag is cut open to allow oxygen to enter the bag and CO2 to be driven off.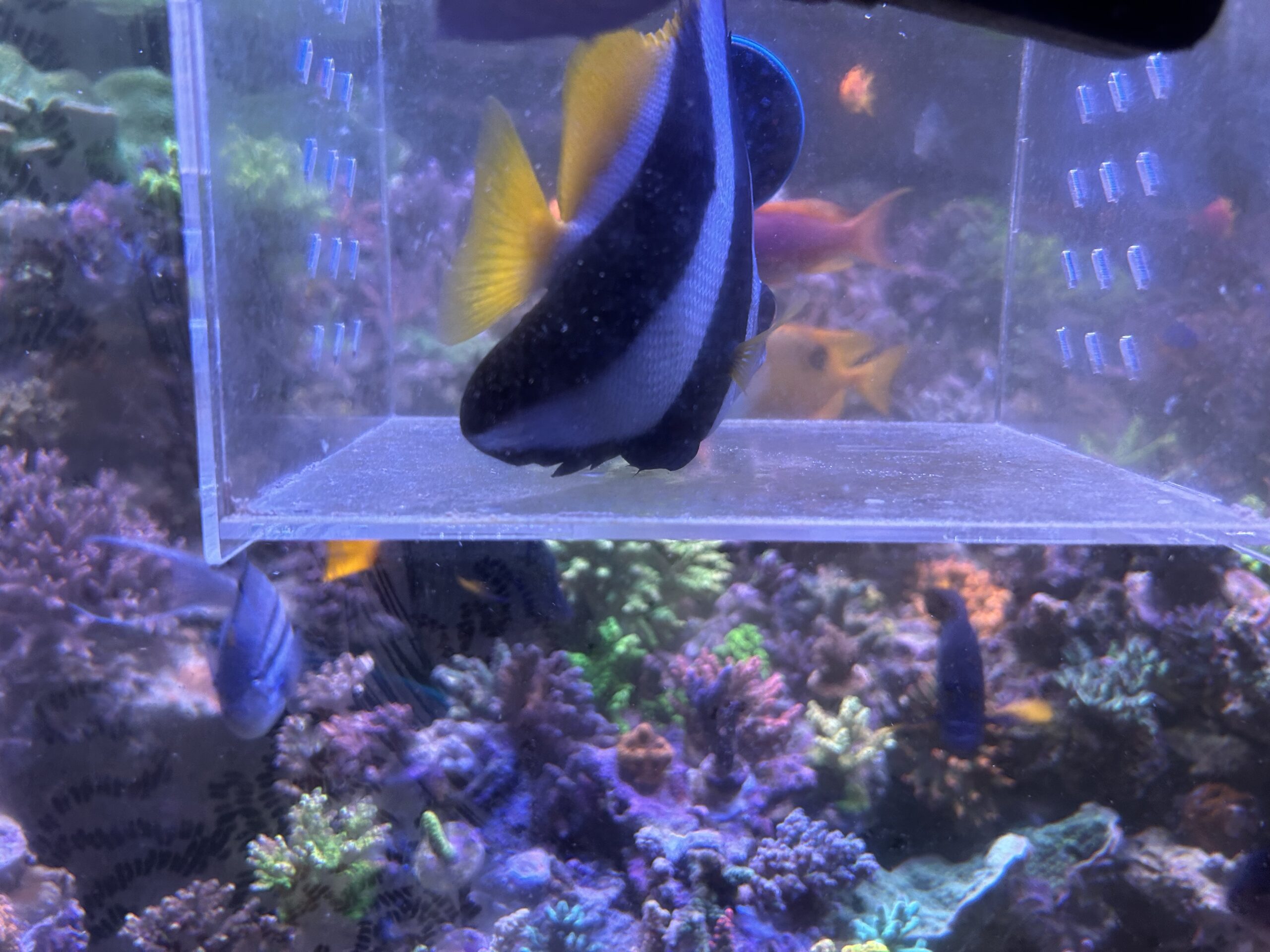 During this time ammonia levels can become toxic as the pH in the bag rises so a couple of drops of Amquel or a similar ammonia remover are added to the bag to prevent this from occurring. Once the temperatures are equal the fish and the water from the bag are poured into a separate container large enough to hold double or triple the water contained in the bag. If multiple fish are to be added they are all added to this container.
Drip acclimation
The container is placed lower than the tank or sump and then water from the tank is slowly dripped into the container at a rate low enough that it will take two to three hours for the tank in the container to be doubled or tripled. This gradual drip acclimation allows the fish to gradually become acclimated to the water chemistry of their tank. This acclimation container should have a lid of some type over it as fish at this stage are often very nervous and tend to jump.
After this drip acclimation is completed, the fish are removed, I use a cup or small bowl and not a net, and most of the water is poured off. The fish are then placed in a clear acrylic box, these can be built or are obtainable online, that is mounted to the side of the display tank. The box contains numerous holes which allow for water to freely flow in and out of the box. The box should contain some pieces of PVC to allow for the fish to hide as well as a tight-fitting lid to keep the fish from escaping.
During the initial first couple of days the lighting in the tank should be reduced so that these new fish are not sitting in a spotlight, which many of them are not accustomed to. I think that light acclimation is critical for many fish in two ways. First a lot of the fish we get come from places that are in daylight when it is night for us and vice versa. Consequently, if the light cycle in our tank is off by eight or twelve hours then this fish will be active at night and hide or sleep when the lights are on, on our tanks. So these fish need to be gradually acclimated to this new light cycle.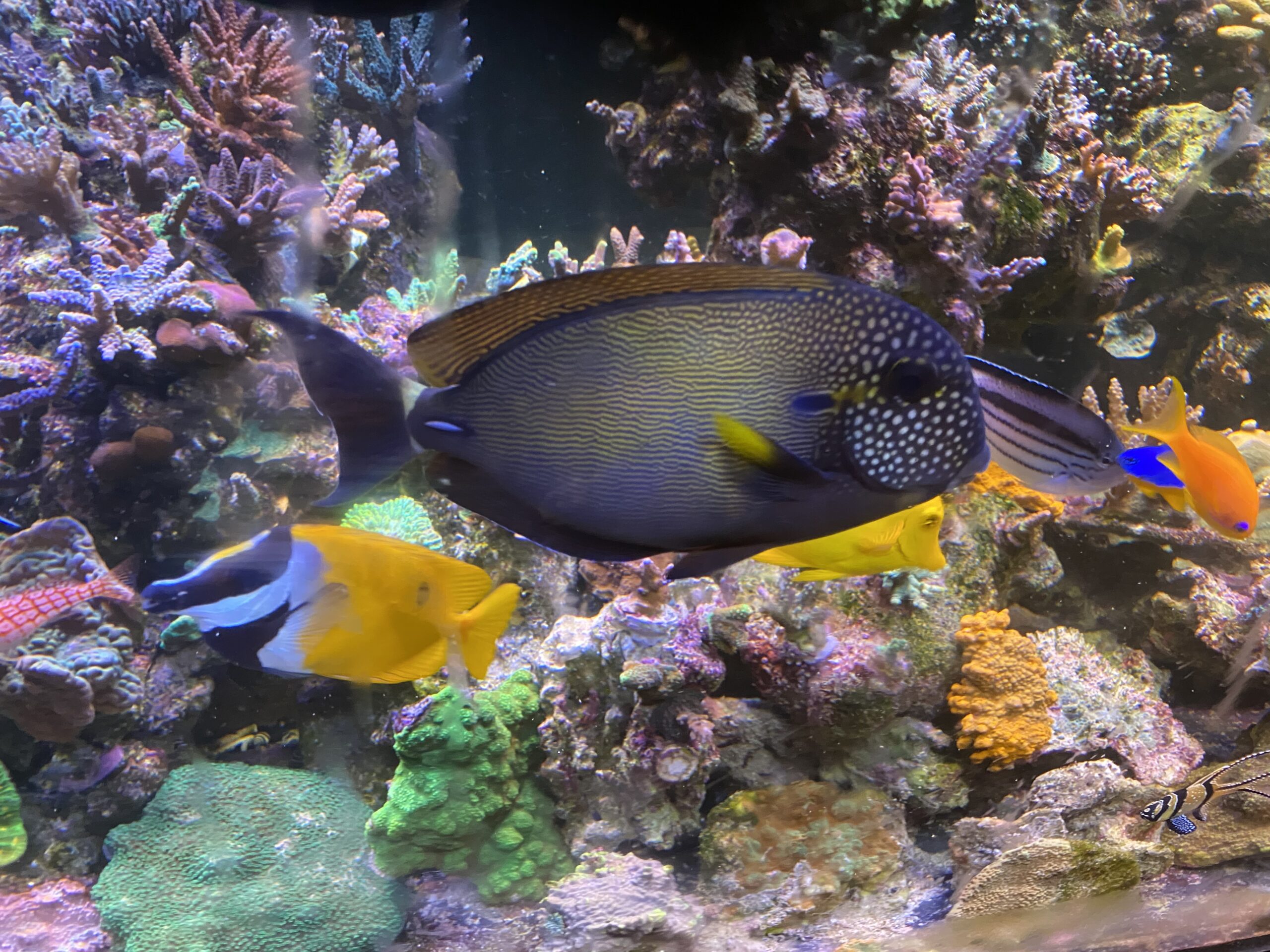 Second, not all fish come from areas where the PAR is 400-500 or greater so they also need to be gradually acclimated to this brighter light. When this is not done, many of these fish will constantly hide behind or in the rocks and will fail to thrive due to not eating or feeling harassed.
The order in which fish are added and acclimated to a tank also needs to be taken into consideration. If possible, the least aggressive fish that are going to be added to the tank should be acclimated first and the more aggressive fish added and acclimated later. This is done so that the aggressive fish are less likely to attack fish that have already been established in a tank.
How fish are added in terms of whether they are added in a group or individually also has an effect on how they are acclimated. When fish are added in a large group it usually helps reduce the aggressiveness shown to any one individual fish, while when individual fish are added they tend to be picked on more, so their time in the acclimation box needs to be longer.
When fish are initially added to the acclimation box, feeding should be minimal if at all for the first day to allow for the fish to first get acclimated to their new surroundings and water chemistry. During the second day and moving forward small feedings should be given frequently during the day, with an attempt made to make sure that feedings are done at dawn and dusk, which is often when most fish are likely to feed.
A wide variety of foods should be tried as not every fish likes every food. When foods are found that are especially liked they should be noted and these foods should be given daily during acclimation while other foods are still tried daily. The goal is to provide as wide and varied a diet as possible but as noted only small amounts should be fed so as not to foul the acclimation box.
The goal of having the fish in a clear box open to the tank in terms of water flow is to not only get the new fish acclimated to the tank's conditions and water chemistry but also so that the fish in the tank will become accustomed to the new fish. If this is not done it is like when a new kid comes into a classroom. Unfortunately, the new kid is often picked on until they establish themselves in the classroom. This is the same for a new fish, but unfortunately, it can be worse as unless the established fish are used to it, they will harass the new fish and often keep it from feeding to the point where it starves to death.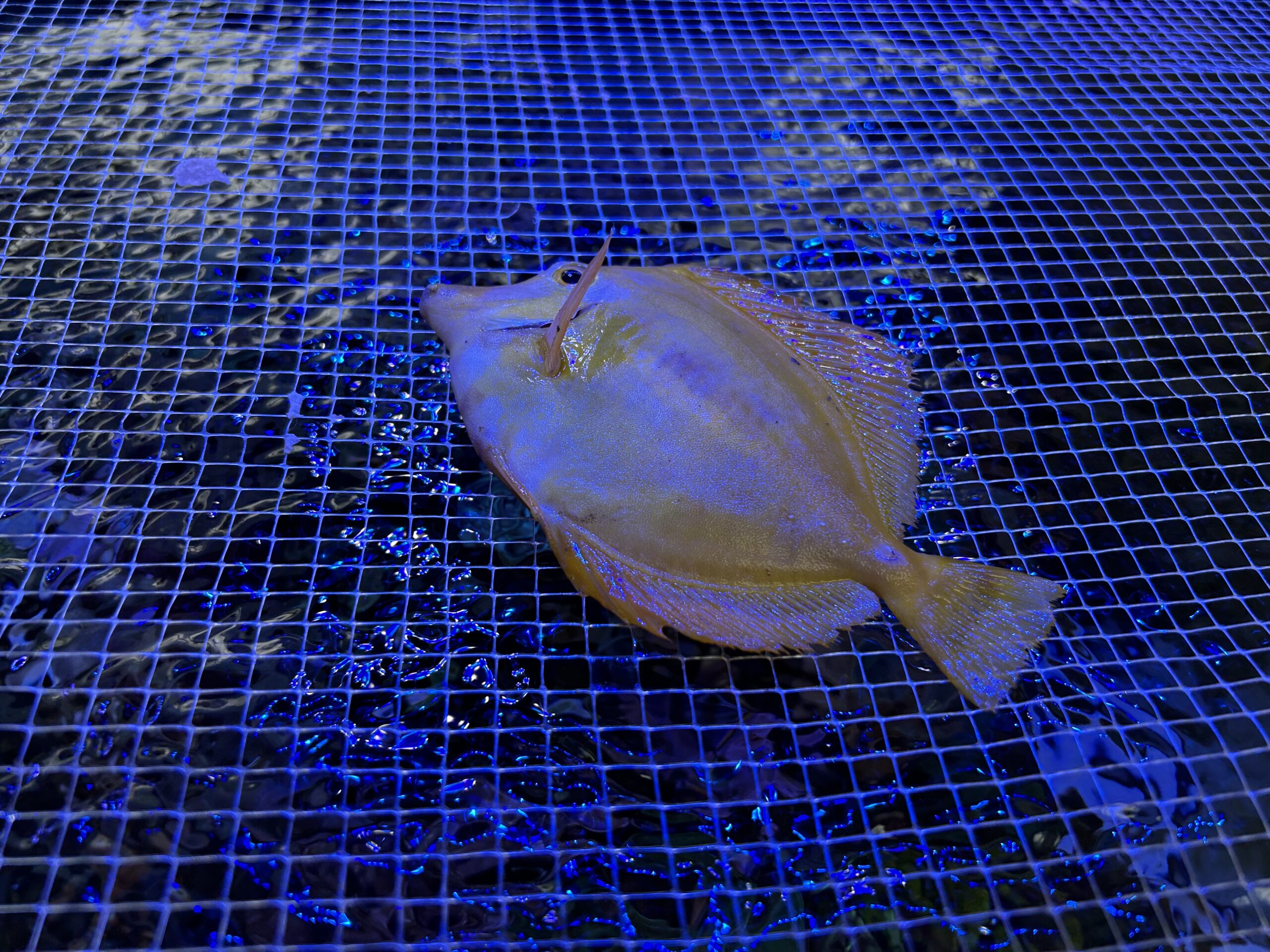 For this reason, there is no set timetable for how long the new fish need to be kept in the acclimation box. I have had fish need to stay in the box for months as there was always a fish that would peck at the box indicating it would do the same once the fish was released. Conversely, I have also had fish that only needed to be in the box for a few days as they were feeding and were totally ignored by the established tank residents.
Lastly, one other factor that can help in acclimation is understanding that due to the natural behavior of fish to establish and defend a territory when new fish are introduced, they will be viewed as intruders and will be treated aggressively by the established tank inhabitants. Part of this territoriality occurs as the established fish know where every nook and cranny is in the tank while new fish are unfamiliar with these.
In order to reduce the territoriality and aggression another suggestion to aid in the acclimation process is to change the aquascape so that it is new for not only a newly introduced fish but also the established fish. This can help to reduce some of the natural aggressiveness as well.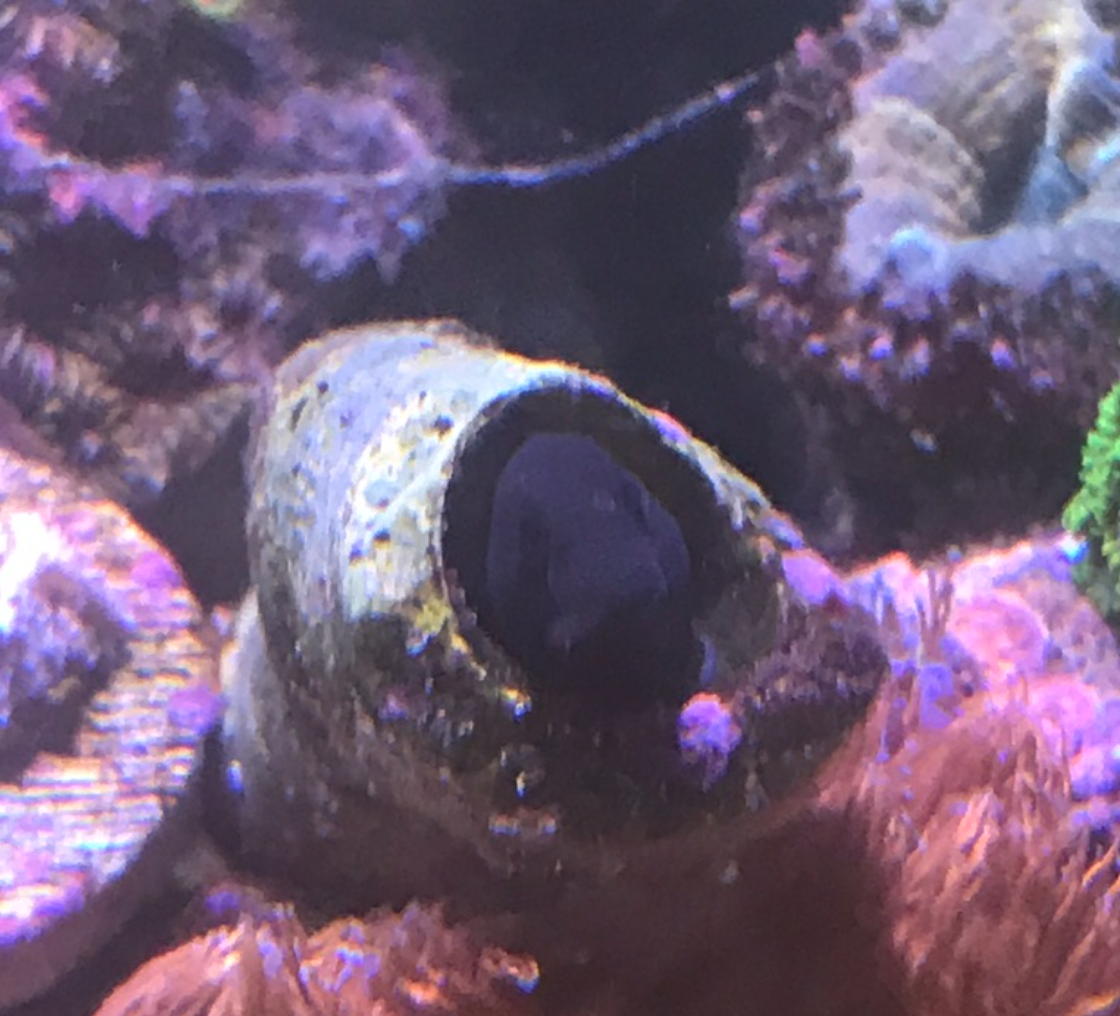 The goal of acclimation is to make the change for all fish to be as painless and seamless as possible and in doing so reduce the mortality rate of newly acquired fish. By using the methods described above for acclimation, I have been able to significantly reduce the mortality in newly acquired fish by at least 50%. There is nothing more disheartening than losing a fish soon after acquiring it by rushing to add it to an established tank. Doing proper acclimation and not rushing the process can go a long way in allowing new fish to thrive in a tank. As with every other aspect of this hobby patience pays off.