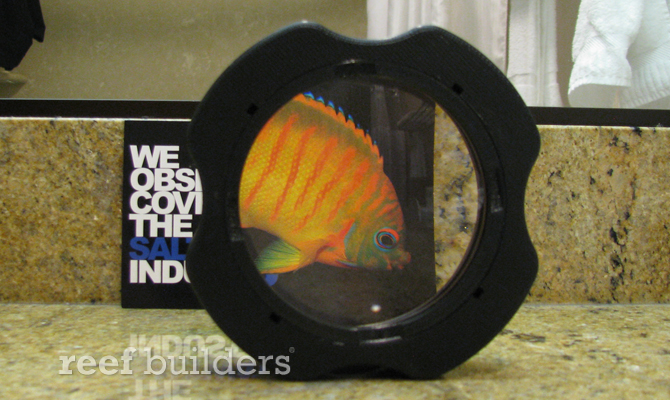 The Portal by IVS (Innovative Viewing Systems) is a nifty magnification tool is one of those neat gadgets you just want to try out. The company is showcasing the product at Reef-A-Palooza and we had to grab one of these to bring back to the hotel and get a closer look at. Think of this as part magnifying glass and part algae cleaner.
Coming in a variety of sizes, the Portal consists of a pair of porthole-shaped acrylic rings with a magnification lens on the outside part and an empty hole on the wet side. Like your traditional magnet algae cleaner, the Portal includes felt on the outside and Velcro on the inside so it actually performs two funtions — getting a magnified look into your tank and cleaning your glass. Plus with the magnets, you can leave it on your glass and shift it around as you see fit.
The Portal features a 10x magnification an optically engineered lens tuned to the depth of your aquarium to maximize your viewing experience. The new Portal will be available in a small 2.5 in. version, a medium 4 in. version and the largest measuring in at 6 in. The different sizes will be matched accordingly with different magnets that will work on tanks even 3/4 in. thick with different wet side materials for both acrylic and glass tanks.
We weren't able find out exactly when these will be available yet but when we get back to the show, we'll make sure to find out and pass it along. Expect these to retail for around $65.