2011 has been a fantastic year for aquarium reef fish enthusiasts. Not only have we seen a great deal of exceptional fishes in terms of rarity and beauty, we've also scouted some potential would-be aquarium staples in the near future. Here's top four species we think are currently bubbling under and ready to set sail into the hobby in greater numbers.
First up is the highly sought after and elusive Randall's Assessor. The Randall's Assessor has never been offered to the U.S market before until now. With House of Fins, LiveAquaria and Route 66 being the first few shops to debut this fantastic little fish in the states, we certainly hope to see more of them in the years to come.
The Sailfin anthias' of the genus Rabaulichthys is also deserving of top three. Almost totally unheard of and almost never offered to the trade until this year, the sailfin anthias has quickly made its presence known. We have been seeing many specimens entering the U.S market as well as Asian countries such as Japan, Thailand, and Singapore, where the fish is now very common. There's even been a new species in the genus officially described as Rabaulichthys squirei this year that comes out of Australia. A very exciting year for the Rabaulichthys genus indeed!
Last but not least is Pseudanthias charlenae. The Charlene's anthias is a relatively new species to hit the scene but we're seeing them streaming in from Indonesia. In fact, we stopped by Pacific Aquafarms this year during Reefapalooza and we were pleasantly surprised to see a few male and female Charlene's anthias sitting in the holding tanks. We'll be sure to see more of these guys in future.
Of course we can't forget the amazing flathead perch, Rainfordia opercularis, as one of the breakthrough aquarium fish of 2011. Although the flathead perch is still astronomically expensive, where before the Rainfordia was almost completely unheard of and never seen, at least now it has become moderately available around the world.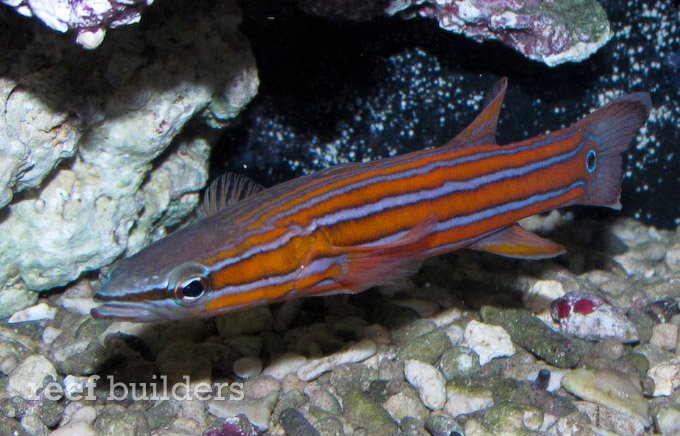 If public interest in the flathead perch grows and collectors can discover some locations where this species is more abundant, in the future we may see more wild caught Rainfordia in the trade at more pedestrian prices.  Better yet would be if some lucky individuals succeeds in breeding and raising this species for which there is hope, since the first step of pairing up two flathead perches has already been achieved in Kevin Kohen's office aquarium.
Let's not discount the other species that have an impression this year including the Tracey's demoiselle and the Black-margin Dottyback offered by LiveAquaria this year. With 2011 coming to a close, we're excited to see what 2012 has installed for us!