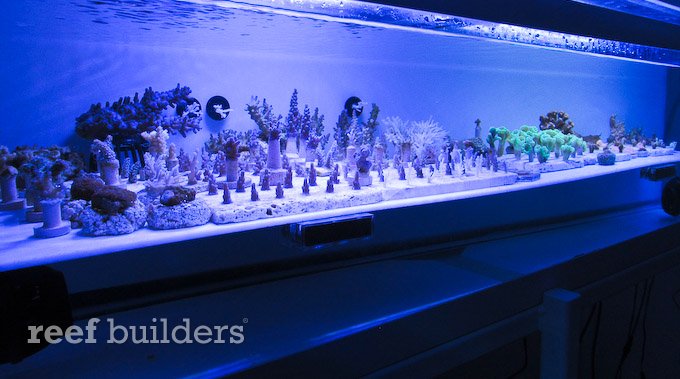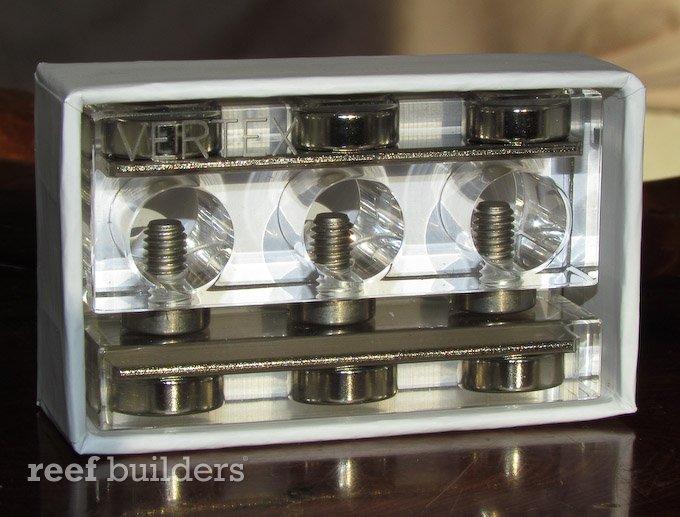 The Vertex Sensor Mag magnetic probe holder is attractive acrylic, neodymium and titanium and there is no doubt that it can hold up a few probes, but what else can it do? Well in the time that we've been using one since September we've used it for all manner of magnetic services including temporary frag holding of some larger pieces of coral but the best alternative use of the Vertex Sensor Mag is as a support for a gyre frag tank divider.
Before getting our hands on a pair of the Vertex Sensor Mag magnetic probe holders we'd used all manner of run-of-the-mill magnet algae cleaners, legs and rails glued to the sides of the tank to support the divider of frag gyre tanks – all of which were either inelegant, inflexible or both.
The Vertex Sensor Mag is both strong enough and attractive enough to not only hold up the divider, but they look darn good in plain sight on the front of the tank while all the other magnets are relegated to the back of the tank where they are out of sight.
To make a long story short, if the Vertex Sensor Mag probe holder is strong enough to hold up a big tray of frags then it surely can hold a couple probes. The three titanium screws can be easily adjusted to fasten all manner of aquarium accessories and we imagine other aquarists repurposing the Vertex Sensor Mag for all types of applications.