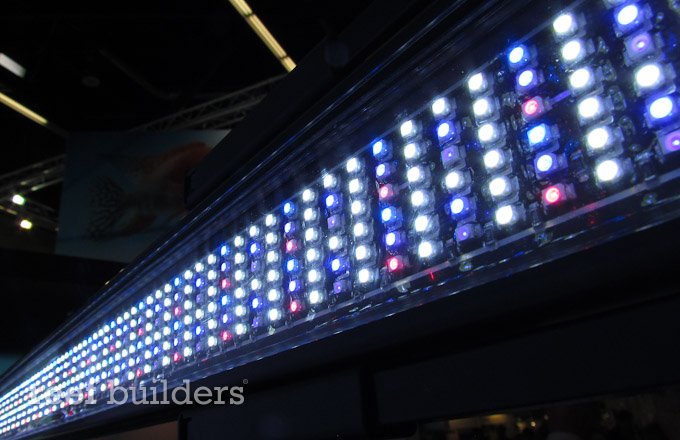 Fluval LED striplights are taking the approach of using an army of low output LEDs in several colors to reproduce the most even and broad spectrum LED light possible. Hagen is making a big push into higher end and saltwater aquariums the last few years, especially with its Fluval Sea line of aquarium products and the Fluval Sea and Fluval LEDs are a sure fire sign that Rolf Hagen & Co are truly committed to making a push into this space. 
The Fluval LED striplights come in three colors: a 5200K freshwater Fluval LED, a 6700K marine and plant Fluval LED and a 25,000K Reef Fluval LED. Of particular interest to you will be the Fluval Sea LED with six different types of SMD LED diodes, including four shades of blue and UV, a little bit of red and a broad spectrum white LED. Fluval Sea LEDs are designed to be used with extendable side brackets stretching out each of their four LED striplight sizes to fit many different tank lengths.
The three colors of Fluval LED striplights will come in an 18, 24, 36 and 48″ long models and a square nano model which is ideally suited to lighting up small cube shaped aquariums. The Fluval LED and Fluval SEA LED sriplights looked great over the display tanks at Hagen's InterZoo 2012 booth; the striplights are very attractive matte black with a stylized heatsink and the corals and plants lit up with them had great color and pop. For reef tanks and more serious corals growth you will need to use multiple strips, especially for stony corals, but that diffused broad spectrum lighting will make sure there are no hot spots or dark spots in the aquarium.