Nyos is a budding high end marine aquarium product company which first broke onto the reef scene with some private-labelled cone protein skimmers for Europe, but they've been busy developing a whole suite of original goods. The Nyos Viper water pump may be a sooped-up Eden but the Nyos foods, additives, filter media and the Nyos test kits are especially promising.
New test kits come about only every so often, with most companies barely changing the testing protocol for years on end so we were particularly intrigued by the Nyos testing line since these have been developed very recently with the latest knowledge about chemical testing techniques and reagents. Since we've been on a diligent nitrate regimen to evaluate the Orca NitraGuard BioCubes, the Nyos Nitrate Test is the first kit we chose to put under some scrutiny.
Upon unboxing the Nyos nitrate test kit, we were surprised to see that the testing chemicals are in square bottles and that there is only two reagents. As far as we know every single testing chemical bottle has always been a round or oval dropper in shape, but surprisingly the square shaped bottle in the Nyos kit actually seemed to be easier for administering reagents drop-wise.
Almost all the aquarium test kits that we trust use three droppers of liquid reagents, except for the Salifert test which uses two dry reagents but the Nyos uses one bottle of liquid and one container of dry powder. That the Nyos test kit uses only two steps makes it an extremely easy and quick test to perform and with it we were quickly able to measure nitrates on several of our marine aquariums and to compare it to mainstream aquarium test kits.
Simply due to its scale the Salifert test kit if a very crude measuring tool for determining phosphate with readings that quickly goes from 5 to 50ppm in only 6 steps. Red Sea splits the difference with two lines of test kits, a regular Marine Care range with a measuring scale similar to the Salifert range, but the Algae Control nitrate test by Red Sea is limited to measuring up to 4 ppm NO3.
The Nyos Nitrate test kit's color scale is one of the broadest with 11 different shades of yellow with a range from 0 to 160ppm. In our testing the different shades of yellow were very easily distinguished both at the low end and middle of the testing range. All of our resulting Nitrate values using the Nyos nitrate test closely matched what we came up with using Salifert and Red Sea tests, but it took less time to combine the reagents and less time to wait for the color change.
The Nyos range of aquarium water testing kits are only available in Europe at the moment where the Nitrate test kit retails for 39.90€ ($53). That price includes 19% in European VAT tax so perhaps the Nyos Nitrate test kit could retail for $40 in the American market, which is very reasonable for 100 tests. Our first experience using the Nyos Nitrate test kits was a very good one, with a shortened two-step testing process, a short wait time and an easily read color scale, and we'd definitely consider this test kit for regular use on our own aquariums. [Nyos]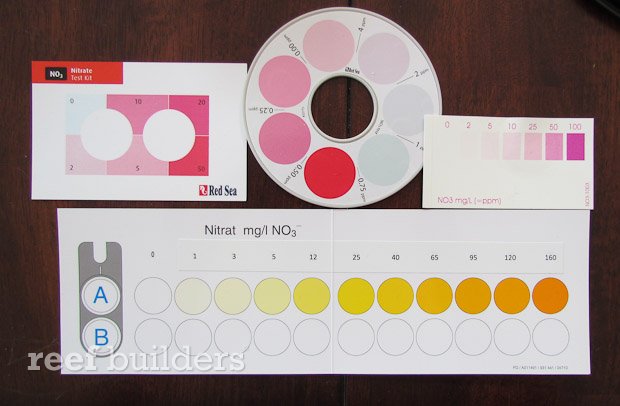 FTC regulations require that we inform you that we were given this product for review, but our opinion of a product is never affected by how we acquire them.