The AI Hydra LED light is a surprise from left field by AquaIllumination which is going to be available quite soon. It's been great having AquaIllumination cranking out new product releases including the AI Vega, New Controller, EXT Rail, Powerpucks, the AI Sol upgrade kit, the forthcoming AI Director and MyAI, so now the AI Hydra is a cherry on top, a very big cherry.
Using what we presume are the same internals of the AI Vega, the AI Hydra LED has a maximum power of 95 watts at the wall, so a little bit less than the flagship. The AI Hydra inherits almost the same level of control as the AI Vega, seven channels for the AI Hydra LED, and built in wireless connection. The AI Hydra LED has a slightly different LED placement, with the entire puck rotated 45 degrees, and an 80 degree beam angle all around although 50 degree lenses will be available.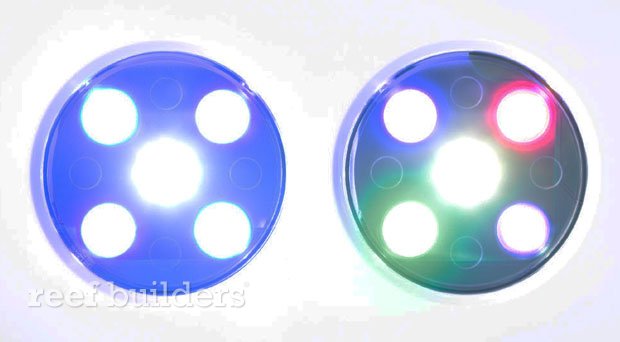 The twenty LEDs are populated by 4 Cree XT-E Cool White (> 70 CRI), 2 OSRAM OSLON Deep Red, 2 Cree XP-E Green, 4 Cree XT-E Royal Blue, 4 OSRAM OSLON Very Deep Blue, 2 SemiLED 415nm Violet and 2 Edison Opto 400nm UV. You'll notice that compared to the AI Vega the AI Hydra LED has no overpowering Cree XM LED in the middle and no regular blue 470nm LED.
The main difference between the Vega and Hydra are the number of channels of control (20 vs. 7) and fixed colors (no PowerPucks). The AI Vega as well as AI Hydra now also use the XT-E cool white and royal in place of the XM-L cool white and XP-E royal.

The blue spectrum of the AI Hydra LED is now carried by the mandatory royal blue LEDs, some deep blues and two shades of near UV LEDs to cover the hyper-fluorescent end of the spectrum. This shift to even bluer light with a smaller wavelength should be a great direction for the ever popular LPS, Acans, Chalice and Lobophyllia corals which tend to do better under less direct light and cooler light spectrum.
AquaIllumination will be shipping the new AI Hydra to distributors next week and it will carry a retail price of $399. Four benjamins is the same current price for the beloved AI Sol, one of the workhorses of the aquarium LED world and not likely to go away any time soon.
AquaIllumination HYDRA LED
Combining the control of the AI Vega and unmatched
power of the AI Sol, the AI Hydra brings a new level of performance. Unlike the Sol Blue & White, the Hydra uses 80 degree lenses to provide uniform light output and color blending. At a maximum of 95 watts from the wall, it follows in the family's efficient footsteps.