"Open brain coral" is a common name applied to a wide variety of coral species belonging to several different genera. But if you ask my opinion (well, even if you don't, I'm going to offer it anyway), Trachyphyllia geoffroyi is one of the best of the bunch for both experienced and novice reefkeepers alike.
T. geoffroyi (you may also see this coral referred to as Wellsophyllia or "wellso") is a large-polyp stony (LPS) coral that, with its convoluted tissues inflated, looks very much like, well, an exposed brain. The actual shape can be quite variable. Some are more rounded and dome-shaped while others are considerably more meandering. Possible colors include different shades of green, brown, red, and blue as well as various combinations thereof.
Some 13 years ago, I purchased a gorgeous green-and-brown T. geoffroyi specimen (my wife says its colors remind her of mint-chocolate-chip ice cream), and it's still going strong and looking as beautiful as ever. It's proven to be relatively trouble-free and undemanding as long as its few basic care requirements are met. They include:
Lighting
T. geoffroyi will thrive under moderate to high levels of illumination. My specimen is positioned on the substrate of a standard 75-gallon tank illuminated with two 175-watt metal halide bulbs and two 40-watt actinic fluorescent tubes (which really make its fluorescent green color "pop").
Current
I've found that this coral does best when provided gentle to moderate, indirect water movement. You want just enough current to keep its tissues clean of detritus. But blast it with too much current, and you can expect it to remain tightly contracted.
Placement
The best, and most natural, location for T. geoffroyi in your tank is down on the substrate with good clearance on all sides to allow full tissue expansion. Placement up on the rocks is discouraged because the fleshy tissue can abrade against the rough or sharp surfaces and cause irritation (which means the specimen won't open) or injury (which could lead to infection and death). Also, be sure to allow sufficient room between it and other coral specimens, especially those known to possess long sweeper tentacles that could reach and sting your T. geoffroyi.
Feeding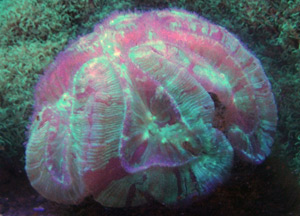 This coral is photosynthetic, but it does benefit from regular direct feeding. Small meaty items, such as mysid shrimp, chopped clams, or the like, should be offered at least once a week when the coral's feeding tentacles are visible. These tentacles usually emerge after dark, but if the coral gets accustomed to daytime feeding, they may start to appear when the lights are on.
To feed my specimen, I shut down all water circulation in the tank, put the food in a small cup filled with aquarium water, and draw up some of this mixture with a turkey baster (a pipette works well, too). Then, I very gently squirt the mixture directly into the tentacles, which seize the food immediately and start moving it toward one of the coral's numerous mouths (located in the valleys between the fleshy ridges). The slow-motion process of feeding is fascinating to watch, though, admittedly, it can be a bit like watching paint dry.
Fending off food thieves
Do be aware that certain fishy (or shrimpy) tankmates may soon figure out that they can get a quick, easy meal by plucking bits of food from the brain coral's tentacles. In my tank, the culprit is a percula clownfish. To keep my resident food thief at bay, I very carefully place the top half of a three-liter plastic fruit punch bottle over the coral—creating a protective, clownfish-excluding dome—and deliver the food through the opening at the top.
If any of you salties out there use other methods (that don't involve murdering the fish) to circumvent this same problem, please share them in the comments section below.
Good beginner LPS
As I alluded earlier, T. geoffroyi is a relatively good choice of LPS for the novice reefkeeper. I'm not saying it will thrive on neglect, but it's definitely more forgiving than some. Make a conscientious effort to provide the right conditions as described above and you'll get many years of enjoyment from your specimen.