I recently returned from a two-week vacation to Japan and Korea. The vacation was wonderful (after all, it's hard to go wrong with trips to such exotic destinations), but what really helped me enjoy the experience was having some peace of mind that my reef systems back in Ohio were still doing well. A large system of any size gives plenty to worry about, and it is hard to enjoy oneself if thoughts of potential disaster constantly creep in.
What helped tremendously were three devices that allowed me to monitor various aspects of my systems while on the other side of the planet. All I needed was an internet connection, and I could view my tanks along with the tank parameters in real time as well as values over time. The three devices are:
An Apex Aquarium Controller to monitor the tanks
Dropcam wireless cameras
A Nest thermostat
Although I am mainly going to talk about these three devices, they do not take the place of friends and family coming over to look over your tank. As Jeff pointed out in his vacation aquarium sitter post, there is no substitute for the attention of an experienced hobbyist. While we were gone, there were plenty of experienced aquarists here on site to make sure things ran smoothly. Having said that, the three devices mentioned above made my time away from home a much less worrisome endeavor.
Neptune Systems AquaController Apex Aquarium Controller
AquaController Apex aquarium controllers are devices that monitor and control other pieces of equipment in a reef setup. They are capable of a great many functions, ranging from controlling lights to controlling pumps, monitoring probes, and even sending email and text alerts when tank parameters fall out of spec. Theoretically, an Apex could be set up to control every single device on your tank.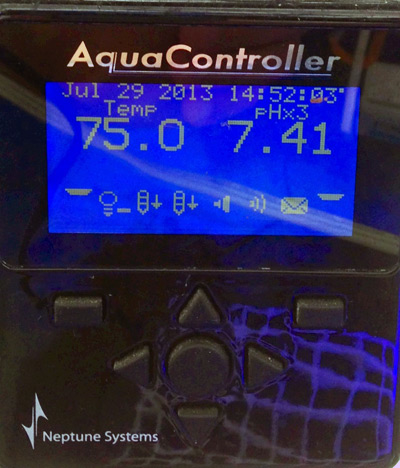 For my systems, I am less interested in the automation of the tanks than the monitoring. Perhaps I am a little paranoid, but as wonderful as Apex are on paper, devices can and will fail. I would hate for an Apex to react to a faulty temperature probe by leaving a heater on and cooking a tank. Monitoring, however, offers much less risk and all the rewards.
Two parameters I paid the most attention to were temperature and pH. Temperature is a big concern to me, especially in the summertime, as it is far more challenging to cool down tanks as opposed to heating them up. In the winter, I always check the temperature right before I go to bed to make sure my heaters are still working properly.
Checking the pH of the tank is helpful but not nearly as helpful as checking the pH of the calcium reactor. The GEO brand of calcium reactors comes with a port for a pH probe, and I find it supremely helpful in determining whether the reactor is working or not. If the reading is below 7, I can pretty much be certain the reactor's output is clogged and too much CO2 is in the chamber. It's going to be a milkshake if left in this state too long. If the reactor is showing a reading over 8, either the solenoid was tripped and no CO2 is flowing to the unit or the CO2 cylinder is empty.
Other probes, such as oxidative/reductive potential (ORP), are available to give a rough estimate of water cleanliness and dissolved oxygen for those folks who have to know everything. For my application, temperature and pH went a long way.
Dropcam Cameras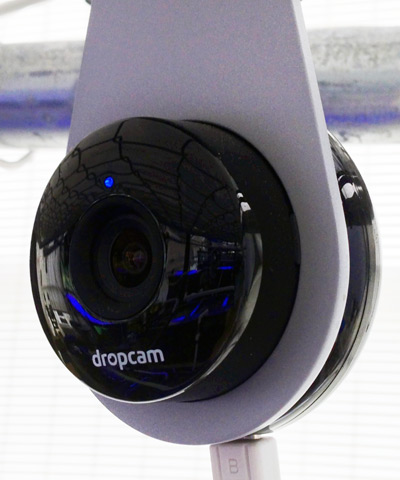 Camera technology advances every year, and I think the wireless-camera market finally hit on a huge winner with the Dropcam. These things are flat out amazing. Here's why:
First of all, they are super simple to set up, which to me is 90% of the battle. It takes less than 10 minutes to install and configure.
They provide a beautifully clear image during the day and have full infrared night vision when it gets dark. I also found that when you set up an array of Dropcams, the infrared lights from the other cameras can be seen, so an entire building can be bathed in infrared from multiple angles, making each camera "see" much more clearly.
Lastly, Dropcam offers a cloud-based DVR service, so you can essentially use them as security cameras. Like the Aquacontrollers, the Dropcams can send out email and text alerts, ranging from power failures to motion and sound detection.
The Dropcam website has some public web cameras you can view. My personal favorite is the tortoise cam. A pet store installed a Dropcam with a battery pack on the back of a tortoise that walks around the store.
Nest Thermostat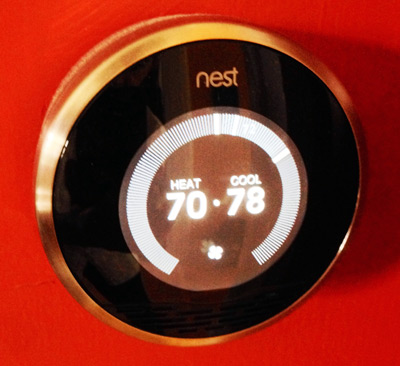 The Nest is a really cool gadget that replaces your existing thermostat. Generally speaking, a thermostat isn't something that immediately comes to mind when I think about my home aquarium, but the Nest is quite a lot more than your typical thermostat.
Like the Dropcam, it is incredibly easy to install. Once installed, a Nest gives you great control of your home's heating and cooling, complete with a motion-sensing algorithm that figures out when you are home and not home and heats/cools your house accordingly.
My favorite feature of the Nest is the reporting. While you are away, you can see everything you need to know about the weather back at home and how your house managed the temperature as well as relative humidity. Sometimes problems with your tank are a symptom of something wrong with your house, such as the air conditioner failing, and a device like the Nest can alert you to that sort of thing.
In closing, there are devices available that can give an aquarist plenty of monitoring options. They are not a substitute for tank sitter, but every time you want to take a peek at your tank while you are away, these devices can give you more than enough information for that peace of mind.