The PhosphatFilter Fe is a newer reef aquarium accessory from AquaMedic which has enough merit to go head-to-head with media reactors. In addition to being preloaded with AquaMedic's own take on granular ferric oxide (GFO), the PhosphatFilter Fe is smaller, uniquely bracketed and built extremely strong.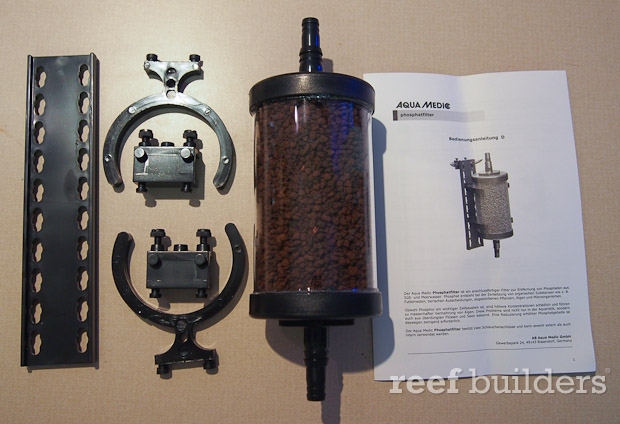 In a theoretical swordfight between a PhosphatFilter and a Phospban reactor, the heavy duty acrylic PhosphatFilter would crush it and probably incur nary a dent. Not that you need to go to war with your media reactors, but it's nice to see some attention being paid in this department.
Instead of the HUGE overbuilt acrylic media reactors that just about every acrylicsmith outfit is trying to make and sell, the PhosphatFilter Fe is much more in line with the needs of the everyday aquarist. Still made of acrylic, but the smaller PhosphatFilter Fe is only three inches in diameter, 9.5 inches tall and holds a much more home-aquarium suitable 400ml of media.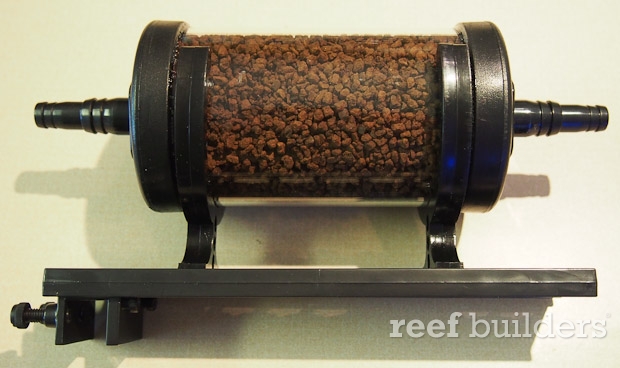 More interestingly, the inlet and outlet hose barbs of the PhosphatFilter screw into the top and bottom, not over them, allowing the media reactor to be serviced from both ends. The end-to-end flow through design also allows the PhosphatFilter to be more easily plumbed inline when you are trying to take the flow in one direction. Most interestingly though, the PhosphatFilter's coarse style of GFO in AntiPhos appears as if it may be more user friendly for novices.
Nearly all GFOs available to us reefers are of the fine grain, high potency type, like Phospan and Rowa. AntiPhos is much coarser meaning it has a much smaller surface area so it should adsorb phosphate a little slower but hopefully for quite a bit longer.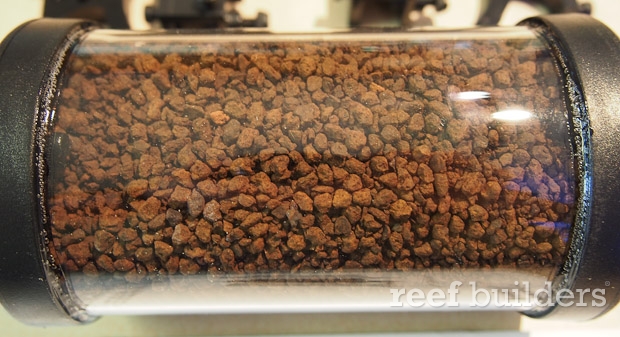 The only thing keeping the PhosphatFilter from being a complete kit is the exclusion of a pump or hoses. But at $57 and being a nearly complete set, this is one media reactor which may be more applicable in tighter fitting spaces, or when external flow-through is more desired. [AquaMedic]