The amazing wrasse pictured above is an incredibly rare fusion between two already rare species. The yet to be described Pintail fairy wrasse (Cirrhilabrus cf. lanceolatus) and the also difficult to obtain Crescent tail fairy wrasse (C. lunatus) sometimes hybridizes in the wild to form this stunning love child. Continue reading for more tantalising pictures as well as more information on the two parent species that contribute to this phenomenal specimen.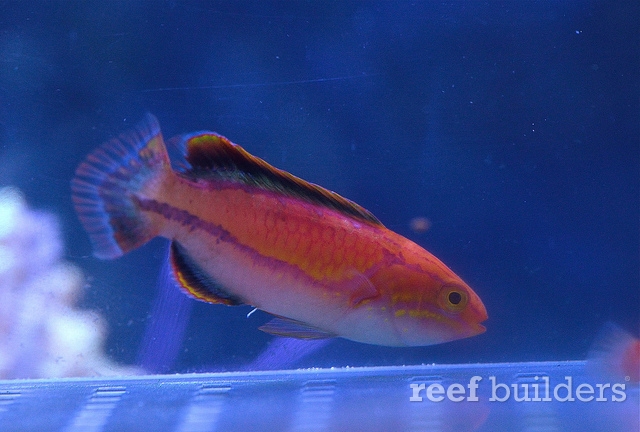 Cirrhilabrus hybrids are almost unheard of, and in the sixty or so species that are collectively known as fairy wrasses, only one hybrid has been documented with some regularity, and it is this one. The hybrid between C. lunatus, and the yet to be described C. cf. lanceolatus. What's incredibly unique about this hybrid is its tail, and the fact that it shows clearly both traits from its parents. To understand this, we must first take a look at how each of the parental species are designed.
The two wrasses above with highly crescentic tails are C. lunatus, with its species name depicting the appearance of its caudal fin shape. Cirrhilabrus lunatus is a wide ranging fish that can be found in subtropical Japan, or more tropical Philippines. The big disparity in geographical locations shows in the appearance of the fish. In the Philippine lunatus pictured far top, the fish lacks the bright yellow blotch present on the flank of the Japanese versions. The tail and unpaired fin is also considerably darker. This has led splitters to believe that Philippine examples may in future, represent a different species. While we're on the topic of C. lunatus, keep in mind its tail shape while we continue exploring the other parent that contributes one half to this hybrid.
Hybridising with C. lunatus is this other immaculate species, the Pintail Wrasse. This little species is more closely related to C. lunatus than C. lanceolatus, which its name suggests. The only resemblance it has to the gargantuan latter is the lancet shaped tail it possesses. C. lanceolatus grows to nearly 7 inches in length, while the pintail grows to only 3. Because it is undescribed and superficially possesses the same tail shape, it has been appointed "cf. lanceolatus", where cf means look-alike, or to confer. The pintail fairy wrasse is also very rare and can be found in Japan and Philippines.
Those that enter the trade are almost always collected in the Philippines. Japanese caught pintail wrasses are obtainable, but command a much higher price. Now take a look at the tail of this yet to be described species. It has a rhomboidal, lancet shaped tail that tapers to a point. A total opposite compared to Cirrhilabrus lunatus. When these two species get together, the resulting hybrid possesses a super unique "tri-pointed" tail.
The mixing of the lancet shaped tail genes together with a crescent one makes for a triple lobed tail, almost like a trident shaped one. A perfect blend of two blazingly different tail shapes. Now remember we mentioned above that the lunatus fairy wrasse is found in both Philippines and Japan? Yes that's right, the range overlaps perfectly with the pintail wrasse in both areas. Are then there hybrids of both the Philippine and Japanese lunatus with the pintail wrasses?
Simply put, Yes. This hybrid above was collected by RVS FishWorld who is based in Philippines. The presence of the darkly coloured unpaired fins and tail suggests genetic input from the Philippine variant of C. lunatus. The body lacks the bright yellow streak that is found in japanese C. lunatus. The japanese hybrids are more well documented with numerous pictures in the wild and in the trade.
The picture above shows a male hybrid of the japanese C. lunatus and the pintail. Check out the dramatic exaggeration of the trident shaped tail. This specimen shows the tail trait excellently. These wrasses are more closely related than we had imagined, with numerous hybrids being found and documented expressing varying degrees of "hybridness". Some with more exaggerated trident tails while others, more sullied.
About three years ago, Jim Gryzanowski obtained a single hybrid lunatus x pintail wrasse from Koji of BlueHarbor. That has been by far one of the only few hybrids that has entered the market from japanese waters. Immediately you can see in its unexcited state, it possesses a yellow band from the japanese lunatus that is not found in the Philippine lunatus nor its hybrid.
The world of hybrids continue to fascinate us. With this current hybrid in our custody, you can be sure we will continue feeding you updates on its development and its color when it settles into its tank. If you think it looks stunning now sitting in a breeder box, you can bet your bottom dollar it's only going to look even more smashing in a reef tank swimming with multiple females.
Here's a brief video of the same fish. We'd like to thank RVS FishWorld for their incredible supply of Philippines caught C. lunatus, C. brunneus, C. cf. lanceolatus as well as this hybrid. A big thanks to Iwarna Aquafarm for importing the fish, as well as Jim Gryzanowski, Barnett Shutman and Koji Wada for the sharing of their experience. For more information of C. lunatus and its related species complex, read this link.