With the Toledo Zoo's Aquarium currently undergoing a $25.5 million renovation and the new Aquarium slated to open in 2015, curious Zoo visitors frequently ask what exhibits the new Aquarium will feature. In this installment, let's continue our exploration of these new displays with a look at some of the special marine exhibits that will allow visitors a much closer view of aquatic animals—with some they can even touch.
One of the underlying themes for the new Aquarium is greater interactivity between the visitors and the exhibits. This supports our mission statement of "inspiring others to join us in caring for animals and conserving the natural world." Connecting more deeply with the animals in the Aquarium will certainly inspire people, and touchpools are a great way to achieve this goal.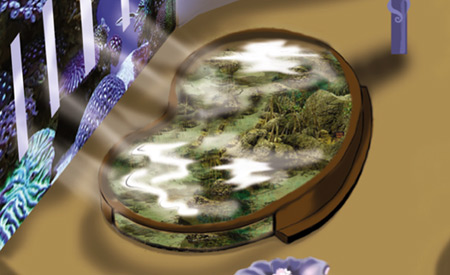 The new Aquarium will have two touchpool systems. A Zoo educator will be on hand when these exhibits are open to offer visitors information about the animals.
The largest, is a 2,000-gallon bean-shaped pool. Visitors can walk around it and view a variety of sharks and stingrays. Around most of the perimeter, they will also have the opportunity to reach into the water and touch the animals. Children in strollers can see into the tank through a low viewing window designed especially for them. We expect to have harmless bamboo sharks, bat rays, and stingrays in this exhibit. The stingrays will have their tail barbs clipped (like getting your fingernails clipped) so they can't harm anyone.
The second system is designed as an interactive laboratory where visitors can get close to a variety of invertebrates, such as horseshoe crabs, sea urchins, starfish, and sea anemones. A video microscope will allow people to see smaller creatures that they otherwise would miss.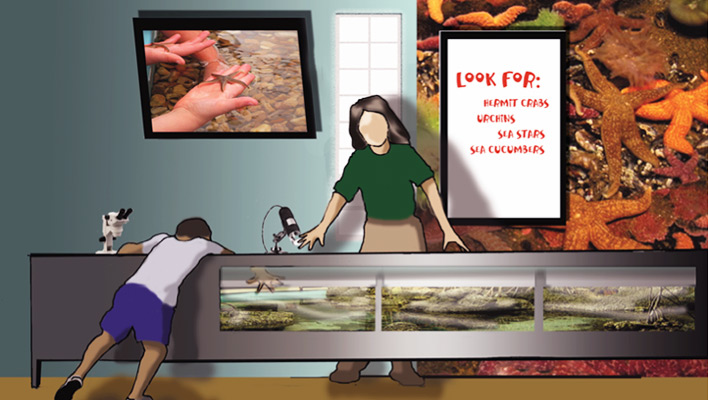 One very important aspect in the design of our touchpool system was to ensure that the animals are not harmed by any visitor activity. We plan to achieve this goal through a series of steps:
First, all visitors must rinse their hands in tap water before approaching the touchpools, which will remove any chemicals, such as insect repellent or soap, that might harm the animals.
Second, we will instruct the children that they can touch the animals only lightly, with their index and middle fingers held together. This reduces the natural tendency that kids have to poke or pinch things.
Third, the touchpools have been designed so that on busy days, if the sharks and rays have had enough human contact, they can swim to the center of the pool, where they will still be visible but out of reach.
Finally, visitors will wash their hands as they leave the area.
The life-support system for these two exhibits is very robust, with an ultraviolet water sterilizer to resolve any water pollution issues that might arise.

So there you have it—a closer look at what the Toledo Zoo has in store for its visitors beginning in the spring of 2105: a brand-new state-of-the-art public Aquarium right here in Toledo. Don't forget that the new Penguin Beach exhibit opens adjacent to the Aquarium a year earlier, in 2014!
Photo Credit: Toledo Zoo