As I type this, my breath is rapid, and my fingers are bent from random spasmodic twitching. We've seen Cirrhilabrus claire before, and a few times now. We've even covered it extensively before, but nothing could have prepared us for this. In hindsight, it was a no-brainer. We should have known and we should have expected a different looking Claire's fairy wrasse to show up one of these days, and it finally did.
Let's go back to the beginning, back to the original description of Cirrhilabrus claire. C. claire was described in 2001 based on specimens obtained off Rarotonga, Cook Islands. The original type locality for this species is the Cook Islands, just like Centropyge narcosis as well as Paracentropyge boylei. In 2012 when C. claire was first collected for the hobby in Tahiti along with C. narcosis and P. boylei, we were so infatuated and excited that we failed to make the connections.
The specimens of C. claire collected with the narcosis and peppermints did not come from the Cook Islands. They were collected in Tahiti in the Southern Pacific, a previously undocumented range extension for these species. However at that time, since there had been no living specimens prior to make comparisons with, we assumed that that was what C. claire was supposed to look. However in retrospect, a connection should have been made with the following train of thoughts, "ah, these weren't collected from the type location. Since Cirrhilabrus are known to be prone to geographical variations, could these Tahitian C. claire look differently from what they were supposed to all the way in the Cooks?"
Well we didn't, and now, a trio of brand new C. claire from the original Cook Islands have been collected. Here's the shocker. Well now that we have gathered our thoughts and calmed down, not so shocking after all. These from the Cook Islands look totally different from the ones we've seen from Tahiti. The fins are red, the tail is red, everything is red. The body coloration however, is similar to those we've seen from Tahiti.
The red-finned C. claire shown here by Aquatailor is the first we've seen of this species from the original type location. This means that this is the standard for what C. claire is supposed to look like. Why then are the ones from Tahiti so different looking? Could they represent a different geographical colour form outside of the type location? Maybe. Now that we've seen C. claire from both Tahiti and the Cook Is, we have a better understanding of the species from the two different areas. If more C. claire from the Cooks are collected in the future and end up looking like the ones here, with red fins, then it is safe to say both colour forms are indeed geographical variants.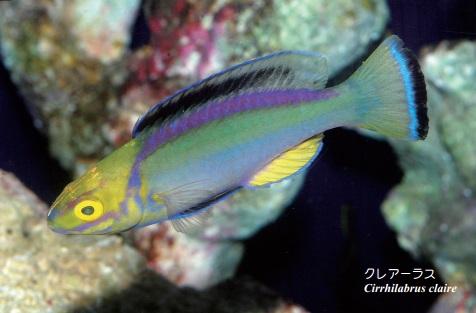 We've seen a handful of Tahitian C. claire over the last two years, and we've even managed to photograph some terminal phased males. In none of these specimens do the males have any hints of red on their fins. In fact, the males you see above from Tahiti were photographed at around 3.5 – 4 inches, that is about as big as they probably get. It is safe to assume therefore, that these are terminal phased males and the Tahitian morphs are presented with black ventral fins, as well as their dorsal and tail fins edged heavily in black.
A look back at the holotype specimen from the Cook Islands reveal the lack of black on the fins, but instead, red. Just like the ones from Aquatailor, Japan. Now fast forward into the future, we should have seen this all along. The difference in coloration between the ones we saw from Tahiti and the real ones from Cook Island isn't that much of a surprise. It is interesting to find out if the different form from Tahiti possess any difference in DNA as well, or is just simply a geographical colour form.
These Cook Island originals were caught at 50m, much shallower than the ones were at Tahiti. We hope to see more examples in the future but for now, we wait eagerly for anymore updates from Aquatailor regarding these specimens.