Phyllopteryx dewysea is a new species of seadragon from the southern coast of Western Australia with a brilliant red color giving it the name of Ruby Seadragon. There are only two other species of seadragon, the leafy seadragon, Phycodorus eques, and the weedy seadragon, Phyllopteryx taeniolatus, with the new ruby seadragon being more closely related to the latter.
The newly described Phyllopteryx dewysea doesn't share any of the namesake leafy and weedy appendages on its body but it does retain the same body shape and elongated features including a radically long snout. Surprisingly, specimens of Phyllopteryx dewysea had already been catalogued as "common" seadragons at museums in the past but key morphological features helped to confirm these were indeed ruby seadragons.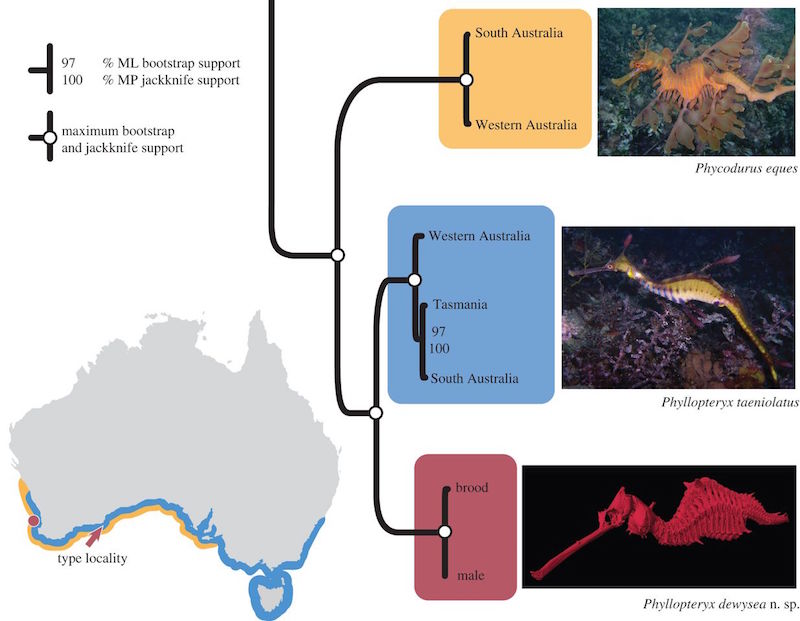 The new fire red seadragon wasn't even discovered all that far, or that deep! The first specimen of P. dewysea, the holotype, was collected at the Recherche archipelago at a depth of 51m, 167 feet, and more specimens were also collected around 70m, about 230 feet, not far offshore from Perth Australia.
Both previously known species of seadragon are currently listed as near threatened species and it is possible that the new ruby seadragon has been experiencing similar pressures. Perhaps the ruby seadragon's more secluded habitat has left the population more protected but so little is known about this new species, it will be really important for researchers to learn more about it as soon as possible.
We are surprised that such a large and colorful seadragon could have been overlooked, but it does live at moderate depth and higher latitudes which are not explored by divers nearly as much as the tropics. However, we are not surprised that the new ruby seadragon was discovered in the hotbed of abundant and exotic sealife hotspot of southern australia; it's almost certain that there are a lot more marine life discoveries waiting to be made in this part of the world. [Royal Society via Mongabay]