Raja Ampat and the Dampier Straight is home to some of the best diving around. Located at the heart of the coral triangle Raja Ampat has some of the highest recorded diversity of fish and corals in the world.
Few dive sites stand out in our mind, and Mioskon Island is one of those dives. The Raja Ampat archipelago is located between the Indian and Pacific Oceans, and strong current attract big schools of fish, sharks and manta rays, which is what most divers flock to Raja Ampat to see.
If you've already got your fill of megafauna, Mioskon might just be the dive you're looking for. And that's not to say you wont spots all three at this Mioskon.
The coral reef at Mioskon surrounds the Island in a V shape. The shallow vibrant reef fringing the shores and gently drop to 25-30m (80-100 feet). The sandy bottom is covering is coral bommies, wire coral and small groups of reef fish.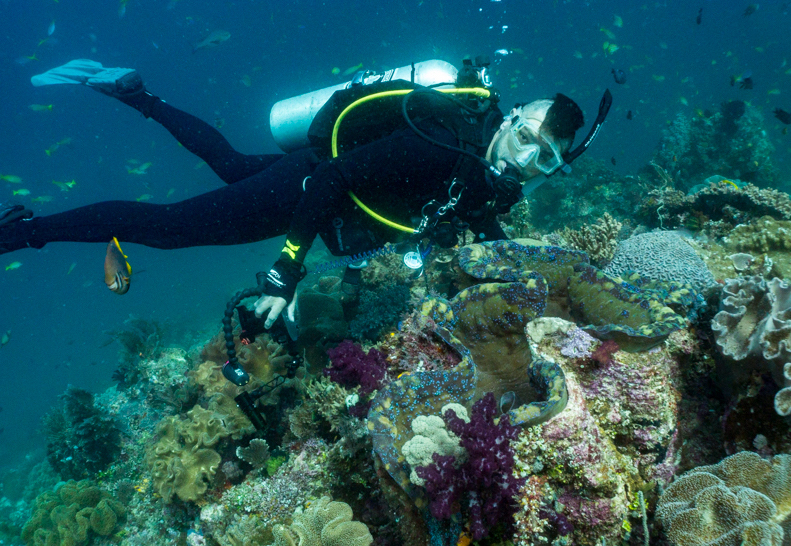 As your come up towards the top of the reef around 9m (30 feet) you find the real stars of Mioskon. First there is a giant clam, Tridacna gigas, this clam is really big and if we had to guess could be over 60-70 years old.
Next to the giant clam, tucked into a rock is a pair of pontohi seahorses, hippocampus pontohi. Now if you've never seen one of these pigmy seahorses it is best to have a guide point it out to you, and after seeing the largest clam species on earth it is quite a treat to see a seahorse no bigger than your thumbnail.
We also found a few mantis shrimp below the giant clam and more fish than we could count. As you move further towards the shallows keep your eyes out for scorpion camouflaged between then rocks and look up to see huge shoals of reef fish.
If you have the opportunity to visit Raja Ampat, try to get at least one dive in on Mioskon Island.