Northern Mozambique is home to one of the western Indian oceans largest marine parks. The Quirimbas National Park is 7,500 sq kilometers, of which 1522 sq km is designated a Marine Protected Area.
The Park includes 11 of the 32 islands in the Quirimbas Archipelago, which stretches along the Mozambican coastline towards their northers border with Tanzania. The dive sites are characterized by shallow reefs between the mainland and barrier islands followed by a steep wall as the continental shelve drops into the abyss of the Mozambique Channel.


The coastline of the Quirimbas is white sandy beaches, framed by extended mangrove forests and uniform limestone rock. The morphology of the coastline and barrier islands is composed of an immense platform of limestone which is the remanence of an ancient corals reef.
During low tide, small islands rise above the seafloor, exposing heavily eroded mushroom-like spires up to 15 meters tall.  It has taken thousands of years of wave impact to slowly eroded the foundation of the old reef, leaving the upper parts intact, and often covered in vegetation.
This rugged coastline has been mostly isolated from major development until recent oil and gas reserved were discovered in the deep ocean and northern borders of the archipelago. Over-fishing is also a concern in some Southern regions of the park which are close to the provincial capital of Pemba.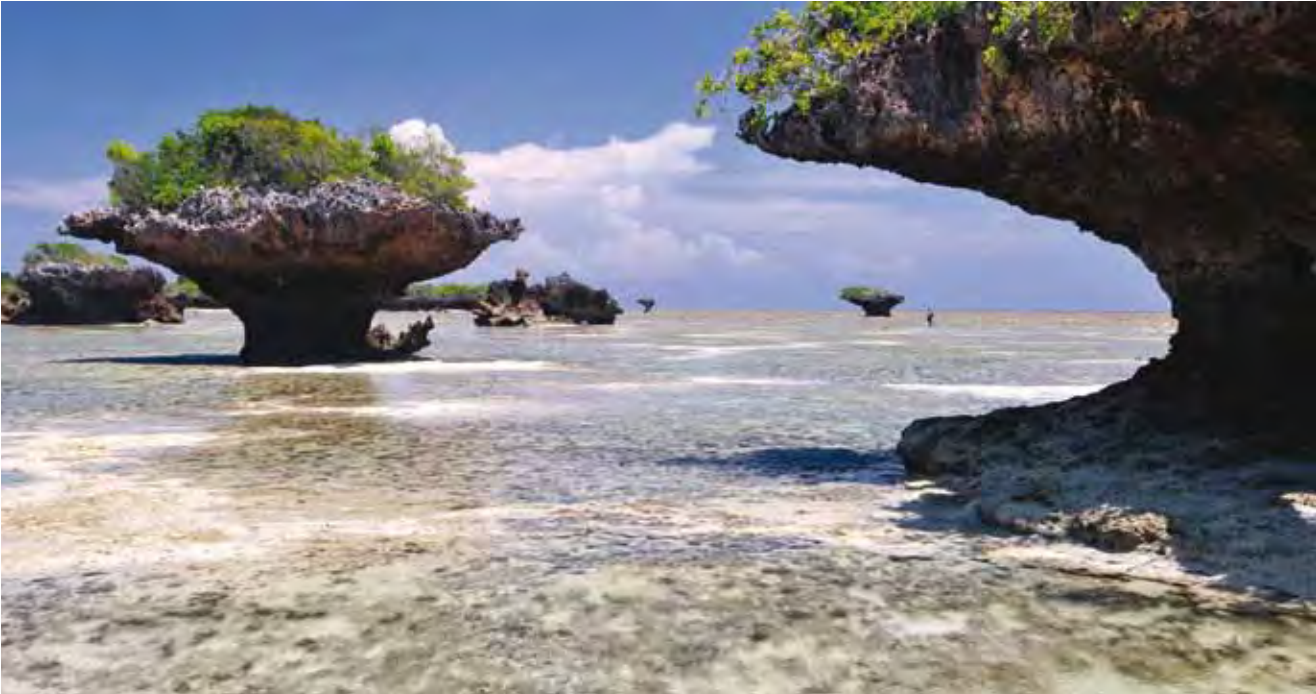 As you move north in the park and along the Archipelago the islands become sparsely populated to functionally uninhabited with only small fishing camps. The coral reefs are rich and diverse and support large schools of fish, rays, turtle, dolphins, sharks and migrating humpback whales.
To dive in the Quirimbas Marine Park you can stay on Ibo or Quilalea Island or try Mejumbe Private Island which is just north of the Park border. There is also Vamizi Island which is closer to the northern end of the Quirimbas Archipelago.
If you are planning to visit the Quirimbas make sure you have advanced diver training and some experience with deep dives. The deep walls of Zala Bank or Matemo Island are an absolute must, and the wall ridge continues north and south along the Archipelago. These stunning reef walls start around 16-18m before dropping steeply into the abyss.
The walls are covered in huge gorgonian fans, school of giant sweetlips, groupers, green turtles, morays eel, and even some napoleon wrasse. The clear waters of the Quirimbas Archipelago are warm year round, ranging from 25 – 29 degrees Celsius, with an average visibility of 20 meters reaching as far as 50 meters in summer.
[Quirimbas Park]