Since this hobby's inception the dissemination of information has been one of the hallmarks of why we have gotten successful. But now that there is so much information, I sometimes question how it is we learn what works, especially when as I sit back and look at things over time a lot of the information that has come out is contrary to other information that has come out.
Last weekend some friends came from Toronto for their semi-annual trip to see my tanks. While here they made the observation that I had a Red Sea Sailfin (Zebrasoma desjardini) tang in every one of my tanks. They asked why that was the only fish that I consistently had in every tank.
I said it was simple, it was the best fish for keeping Valonia under control and why I did not have any Valonia, or any other real nuisance algae in any of my tanks as a result. They then asked "how I knew that". This question kind of took me aback as I assumed that everyone knew that. More to the point it got me thinking as to how I learned that, and actually how I and we learn about what works and doesn't work in our reefs.
So how is it that we learn what works and what doesn't work in this hobby?
So how is it that we learn what works and what doesn't work in this hobby? Unlike when we started, the internet is the first source that many of us count on to provide constant, up to date information of not only what is new in the hobby, but also what is going on. Sites like Reef Builders provide daily and almost hourly updates of the latest equipment, newest fish as well as scientific discoveries that pertain to our hobby.
In similar fashion, other sites provide the opportunity to ask questions, solve problems or find sources for what we are looking for. However, there are some problems to having all this information available all the time. First since no two tanks are the same, the experience that one person has with a fish, coral or a piece of equipment may be markedly different than what the next person experiences.
So when information is being presented or gathered it should be recognized as a generalization rather than something etched in stone. Also, oftentimes when a new idea is presented on the internet, it is often critiqued or criticized intensely differently than if it were in person; especially if it is different than the way things have been done, and if there is initially not a strong scientific argument to support it.
Also, as I mentioned a lot of the information and discussions on the internet often offer contrary data and opinions. For example, in last couple of months I have seen opinions stating that LEDs are the greatest thing for growing and maximizing color in corals, which was then followed by the view that metal halides are making a comeback as corals grow poorly under LEDs.
Similarly, I have seen the case made for why we need to feed our corals in an extensive manner, which was of course followed by success stories about how corals were thriving despite never being fed. So obviously for newbie and oldster alike there is more to learning what works than simply going to the internet.
While I am strongly against snake oil and witch doctors, I am still of the opinion that there is as much art as science to being successful in this hobby. And I am also convinced that despite our many successes we still know relatively little about our reefs and reefs in nature, so obviously there is still much to learn.
So again this brings up the question: how do we learn what we need to be successful in this hobby, and actually more to the point, how do we learn it quickly? This last caveat is especially important considering how expensive some aspects of the hobby have become and how we do not want to nor can many of us afford to lose corals and fish at the rate we used to. So in this regard the old method of learning via trial and error is not nor should it be the best method now for learning what works and what doesn't in the hobby.
Fortunately there are still a lot of other ways to learn and find out what you need to know and learn in order to be successful. First and foremost among these, and I know this may sound old school and radical, is to read about it. That is, sit down and read a book or article about the hobby you love and a topic that you need to learn about.
And unlike the internet where anonymity allows for anyone to say anything, when an author writes an article or a book and puts their name on it, they are pretty much saying that they believe what they are writing about. In this regard, I try to read at least 30 minutes a day about the hobby and suggest that most of us would be better at this if we did so as well.
It is also my opinion that this would be much more productive than posting online 30 minutes a day so you get to 10,000 posts. I often go back and read old magazines and books and it is amazing to find that some of the things that are new ideas now were actually written about extensively 10 and 15 years ago.
I also learn from the mistakes that were made and were often documented in these magazines. I also take it one step further and have even gotten some German Japanese and other magazines and books on the hobby to look through to get a different perspective from hobbyists who I think are successful and have been so for a while.
And while some of their thoughts and ideas and strategies on things may initially seem a bit esoteric, their concern for the little things in the hobby makes sense. Technology has also made it much easier to translate an article or a paragraph that is interesting or useful, than it was in the past so there is no excuse not to do it.
So from reading these books and articles it is my opinion that in some ways they are ahead of us, while in others they are a bit behind, but compared to the past when we thought they were considerably ahead of us, we have for the most part caught up. But more to the point this information leading to their success is now available for anyone willing to take the time to read it.
While reading can be enjoyable, some find it boring and want more of hands on way to learn about the hobby. In this regard I suggest they go to many of the conferences around the country like Reefapalooza, MACNA, ReefStock among others. These conferences are more than just the opportunity to find the frags you have been searching for, as their sponsors usually put a lot of time and effort in to bringing in speakers to share their knowledge, and experience in the hobby.
I have not been to a conference yet where I did not learn something valuable that I did not know or often had not even thought about. In addition to the speakers, the vendors themselves are often a wealth of information that can help expedite the learning curve. The manufacturers are there not only to sell their products, but also to get feedback from us as to what is working and what they need to do to make us more successful. So in this regard the conferences provide an opportunity for learning to occur in both directions.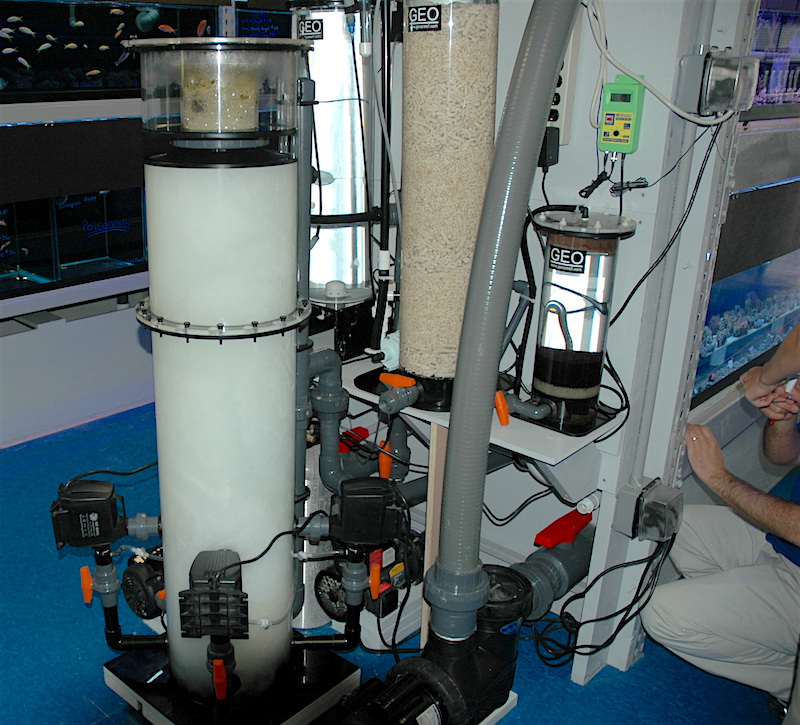 On a smaller more personal scale, learning can be expedited by joining a local society or club. In this setting, the experience of local fellow hobbyists can be provide information that is missing on the internet or in books. Also they can provide information about local stores and if you are really stumped some may even be willing to come to your home to help you out.
Since most of us have gone through the same learning curve there is also no reason to be embarrassed when things aren't working right and you and your tank need help. Having a friend or two in these groups who will help mentor you can greatly shorten how long it takes for you to learn what you need to do to be successful.
Also in some instances there are tours of the society member's tanks, and this can also help in learning, by seeing what they are doing firsthand and being able to ask questions as you see it. Lastly some of these societies still bring in speakers from time to time and this again is an opportunity to learn from people who usually have been doing this successfully for a long time.
Needless to say there is a lot that needs to be learned about this hobby in order to be successful and for the most part learning it takes more than sitting down and watching a few episodes of Tanked. People learn things in different ways and at different speeds, and fortunately this hobby actually does allow for everyone to learn at their own speed.
Doing things slowly and learning, rather than jumping in with both feet has actually proven to be quickest way to long term success. While the internet has allowed for everyone to have access to more information than ever, there are some perils to only learning about the hobby from it. So in this regard I strongly urge everyone to learn in the way that best suits them and which makes them comfortable.
Also it should not be forgotten that they best way for most of us to learn about this hobby is by asking questions. And luckily most of us that have been doing this for a while are glad to answer any questions, it is the way that we learn as well.