The Revillagigedo Archipelago in the eastern Pacific Ocean has just been added to UNESCO's World Heritage List! The World Heritage Committee inscribed Revillagigedo and 7 other sites to the list on the last afternoon of their 40th session on July 17th.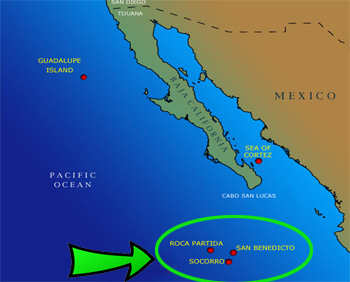 The remote archipelago is located 250 nautical miles south of the Baja Peninsula, Mexico and is made up of four rocky volcanic islands above water and submerged pinnacles below which attract a rich diversity of marine life. The archipelago is a popular destination for liveaboard trips (also called the Socorro Islands) and divers come to see some the ocean's largest megafauna including manta rays, whales, dolphins, and sharks.
All four islands: San Benedicto, Socorro, Roca Partida and Clarión island, including their surrounding waters, have been included in UNESCO World Heritage Site description of the archipelago. This decision is important for the conservation of the critical habitats and range of wildlife that frequent the Islands above and below water.

National Protection and International Protection of the Cultural and Natural Heritage
UNESCO world heritage sites are selected by the United Nations Educational, Scientific and Cultural Organization (UNESCO) as being of special cultural or physical significance. As such they benefit from national and international protection for posterity.
The new site remains the property of Mexico but it is considered in the interest of the international community to protect the site for future generations. Its protection and preservation become a concern of the international World Heritage community as a whole.


The archipelago is home to the endemic clarion angelfish and is an important migratory site for manta rays. We hope this new UNESCO designation will bring more protection to the migratory shark and ray species which frequent the archipelago.
In 1994 the archipelago was designated a Biosphere Reserve and prohibited any commercial fisheries from the area. The ban on fishing resulted in an abundant marine ecosystem with large schools of fish and healthy population sharks.
Time to add Revillagigedo to the bucket list.
Cover Photo: Blue Water Dive Travel