This weekend was the 2nd annual PADI women's dive day, and while we were out experiencing our first lake dive in Colorado, a group of adventurous women were attempting their own lake dive, the #Big5Dive: one historic shipwreck in each of the five Great Lakes within 24 hours. The group started just after midnight July 16th at Lake Superior and followed the flow of the lakes east towards Lake Ontario successful completing all five dives in under 24hr!
The big five dive team was led by maritime archaeologist Stephanie Gandulla, and included women from the Thunder Bay National Marine Sanctuary and the Northeast Michigan Great Lakes Stewardship Initiative. The big five dive will be made into a feature length documentary film following the dive team around the Great Lakes' and the women will discuss women's equality issues, global climate change and human impact on the Great Lakes' ecosystems.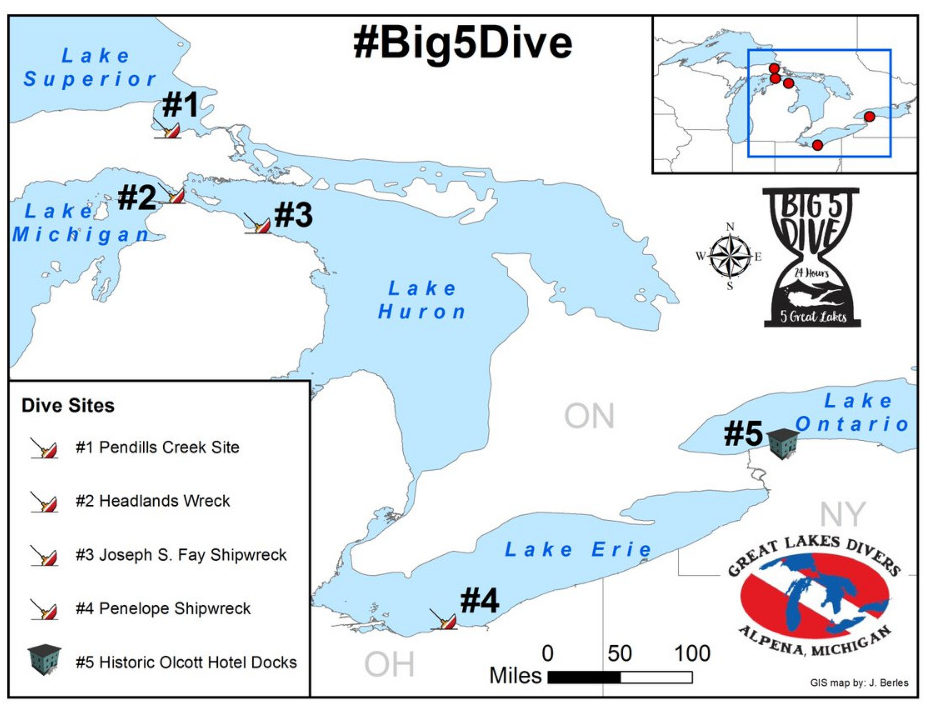 Also taking park in the big five dive were seven women from the SEDNA Epic Expedition who are all gearing up for their epic 11-day dive trip to the Arctic which departs in one week. The women are trying to raise $18,000 each and you can still donate to the SEDNA Epic HERE.

Sedna Epic Expedition leader Susan R. Eaton writes, "imagine staying awake, first of all, for 36 continuous hours… Then imagine driving 1,000 miles, sometimes in the rain, between all five of the Great Lakes, traveling between Michigan, Ohio, Pennsylvania and New York states. On top of that, then imagine diving one shipwreck/historical site in each of the five Great Lakes–and all in 24 hours!"
This was the first time anyone has attempted to dive all five lakes in one day.