The Sunfish or "mola mola", is one of those holy grail sightings which is sure to leave any diver in awe. Sunfish are notoriously elusive and are typically found living in open water, where they hunt for food in several hundred meters of water.
Yet every year when water temperatures start to cool, and deep upwelling currents rush through the Lombok Straight, sunfish materialise from the blue. From July to October, scuba divers from around the world come to the Island of Nusa Penida, located off the coast of Bali Indonesia, for the opportunity to dive with sunfish.


One of those divers is Marine Biologist Marianne Nyegaard of Murdoch University in Perth, Australia, who uses this rare window of opportunity to study the poorly understood species. Marianne has been studying sunfish in Nusa Penida since 2013 as part of her Ph.D project Ocean Sunfish Research, with the goal of identifying individual sunfish and learning more about their mysterious life.
What is a Sunfish?
Sunfish are large bony fishes found throughout all temperate and tropical waters of the world. Sunfish are often spotted at the surface of the water sunbathing to warm their blood, which is why they are called sunfish.
The sunfish can grow over 3m long (9 feet) and 4m (12 feet) tall, while tipping the scales at over 2000kg or (4400 lbs). Sunfish feed on siphonophores, small jellyfish-like creatures in the open ocean, and spend much of their time diving to 200m or (660ft) or more, in search of prey.

The family of Ocean Sunfishes ("Family Molidae") comprises four species in three groups or "genera" (singular: genus), and there are two species within the genus Mola: the famous
Mola mola
, and the lesser known
Mola ramsayi
.
You can distinguish
Mola mola
by their scalloped tail, while
Mola ramsayi
has a smooth, rounded tail, but the two species are notoriously difficult to tell apart, and to confirm the species, scientists often rely on genetic testing. In general terms,
Mola ramsayi
tends to sport more skin patterns, with each having a unique design – much like fingerprints, making them ideal for photo identification.
Sunfish Research
Both species of Mola occur in Indonesia . However, it is the lesser known Mola ramsayi which frequents Nusa Penida. Most divers assume they see the oceanic sunfish Mola mola when in reality the sunfish visiting Nusa Penida is the short sunfish, Mola ramsayi.
Marianne came to the surprising conclusion after genetics analysis and photo identification from the Bali Mola ID Catalogue confirmed the Nusa Penida population was Mola ramsayi. Mola mola are without a doubt present in Indonesian waters, yet they do not seem to frequent the Bali reefs like Mola ramsayi does; the extensive archive of Bali mola photos collected as part of the Bali ID Catalogue and Sunfish Research project, does not include a single Mola mola!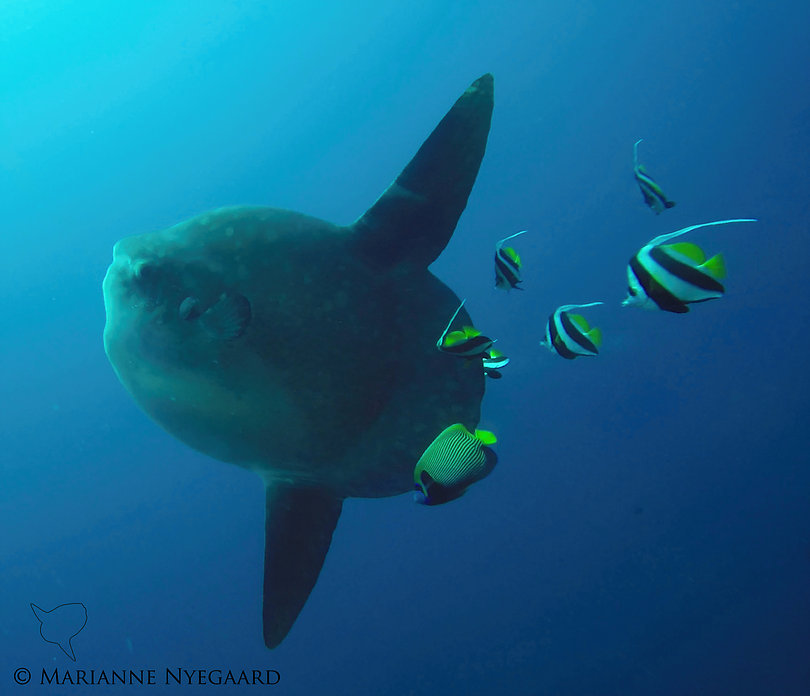 As part of her research, Marianne spent three consecutive years diving in Nusa Penida using photographs, satellite trackers, and genetic analysis to glean scientific data about these elusive fish.
One of her research goals is to identify if there is a resident population of sunfish and if dive tourism is based on a small number of individuals being sighted over and over, or if each mola spotted by divers are new and just passing through the area. By identifying a "resident" population of molas, Marianne's research could help to conserve the species within the Nusa Penida Marine Protected Area.
Sunfish season
Dive operators recommend July/Aug-October/November as the best time to see sunfish, although there is some debate whether more divers in the water only creates more sightings during this 'season.' Sunfish come to the reefs of Nusa Penida to get cleaned of parasites and, this is currently one of the only known places in the world where scuba divers can reliably encounter them.
There are approximately 100 dive operators offering sunfish tours from Bali, with over 15 operators located on the small island of Nusa Lembongan. Each year these fleeting fish attract increasing numbers of tourists, and during peak season an estimated one thousand dives are undertaken daily in a small number of bays at Nusa Penida. Each season, the number of divers increase.
Bali Mola ID Catalogue

Marianne started the Bali Mola ID Catalogue in 2013 while setting up her PhD on Sunfish Research, and has from the very beginning relied heavily on photo contributions from Bali dive operators, scuba tourists, and local dive professionals. The Catalogue currently encompasses more than 600 individuals and has become a valuable resource to check for re-sightings. The Mola Catalogue is also used to assess injury rates, variation in morphology, and of course to ascertain if all sunfish around Bali belong to Mola ramsayi, or the Mola mola.
If you are diving around Bali and Nusa Penida with a camera, you can make a real difference by submitting your mola photos or footage. These pictures will be used to identify individual sunfish, and added to the "Bali Mola ID Catalogue." This catalogue is an extensive archive of mola photos from the Bali area and forms an essential part of the Bali Sunfish Research Project.
To follow the progress of Maryanna's research, go to Facebook: SunfishResearch