Pygmy angelfish of the Centropyge genus are among the most promiscuous hybridizers in the whole angelfish family. However of these, flame angelfish regularly hybridizes with the rusty angelfish, creating rusty flames, but other crosses are much more rare.
By contrast, the Potter's angelfish, Centropyge potteri, hybridizes much more infrequently. The reason for this is simple, because the range of Centropyge potteri overlaps with the range of few other species of pygmy angelfish. We've covered the cross of potter's with fisher's angelfish, but today we have evidence of an even rarer hybrid.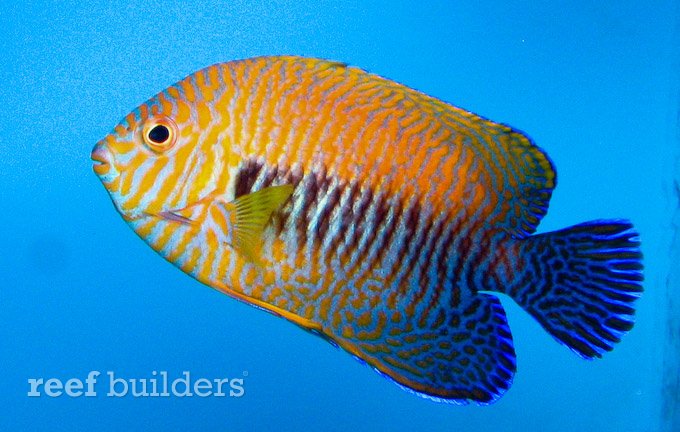 What you see here is one of the first new pictures of a flame x potter's angelfish we've seen in over a decade – and if memory serves us correctly, this is only the second one on record! This image shows a medium sized hybrid of a flame and a potter's angelfish, showing a beautiful deep red body coloration which would be very unusual for either of the parent species.
At present this precious fish is being conditioned somewhere in the Pacific Ocean near where it was captured. Hopefully this great specimen of a potters x flame angelfish hybrid has a smooth ride to its next handler who will shower us with many more pictures of this very special angelfish.