This jam-packed reef tank comes to us from José Elias Castro in the Dominican Republic. This 400 gallon tank is stocked with over 60 fish and just about every coral you could wish for.
For water movement, Elias uses a VorTech mp60, a DeepWater bldc15 dc pump, and Jebao wp 60. For filtration, he has an ATB 1050A skimmer and diy algae reactor, as well as a gfo, carbon and biopellet reactor.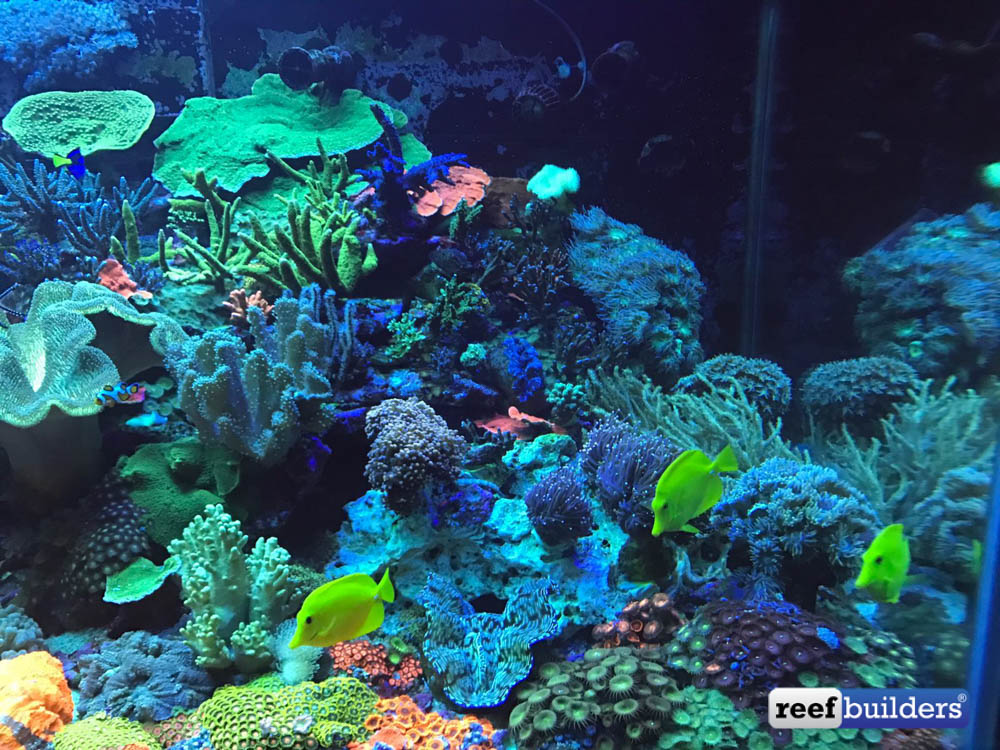 Elias uses the triton method to fine tune his water quality and a Vertex Libra Doser for adding Triton elements. The tank is lit by five AI Hydra 52, one ATI SunPower T5HO six 80watt and one ATI SunPower T5HO, four 80watt (6 blue Plus, 3 coral Plus, 2 purple Plus).
Elias has been running this set up for one year since he upgraded his previous 300 gallon tank to this impressive reef-scape. To keep his tank looking its best Elias does a 50 gallon water change every month.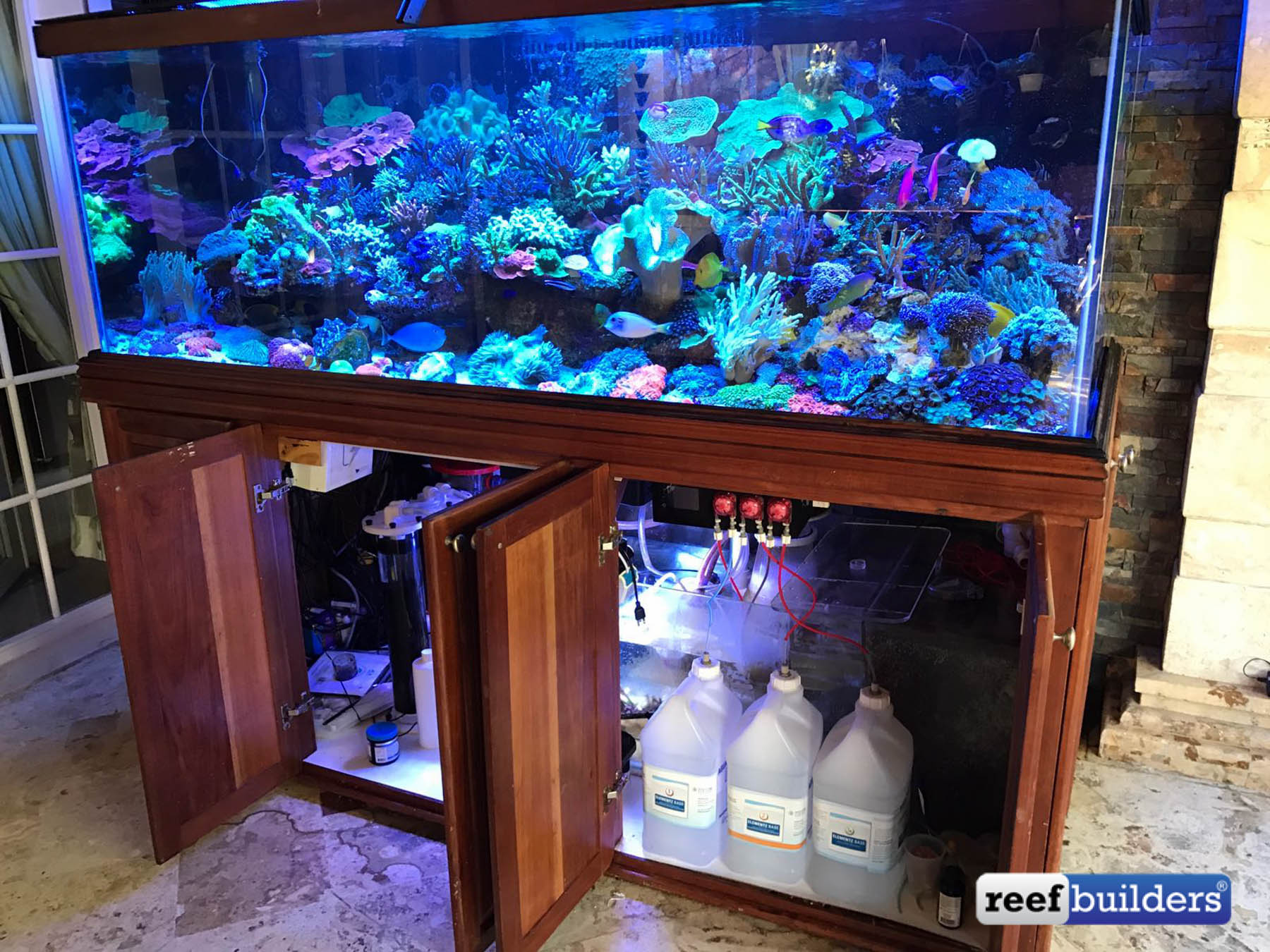 This reef tank comes to use from our friends at Dominican Reef.
1 Tang, Black
1 Tang, Orange Shoulder
3 Tang, Yellow (Haw)
1 Tang, fowleri
1 Tang, maculiceps
1 Tang, Naso Blonde (Male)
1 Tang, Sailfin Desjardini
1 Tang, Tennenti
1 Tang, Naso Vlamingii
1 Tang, Purple
1 Tang, Tominiensis
1 Tang, Naso Unicorn Brevirostris
1 Aussie Harlequin Tusk
1 Foxface Red Fin Magnificent
1 Tang, Chevron
3 Tang, Blue (Hippo)
8 ocellaris clown ( flurri, whiyoming white, picaso, snowflake)
1 Wrasse, Melanurus
1 flasher wrasse
2 Wrasse, Fairy Red
2 tail spot blenny
1 goby engineer
1 blenny lammower
2 cardinal bangai
1 cardinal pijama
4 cromis blue
2 damsel springfield
2 Leopard wrasse
2 Pipefish, Australian
1 flame angel
1 Wrasse, Cleaner Pacific
1 Wrasse, six line
Montipora digitata pink
Montipora Danae
Monti red cap
Monti green cap
Monti starburlk
Monti slow burn
Monti purple cap
Monti sunset
Monti sazón greating
Monti superman
Monti blue polyp
Monti blue ring cap
Acropora gran variedad
Birdnest. Gran variedad
Turbinaria
Pagada
Aussie torch coral
Open Brain
Scolymia australis
Short tentacle plate
Aussie acan lord
Favia prisma
Favites war
Aussie blastomussa bounce
Aussie meat coral
Indo meat coral
Aussie Hammer coral
For coral
Cynarina red
Yellow fiji leather
Toadstool leather
Devil hand leather
Aussie finger leather
Goniopora red
Gorgonian
A lot of polyps an zoa
Gold mushroom
Green hairy mushroom
Zenia Pump Pump
Aussie Duncan big colony
Aussie elegance
Acan bowerbanki
2 8″ derasa clam
2 6″ máxima clam blue
Clalice
Sympodium
Much more….