Paradise Zoanthids are a unique strain of zoanthids that display a total explosion of color. First recognized by Paradise Corals in 2010, Paradise Zoanthids have been a rare and highly sought after Zoanthid strain since their introduction, and Legendary Corals just scored a nice colony to share with their customers.
Paradise Zoas are a truly nano morph of zoanthid but what they lack in size they more than make up for color and pattern. The tiny polyps sport the familiar 'hornet' motif of many nano zoanthids, with a dark mauve colored mantle which is punctuated with a thin red ring and a blueish purple oral disc.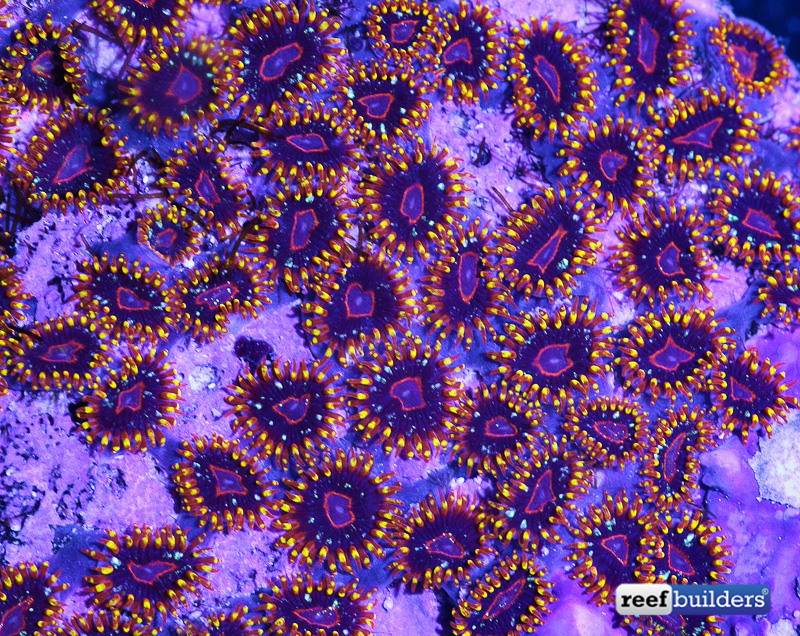 But where the Paradise Zoanthids really break away from the pack is in their multicolored tentacles. The deep red tentacles have a vivid yellow marking which alternates from being at the base of the tentacle to the tip, essentially giving them a yellow halo that just accentuates the polyp's overall pattern.
The original colony of Paradise Zoanthids showed a varying degree of green speckling and mottling throughout the polyp. This colony also shows hints of this feature as well but it's unknown whether this green detailing is expressed by environmental factors, or if this is actually a slightly different strain.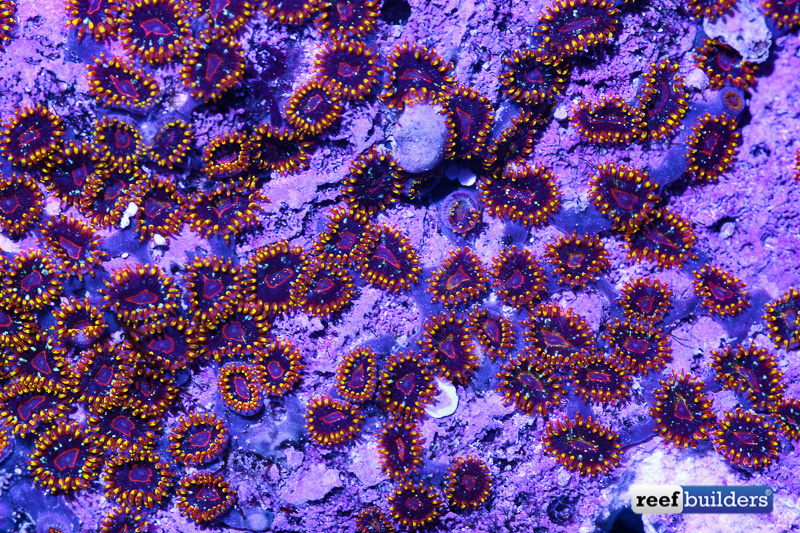 One exciting detail about the Paradise Zoanthids that Legendary Corals received is that this was not a wild colony. Their chunk of Paradise Zoanthids came on a large maricultured disc from Indonesia, so there's hope that more of this zoanthid could be in the aquarium livestock pipeline.
It takes a truly wild color or pattern for zoanthids to really grab our attention. The Paradise Zoanthids are by far the coolest zoanthid strain we've seen since the Clown Face Palys but it just goes to show that there's still some wild Zoanthus and Palythoa strains yet to be discovered!