Get ready to download the newest must-have aquarium app – Aquas Mobile App, currently being funded on Indiegogo. Aquas features a comprehensive database of marine fish, invertebrates, and coral – with live compatibility ratings for your aquarium, a brief description, and quick stats for every animal.
Aquas eliminates the need to search online for compatibility info and differing opinions from LFS employees and puts the power of what you add to your aquarium into your hands. Aquas makes it possible for you to explore tankmates, build your aquarium, track coral lineage, and share with friends all in an instant – whenever and wherever you are.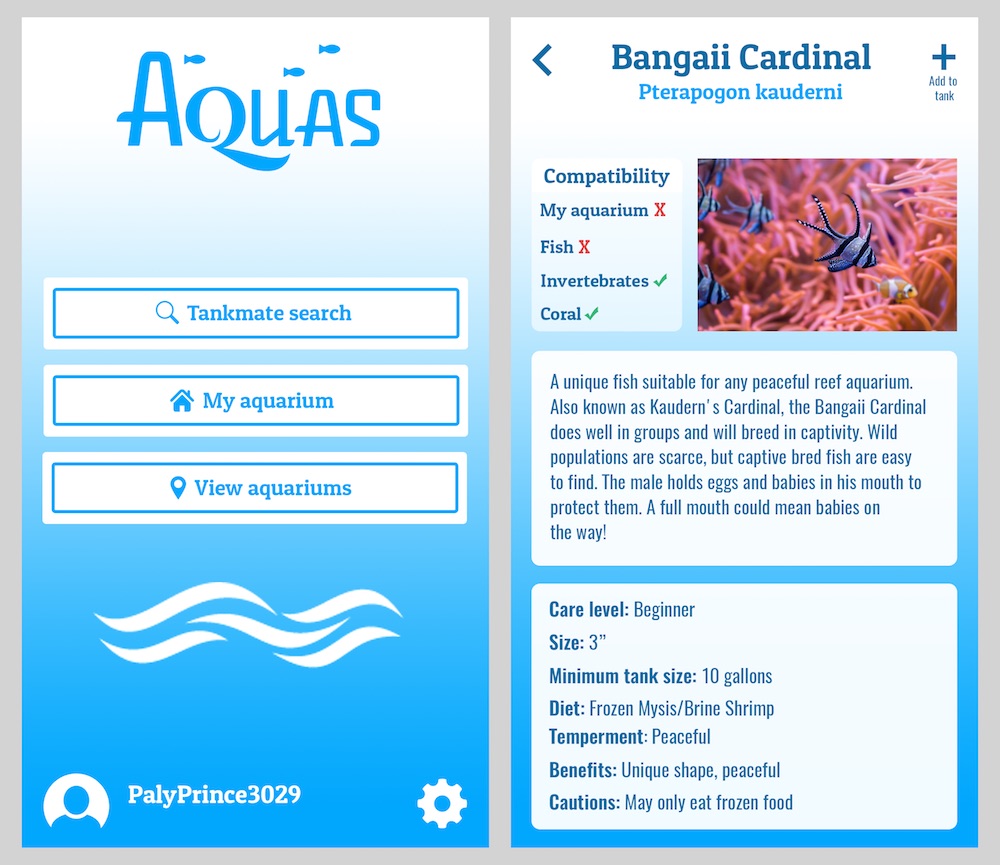 Aquas' My Aquarium feature allows you to add your aquarium's inhabitants directly onto the app and then check the database to see what animals will be compatible with your aquarium. You'll be able to keep track of details like when and where you got each animal, how much you paid, and when animals go to the big ocean in the sky. Aquas will even suggest new tankmates if you have a hard time deciding what you like.
With My Aquarium, you can also add in what lighting and equipment you use and what you keep your water parameters at to keep your tank thriving.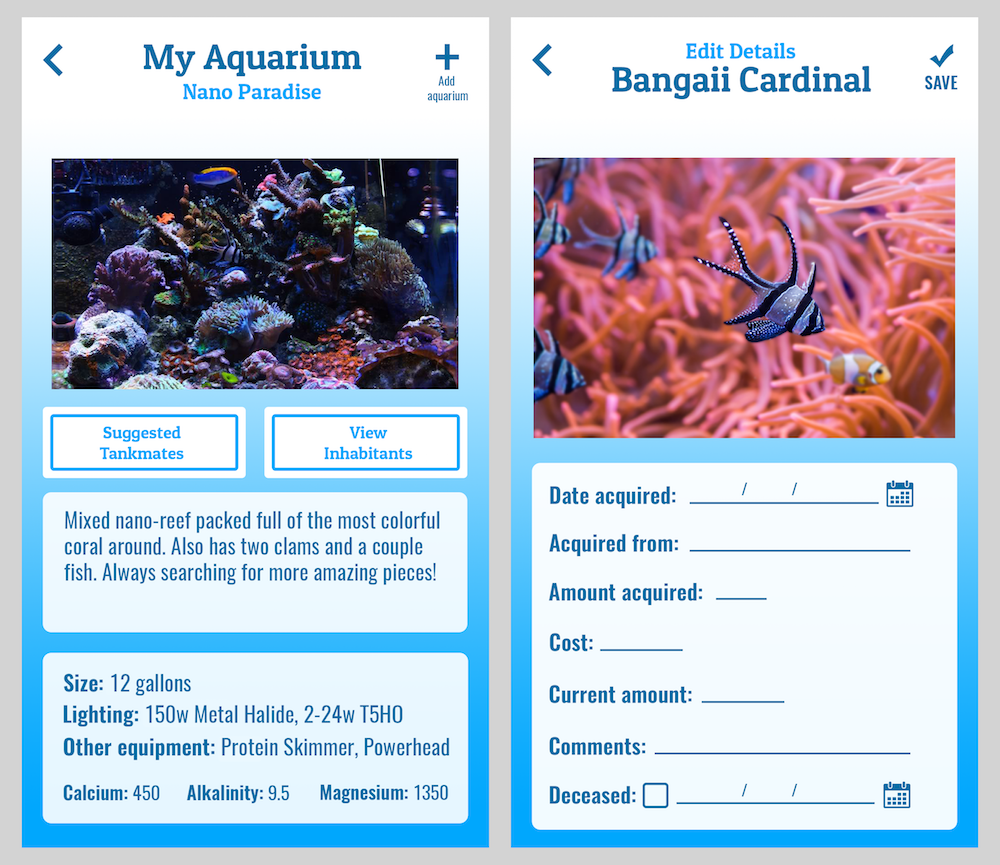 Aquas provides the first solution to tracking coral lineage accurately and in a way that can be trusted. Aquarists can add named corals to My Aquarium, fill out who they received each coral frag from, receive confirmation of coral lineage, and view lineage of any aquarist's coral. There's no more need to wonder if the frag you're paying top dollar for is the real deal or a knock off – Aquas does all the work for you!
If you have a tank full of corals you know how hard it is to describe what you have without people seeing your aquarium. Well, worry no more! Aquas makes sharing your aquarium with friends, family, and the world easier than ever. All aquariums in Aquas' database can be easily found with just a few taps. You can search for specific aquariums, other aquariums near you, and add friends to easily keep track of updates in their aquarium. Aquarium keeping is now social!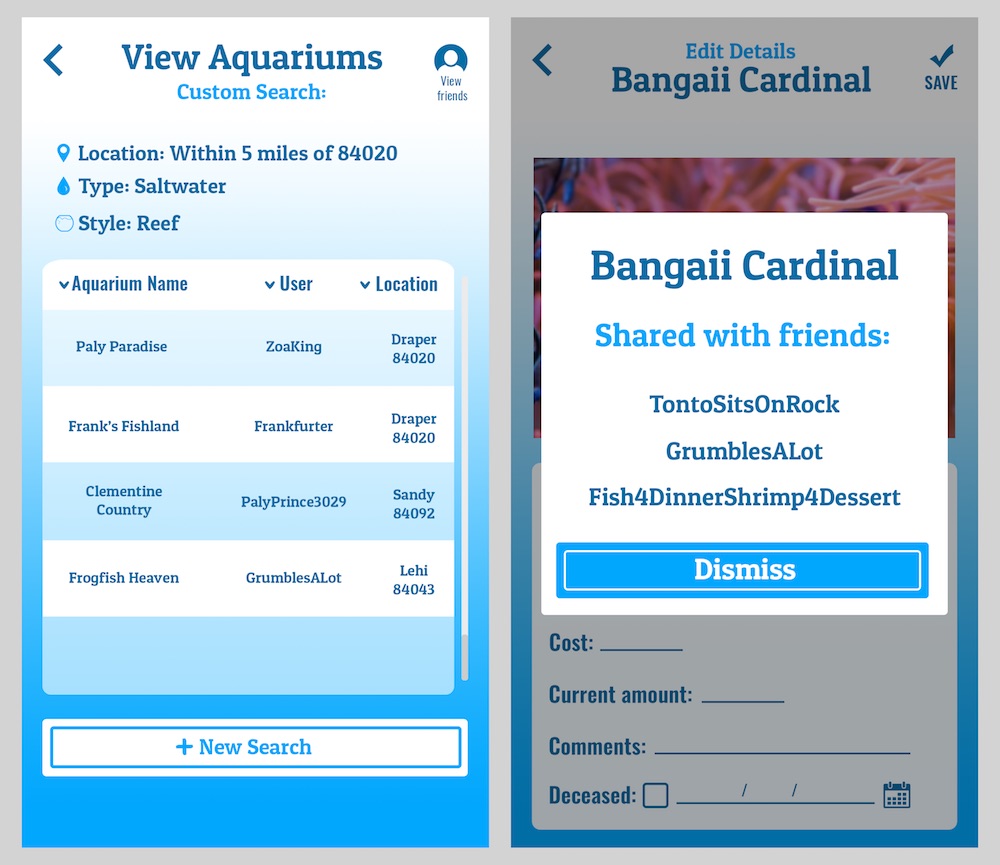 With your help, Aquas will become the fastest, most reliable resource for a happy, healthy aquarium. Check out our Indiegogo campaign to see a hilarious video that shows the app in action, more app screens, and to be one of the first to experience Aquas as a BETA tester.
Back us on Indiegogo today for just $1 to get Aquas ad-free, help us reach our funding goal, and bring Aquas to the world by January 2017.
Follow Aquas on facebook: facebook.com/aquasmobileapp
Instagram: @aquasmobileapp