Dive Computer From DEMA 2016
With plenty of dive computer on display at DEMA 2016, we noticed that Bluetooth connectivity and the introduction of social sharing was a popular new feature. Manufacturers are looking for easy ways for divers to upload and share their content with a like-minded community, streamlining the process with Bluetooth.

The new COSMIQ+ stands out as the most affordable and social minded dive computer. While it still lacks some of the advanced gas features available from higher end computers, COSMIQ+ is more about connecting divers through their visual expirience.
The TUSA Solar Link IQ1204 is an attractive new wrist watch style dive computer. This computer features solar charging and Bluetooth with a free app for sharing your dives. Aqua Lung, Oceanic, and Sherwood are all offering Bluetooth wireless connectivity to their top shelf computers, which are compatible with the premium DiverLog App.
COSMIQ+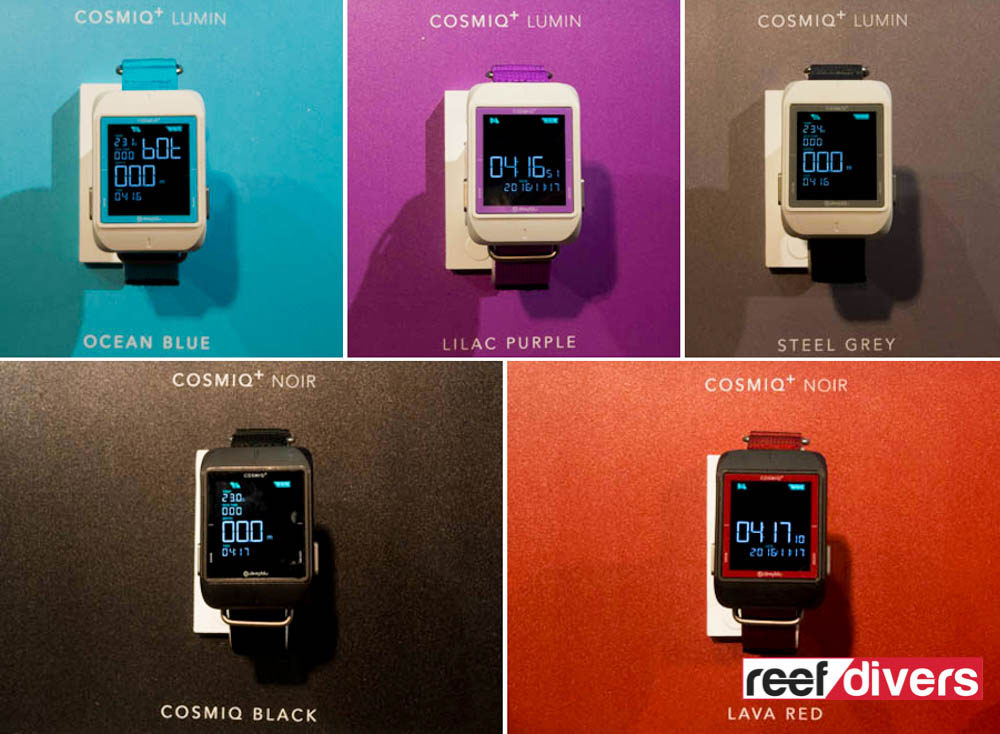 The COSMIQ+ computer by Deepblu takes sharing to the next level. COSMIQ+ has the most advanced social sharing features of any new dive computer, and all the dive safety features of an entry level computer.
After a dive, COSMIQ+ gives you the ability to upload your profile via bluetooth, and then easily sync your photos and videos with the corresponding dive. Once everything is up you can share content on social media and with the COSMIQ+ Deepblu community.
The Deepblu community page is currently in BETA testing and we've had the opportunity to upload photos and connect with other users. Community members can browse dive profiles, review dive centers, and create groups to share their passion with others. The platform is easy to navigate, visually appealing and a good way to see marine life and dive sites around the world.
The COSMIQ+ is priced at $299.00 USD
COSMIQ+ IOS App | COSMIQ+ Android App
---
TUSA IQ1204

The TUSA Solar Link IQ1204 is a stylish wrist-worn dive computer that comes with Bluetooth capabilities. While social sharing is not a prominent selling point for this dive computer, the IQ1204 still has a lot going for it. The Solar Link is the first ever solar powered dive computer, so say goodbye to changing batteries.
With the TUSA diving log app, you can upload your dive logs to a smartphone or tablet all via Bluetooth. You can add information like entry time, exit time, dive time, water temperature, air consumption, and more. You can also customize your dive log by saving your dive on a map, adding photos and recording signatures from an instructor.
Once uploaded dive logs can be shared with your friends on social media directly throught the free TUSA diving log app.
The TUSA IQ1204 is priced at $749.95 USD
TUSA Diving Log iOS App | Tusa Diving Log Android App
---
AQUA LUNG i750TC

The i750TC dive computer is Aqua Lung's top end offering with an easy to read OLED color screen and Bluetooth wireless connectivity. The i750TC comes in a durable anti-glare finish and includes a bungee mount adapter for cold water divers.
While all of Aqua Lung's computer offer an optional download cable for storing dive date, the i750TC is their only computer with Bluetooth capabilities. The i750 computer uses the premium DiverLog app, which is also used by dozens of other dive computers.
The DiverLog App comes with advanced options like dive history search, and the option to backup stored dive data in the DiveCloud for easy anywhere access. While there are no obvious social sharing features with the lite version the full version of the app does have social sharing options.
DiverLog app is available for purchase for iOS and Windows. The app is offered in a free lite version, while the full unlocked app with cost you between $16 and $25 USD.
The Aqua Lung i750TC is priced at $999.99 USD
DiverLog iOS App | DiverLog Android App
---
Oceanic ProPlus X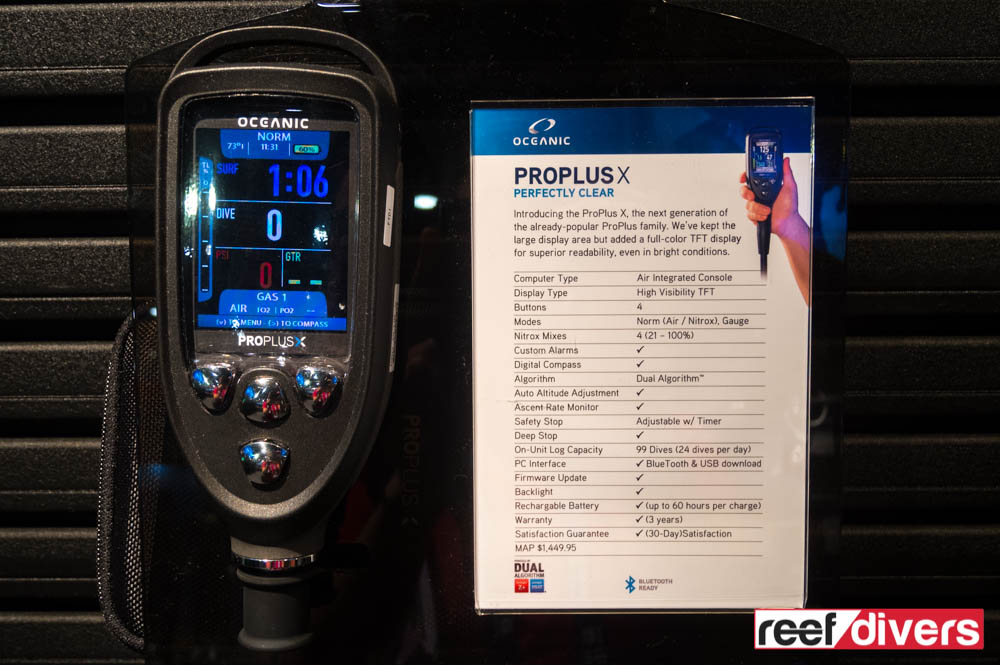 ProPlus X by Oceanic is an air integrated console dive computer with a large, full-color OLED display. The Pro Plus X is an update to the Oceanic ProPlus 3. The ProPlus X now features a digital compass to streamline the console.
The Oceanic ProPlus X is Bluetooth ready and uses the DiverLog App to store and share dive log data. Oceanic is also offering their VTX wrist worn computer with bluetooth.
The ProPlus X is the most expensive dive computer and is priced at $1449.95
DiverLog iOS App | DiverLog Android App
---
Sherwood Sage

The Sherwood Sage is a bluetooth enabled air integrated console computer with a bright full color OLED display, and full tilt digital compass. The Sage comes with a quick release system so you can remove the computer from your regulator hose after a dive.
Sage is Sherwood first bluetooth enabled dive computer and users can easily download their dive profiles to a computer or smart device directly for the dive computer using the DiveLog App.
The Sage is set to be released in Spring 2017.
DiverLog iOS App | DiverLog Android App