The HydroFill Ti Reservoir is a new top off box from Innovative Marine that we dare describe as innovative. This five gallon container is made from a combination of glass and acrylic, with some handy features to make it more useful than a jug, bucket, or basic tank.
The most obvious design feature of the HydroFill Ti Reservoir is the unique drawer-spout to help you actually fill it up inside an aquarium stand or cabinet. If you've ever tried to refill a glass tank that sits inside a stand, you know how challenging it can be to refill with a bucket.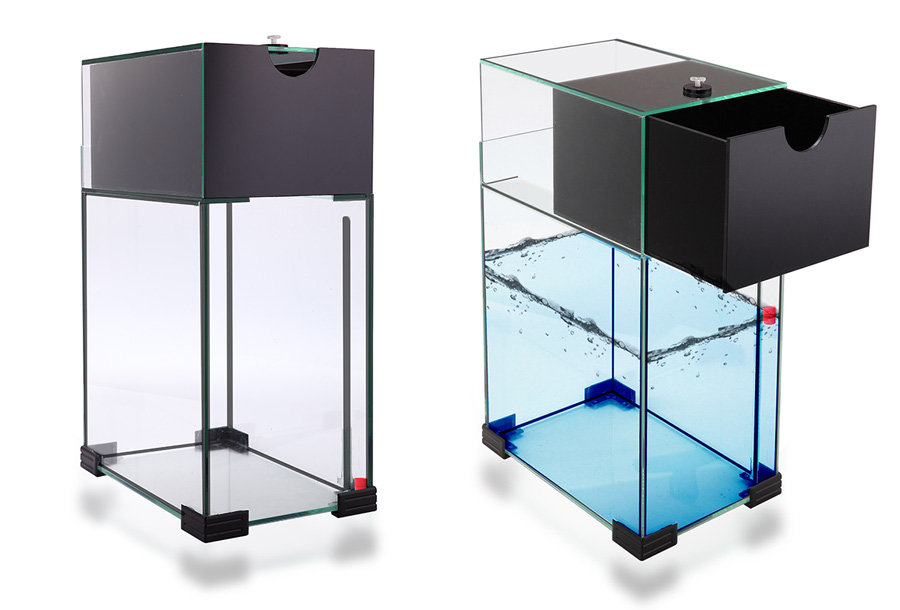 With its handy drawer slid out, you can easily refill the HydroFill Ti, without making a mess. Even when the drawer is in pace there's still a one inch gap leaving plenty of room for hoses and power cords to do their thing.
The diminutive footprint is smaller than 8 by 12 inches, making it easy to fit into even a 24″ stand, and it has plastic corner bumpers to protect the primary glass box. The total volume of the HydroFill Ti is five gallons, it has a built-in floating water level indicator, in case the stand is too dark to see the water surface, and will retail for a very reasonable $99 when it ships starting this week.