No matter how you look at the new Aquatic Art Splatoon Chalice coral, its color and pattern is really bordering on truly unbelievable. If we hadn't seen and photographed this coral in person, we wouldn't believe it either and it's taken about four days for its striking beauty to really sink in.
Amazingly, this coral has been basking at a Denver area LFS, Aquatic Art, which specializes in a wide variety of corals and especially SPS frags. This maricultured Echinophyllia chalice coral supposedly came from Kupang and it is one of the most amazing specimens we've ever seen for a number of reasons.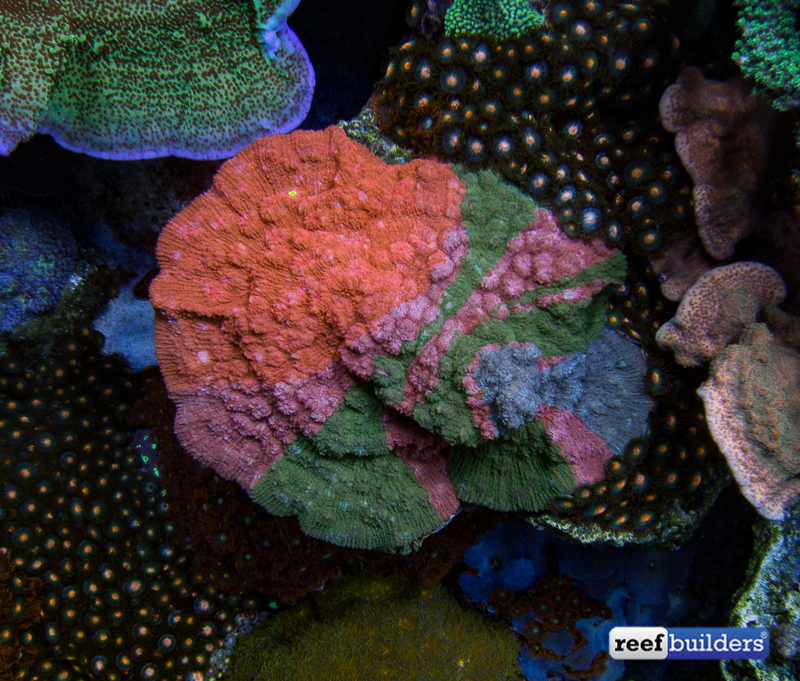 It;s interesting to note that Aquatic Art already has a rainbow chalice that they've been growing out from a frag for years. The initial multicolored chalice has grown out into a beautiful colony with gorgeous streaks of colors radiating from the center, but it doesn't hold a candle to the new Splatoon Chalice coral.
The Aquatic Art Splatoon Chalice has twice as many colors, and double the streaks that are combined into a ridiculously fantastic pattern. Any frag taken from the edges of this coral should develop into fantastic colonies of their own, but wait there's more!
Not only is the Aquatic Art Splatoon Chalice one of the most widly colored Echinophyllia corals we've ever seen, it also has the bright green mouths of an Alien Eye style chalice coral. It's not the first multicolored chalice coral to have the Alien Eye, but it certainly is one of the most colorful strains to display this feature.
Again, it was so awesome to unexpectedly come across this coral in person before seeing any pictures of it, and sitting pretty in a display tank. It's currently in a featured placement in one of Aquatic Art's show tanks where we'll be able to enjoy it for the foreseeable future, that is until Cris decides to frag it or sells it to a reefer who falls in love with it as much as we have. [Aquatic Art]