If you've been reading Reef Builders for any length of time, you must know by now how illustrious Gramma dejongi is in the reef aquarium hobby. It's recent discovery, scarcity, and provenance from a US-embargoed country all add up to a perfect storm of a rare fish for fancy fish collectors.
Initially the 'yellow royal gramma' was seen as just a curiosity from Cuba costing just a few hundred Euros. But once this fish was recognized as a new species, paraded on Reef Builders quite a bit, and officially described as Gramma dejongi in honor of Dejong Marinelife, the demand skyrocketed pushing the cost of this fish into the thousands of dollars.
With all of this attention and fanfare, and with common royal grammas having been captive bred decades ago, it's a surprise it took so long for G. dejongi to be put into a captive breeding program. In America part of the issue was in legally acquiring this Cuban marinelife 'product', but thankfully with lots of support from the aquarium hobby, Todd Gardner acquired a small group with which to start breeding this species.
Finally, the saga has come full circle with Todd announcing the successful captive breeding of the illustrious Gramma dejongi. It may not be the same degree of technical milestone as breakthroughs with the first captive bred yellow and blue tangs, but it is equally important in our eyes for showing the power captive breeding can have to produce fish that are otherwise unavailable.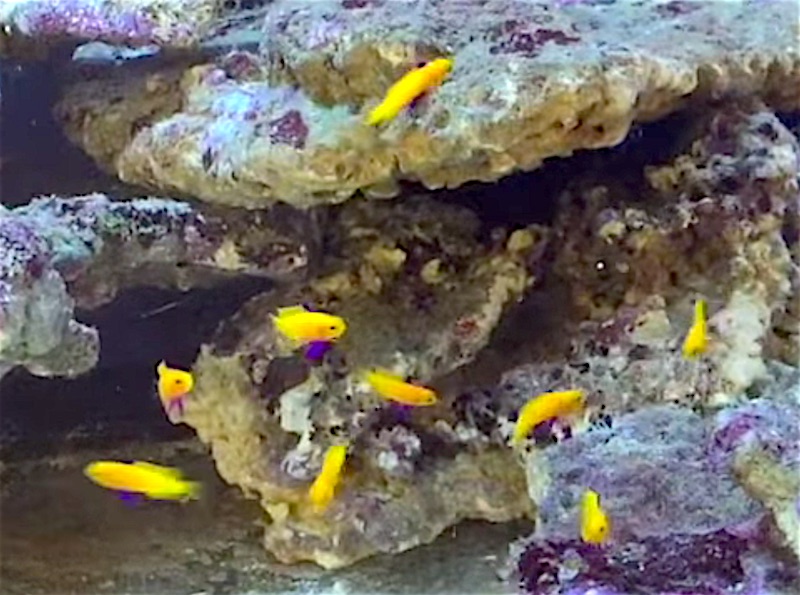 It couldn't have come a minute too soon either because with invasive lionfish gobbling up all the little fish they can fit in their insatiable stomachs, bright little yellow Gramma dejongi make easy prey. If captive breeders want a real 'Rescue Project', forget about Banggai cardinalfish and turn your attention to this storied fish.
It's our sincere desire that this initial captive breeding success leads to a chain reaction wherein more breeders get their hands on this species and breed it as well. Hopefully Todd's success with G. dejongi won't be a one-off story like the captive bred candy basslet or flathead perches, and we'll collectively head down a path where several years from now we'll see $50 Gramma dejongi right along their Lightning Maroon Clownfish counterparts.
Todd's Gramma dejongi breeding project is discussed in the latest episode of the Reef Threads podcast.