Pelagic Blackwater
The translation of the word PHOTOGRAPHY from Latin would be; "to draw with light", and our guest produces astonishing portraits of seldom seen animals in the pitch-black waters off the Kona coast of Hawaii. We sat down with award-winning photographer Jeff Milisen to enlighten us about this fascinating and mysterious world that migrates vertically each night to meet him and his camera lens under the cover of darkness.
Gateway to the Deep
This "blackwater dive" is an advanced level night dive that takes place about four miles off shore of Kailua Kona over a 4000-5000-foot bottom depth. There the boat motors are shut off and a parachute is opened behind the boat underwater as an anchor against the ocean currents. We then tether ourselves to a 12-foot lead, which is attached to a 40-foot line connected underneath the boat, to observe one of nature's greatest nightly migrations taking place in front of our goggles, dive lights, and cameras.
Milisen would be our guide and dive instructor representing Kona Honu Divers on the Big Island of Hawaii, where he specializes in these types of "Blackwater" dives for both his photography and research. He revealed he had chosen a path towards pelagic blackwater scuba diving, and becoming a top biologist in his field, had all started by attending a pelagic ecology class while studying at the University of Hawaii at Manoa.
A Parade of Nature's Oddities
There are 3 distinct levels involved as you submerge on a blackwater dive, starting with the 'Neuston' level or air to sea interface, occurring in just the first 2-3 feet of water. A few examples of the different species that could be spotted here include larval leaf scorpionfish (Taenianotus triacanthus), pelagic seahorses (Hippocampus fisheri), and the Indo-pacific man of war (Physalia utriculus).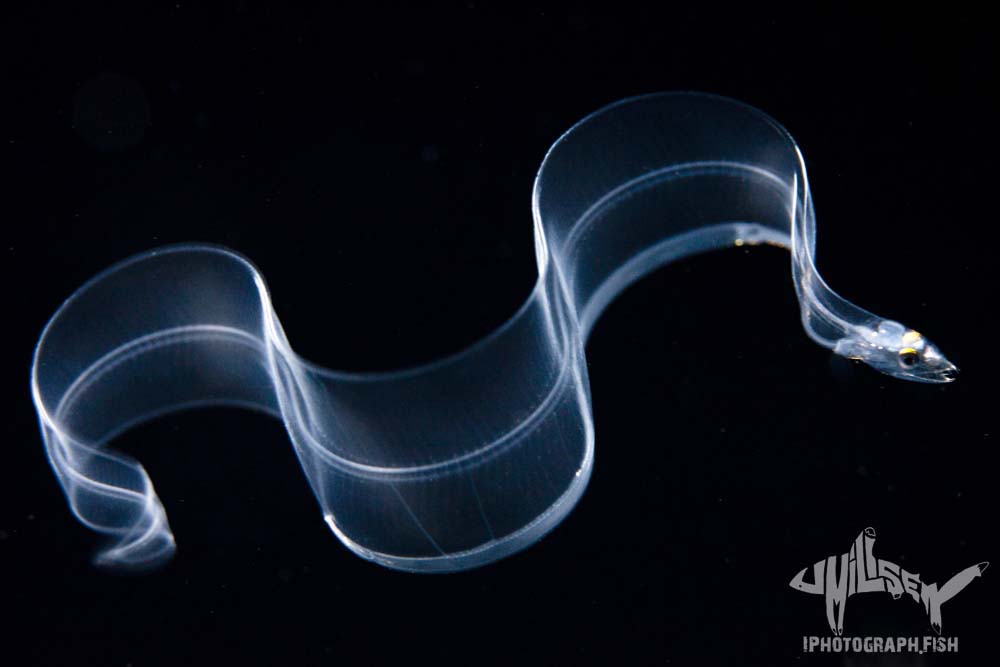 This is followed by the 'Epipelagic' level, a planktonic level dominated by extremely clear soft bodied animals including: Hydromedusa, Mollusks, Salps, Ctenophores and Siphonophores. The ctenophores have a "comb-like" appearance, while the siphonophores have a much more elongated "string-like" gelatinous elegance in the darkened water.
These two types of gelatinous swimming animals share many similarities with true jellyfish species. A myriad invertebrate species such as the banded spiny lobster (Panulirus marginatus) are also present at this depth.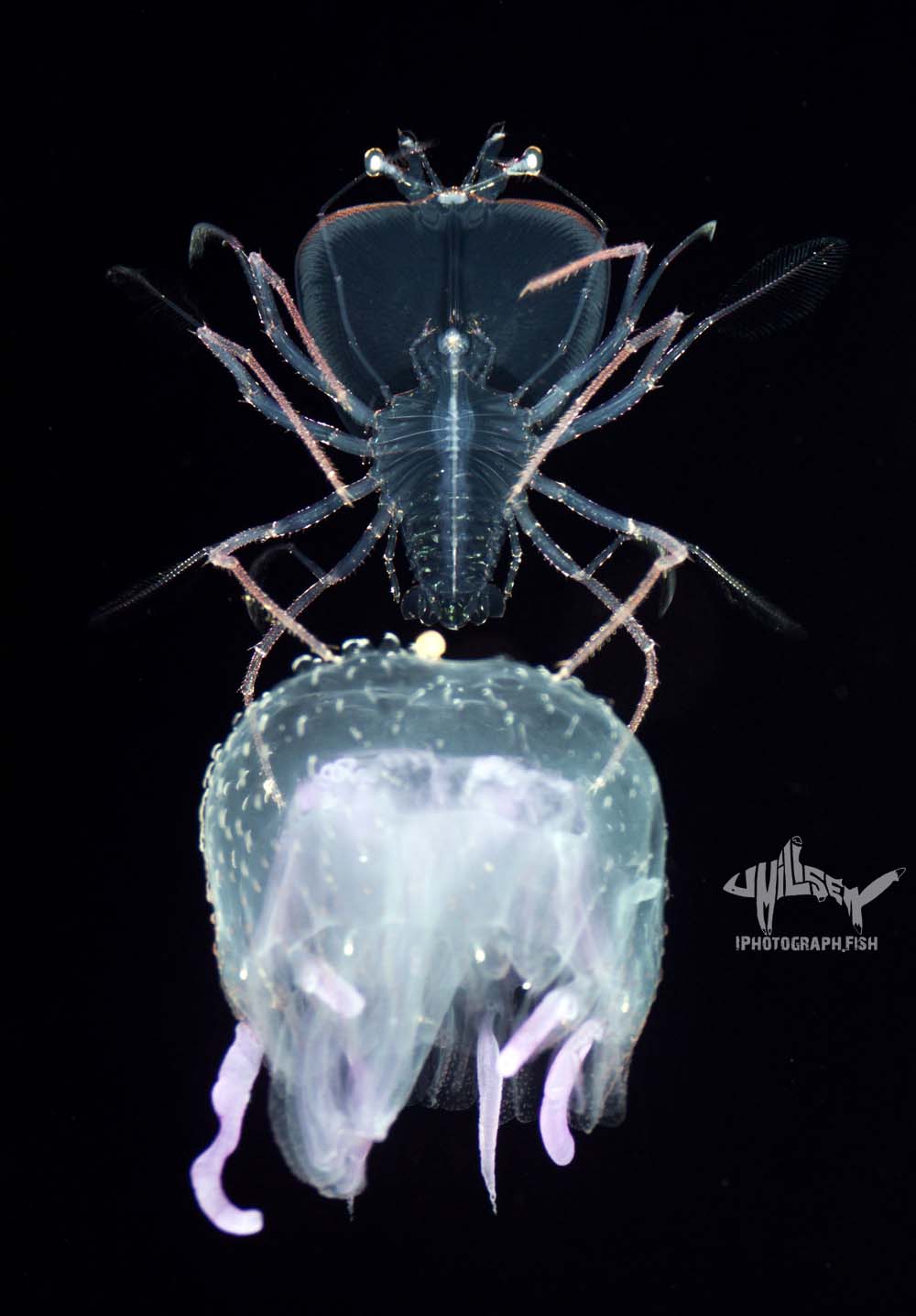 The last level, the 'Mesopelagic', hosts the collection of animals responsible for the vertical migration. They ascend on deep, up-welling currents called 'cyclonic eddys' bringing the unusual and weird up to feed at the epipelagic layer.
This group usually tends to be more solid bodied. This is reflected by juvenile swordfish, the lantern fish (Diaphus fragilus), and numerous species of cephalopods, including the purpleback squid (Sthenoteuthis oualaniensis).
We sit there and ponder each peculiar creature as they pass through the beam of the dive light, realizing that Hawaiian reefs and these pelagic currents are interconnected and constantly sharing in circum-tropical diversity. Almost every animal we see on the reefs in-shore here in Hawaii has a pelagic period during its life cycle.
A Bit of Focus
A look at Milisen's underwater camera housing, with its domed macro lens, spider leg strobes and spot-light configurations prove that bright light is what is needed to achieve the photos he takes, all while surrounded by miles of dark out in the middle of the ocean.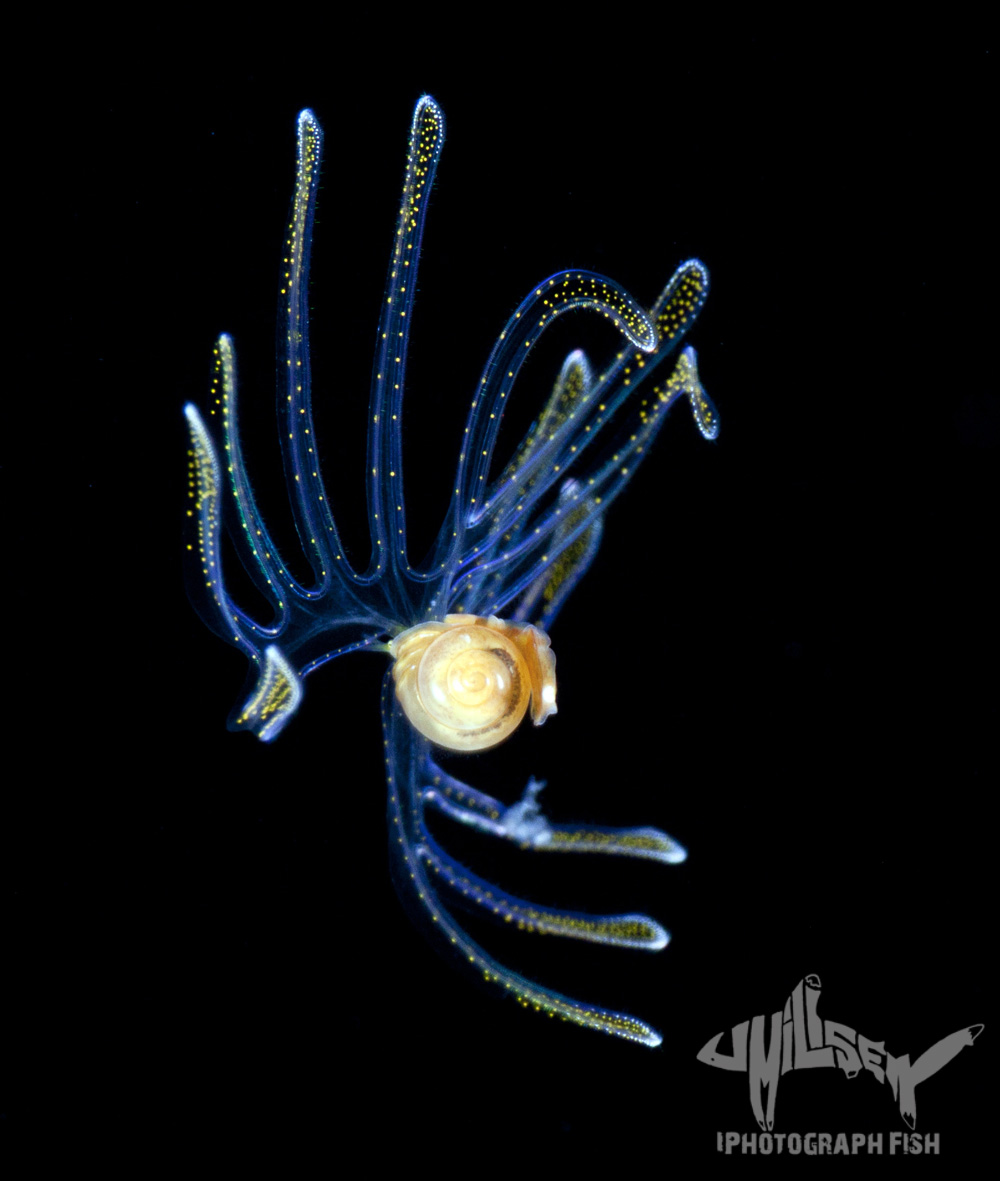 We inquired about encountering undescribed species while on a dive, he explained Hawaiian waters most likely contain a fair number of undescribed Ctenophores and Siphonophores species, identification beyond genus becomes a challenge at times due to lack of organized information. Jeff has future plans for a first of its kind pelagic blackwater identification book. You can also purchase his brilliant photographic work on metal prints, which look great next to any aquarium, at Iphotograph.fish.
Milisen when questioned on what he enjoys photographing most on these dives noted cephalopods and larval fish species. "They are really bizarre in appearance and produce astonishing photos people can relate to." He attributes this to these species having an eye as compared with other animals that do not have eyes, like Ctenophores or Jellyfish specimens.
Perfect for Pelagic
Hawaii's deep surrounding waters create an ideal environment to experience these exotic creatures, as they continually drift about the ocean. Summer months predictably produce the best conditions for this form of diving. Larval fish species tend to be more observed in both spring and fall months making for high quality blackwater diving off Kona year-round.
This blackwater dive with the guidance of Jeff Milisen has truly opened our eyes to alien worlds just beyond our reef, as well as the relationship between the reef and the deep abyss. We will always remember these unique dives and we truly admire and respect Milisen's knowledge as a biologist, photographer, and waterman.