By: Adriana Humanes
Coral spawning takes places once per year during the late night, hindering research development on early life history stages. In order to do serious science, researchers need to have access to great amounts of material (gametes, larvae, recruits or coral juveniles) to have the appropriate number of replicates for a robust experimental design and test a hypothesis.
However, the current development of coral husbandry industry (equipment and knowledge) has allowed to recreate coral spawning in captivity, giving scientists the great opportunity to have access to large amounts of biological material to design complex experiments.
My name is Adriana Humanes, I am a Venezuelan marine biologist who finished her PhD last year on the effects of human actions and climate change on early life history stages of hard corals at the Australian Institute of Marine Science (AIMS) and James Cook University. As part of my research, I was able to expose multiple stressors to early life history stages (gametes, embryos, larvae, recruits and juveniles) of Acropora tenuis, A. millepora and Pocillopora acuta using the new laboratory facilities in the National Sea Simulator (SeaSim) at AIMS.
Collecting Coral Spawn
Each year AIMS scientists use the research vessel "Ferguson" to access inshore midshelf and outshore reefs of the Great Barrier Reef. Gravid colonies are collected under collection permits issued by the Great Barrier Reef Marine Park Authority a few days before spawning. After collection colonies are transferred to an outdoor flow-through system, with temperature set to the reef conditions on the day of collection in the SeaSim facility.
After the arrival of the colonies to AIMS a team of around 40 people among volunteers, students, technicians, and scientist dedicate their time for the following weeks to coral spawning. The nights of spawning are of excitement and stress for both students and researchers, as they have been preparing their experiments for one year and if everything works perfect, they might get a few nights of spawning.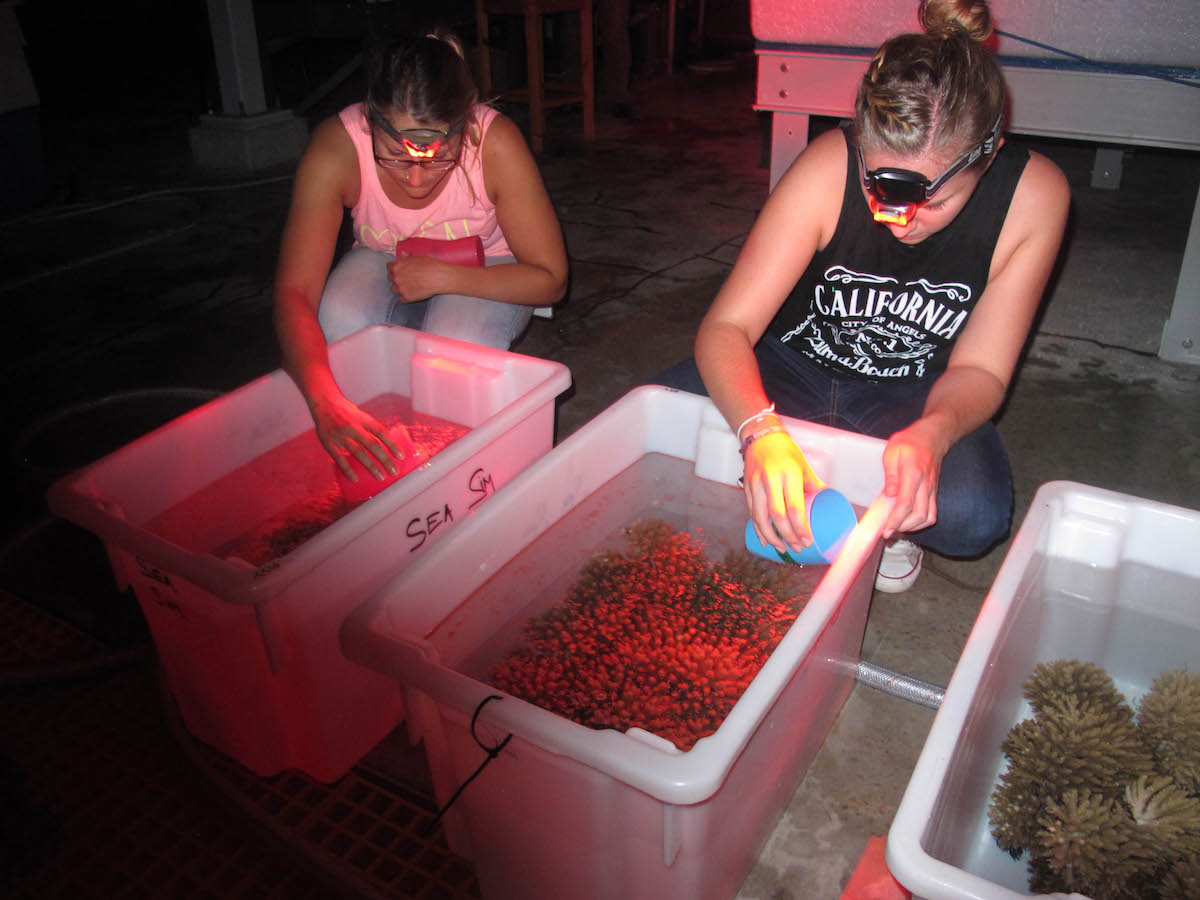 I was really lucky the third year of my PhD experiments. We had 11 nights of spawning between A. millepora and A. tenuis colonies, which we collect from different reefs. Coral colonies from different populations that are exposed to different temperature regimes will most probably spawn on different nights. Colonies from inshore reefs usually spawn a few days earlier than colonies from outshore reefs where high temperatures are reached a few days later in the month.
To expose the different early life stages we used different experimental setups. After the colonies have spawned we collected the gametes and separated them in order to expose them to the different treatments. For each combination of stressors and early life history stage we used a custom design device and setup. My favorite one was the "sausage roller" a mechanical roller device that keep sediments suspended in 100 ml clear polystyrene chambers to expose 3 day old larvae.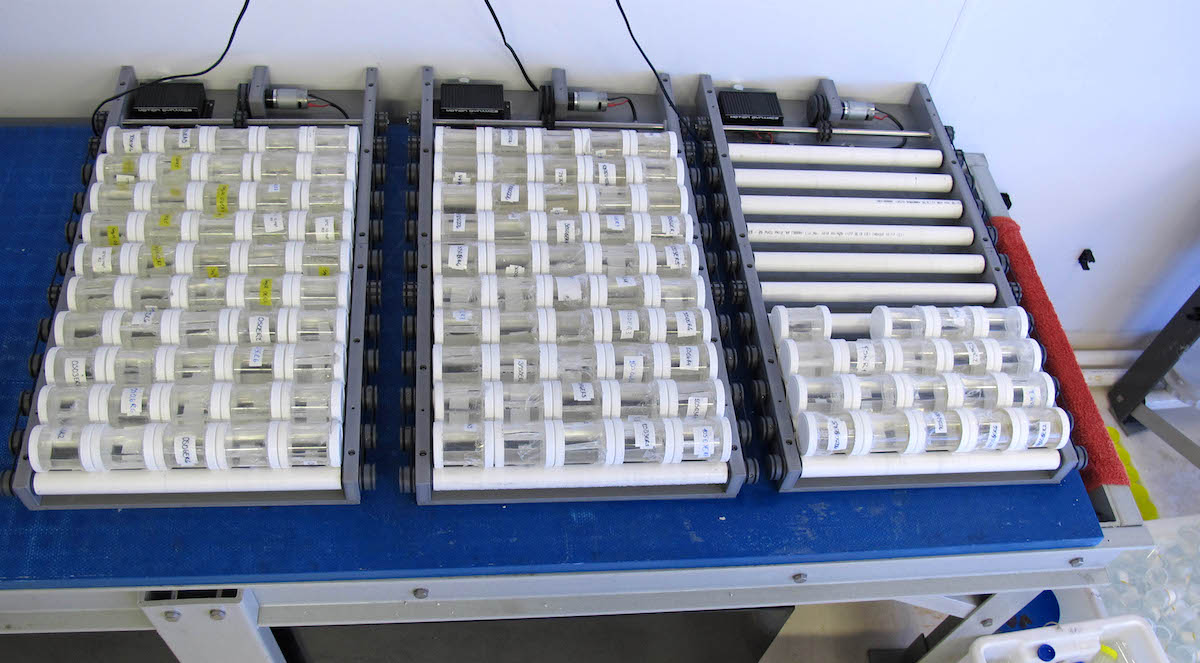 How Sediments Impact Coral Larvae
Sediments and nutrient runoff associated with coastal activities and warming of seawater temperatures due to climate change are exerting great pressures on inshore coral reefs. However, studies on the combined effects of these stressors on important early life history stages of coral are lacking.
In a series of experiments, my collaborators and I were able to demonstrate that the effects of environmentally-relevant levels of suspended sediments, when tested both individually and in combination with either elevated nutrients or temperatures, varied between the different early life history stages (fertilization, larval survivorship and larval settlement, settlers and juveniles).
Our work demonstrates that co-occurrence of suspended sediments with elevated temperatures was the most detrimental combination of stressors for the early life history stages in A. tenuis, with fertilization and embryo development being the stages most affected. Additionally, we found that suspended sediments depressed growth or survivorship of coral juveniles, which will likely decrease the number of colonies reaching reproductive size, implying longer-term but species-specific repercussions for populations and coral cover.
The results underscore the importance of managing local pressures, such as elevated sediments and nutrients inputs, to ameliorate the impacts of climate change on sensitive and ecologically important reproductive processes.
Homeward Bound
After successfully completing her PhD it was mandatory for Adriana to return home for at least two years as part of her scholarship. "Coming back to Venezuela after living in beautiful Australia was not an easy task, and I never imagined it would be harder than doing my PhD! I was not prepared to see the levels of poverty and hunger, due to the economical and humanitarian crisis that my country is facing since I left 4 years ago" says Adriana.
However, her PhD training gave her tools to see problems from a different perspective and seek for solutions. Seeing the circumstances of her country, she decided to do something about it. This prompted her to apply to the second edition of the Homeward Bound Leadership Training Program. She was selected, being the first Venezuelan to join the international team of 78 researchers and the only representative of the Caribbean Region, an area of great importance for its fishing resources and coral reef ecosystems.
Homeward Bound is a program that uses creative approaches to train professional women who investigate the causes and consequences of climate change. The objective of the Program is to give researchers, with leadership potential, innovative tools with which they can influence the design of policies and actions for a sustainable management of our natural resources.
For one year, the Program will provide individual coaching, leadership training and the development of various projects related to the effects of climate change. At the end of this training phase, all participants will meet on a 3-week Antarctic expedition under the guidance of a group of experts in strategic planning and climate change communication.
Participating in this Program is important for Adriana because it will allow her to collaborate with world leaders in environmental conservation on projects focused on reducing the effects of human activities on climate change. The Program covers 60% of the cost of her participation, and she needs to raise the remaining funds (US$ 16,000). Raising funds from within Venezuela is a real challenge, since the currency exchange control established in 2003 by the government seriously limits Venezuelans to obtain any kind of foreign currency.
You can help Adriana by donating to her campaign https://www.chuffed.org/project/adrianahumanes and by following her on social media Facebook: Adriana Humanes, Twitter: @adriana_humanes, Instagram: @adrihumanes