Guide To Aquarium Glass Cleaning
A vibrant clean reef aquarium is probably what attracted most of us to this hobby in one way or another. The high-powered lighting demanded by the corals we keep, are also perfect for producing many types of algae on every viewing surface of an aquarium, obscuring our view and requiring our attention on a regular basis.
The purpose of this beginner's guide to aquarium glass cleaning is to identify easily available tools used in cleaning aquariums made of glass or acrylic. We would also like to share with you a few techniques to effectively remove unwanted algae through routine maintenance.
The first step is to determine which material your aquarium is made of, glass or acrylic, and then only use tools that are intended for that surface. We have found some equipment used to clean a glass aquarium could quickly scratch or damage the softer surface of an acrylic aquarium.
The Bucket List
When it comes to aquarium cleaning tools, there are many brands to choose from, but the Kent Marine Pro Scraper should honestly be the opening tool to any fish keeper's arsenal. The Pro Scraper comes with different detachable scraping blade tips, the plastic tip version is acrylic safe and the stainless-steel tip is perfect for glass.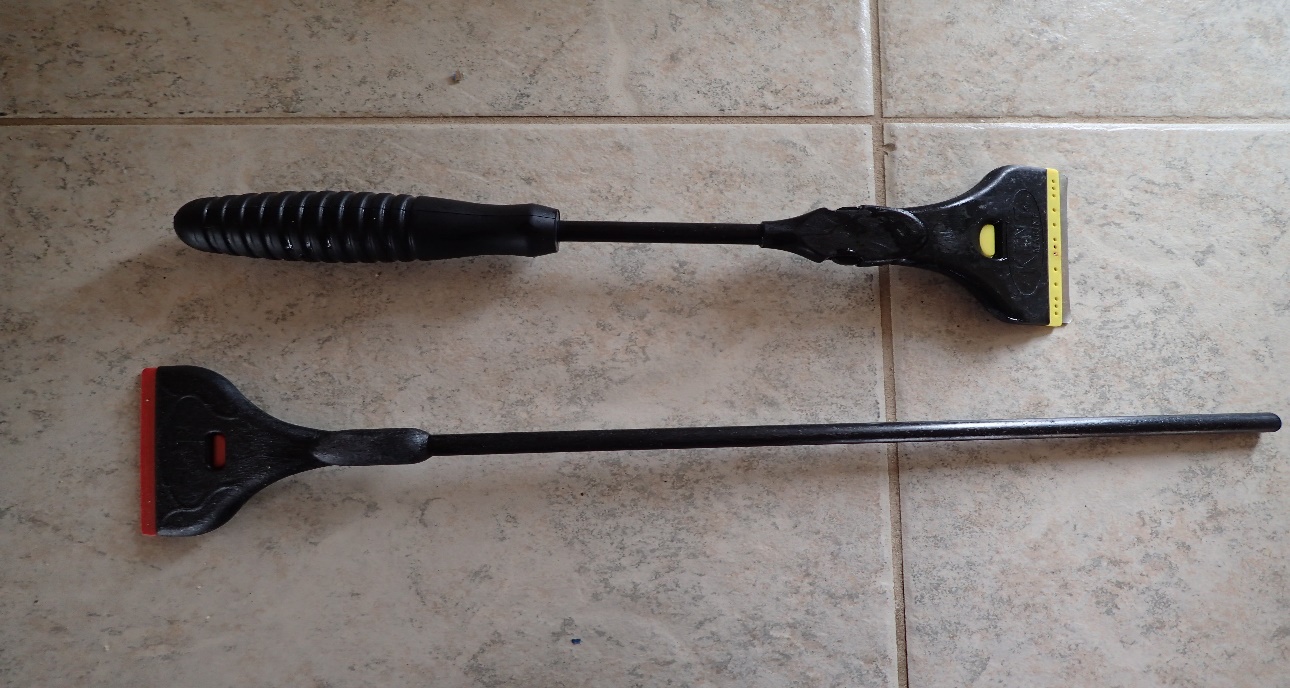 The scraping blades are exceptionally useful in cleaning algae, especially in tighter spaces or the corners of aquariums, near or below the sand line, as well as scouring away other stubborn forms of algae that other tools cannot easily remove. The handle is available in many different lengths ranging from palm-sized to 36 inches making this a universal tool for nearly any size aquarium.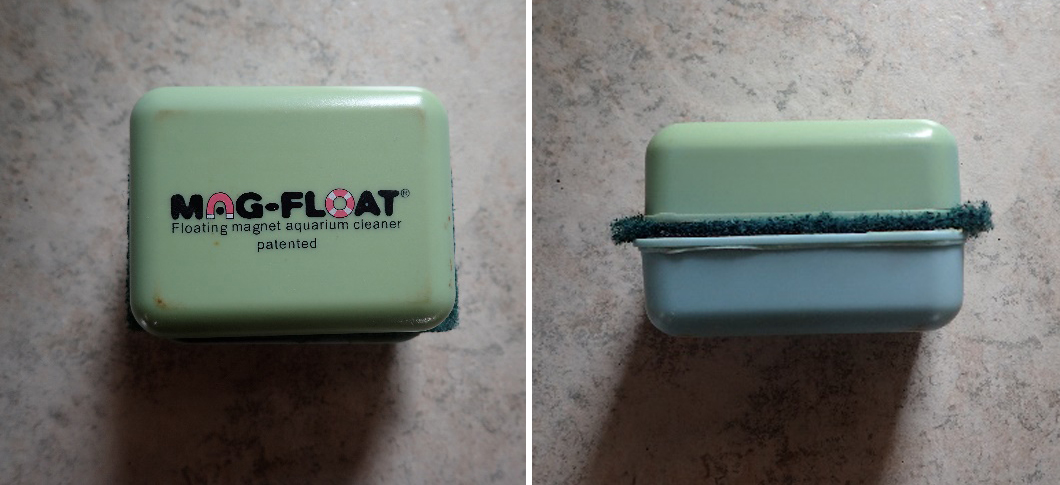 The next tool needed would be a magnetic cleaning tool, like this Mag-Float produced by Gulfstream Tropical Aquarium. These cool little cleaners will keep your hands dry while you clean the bulk of your aquariums viewing windows from the outside.
The floating side of the magnet has a scrubbing pad that cleans the algae inside the aquarium, while the outer magnet is slid along horizontally by hand, dragging and driving the inner magnet. It is a good idea to know how thick your aquarium's 'glass' is as magnetic tools are rated to grip up to a specific thickness. The magnets and scrubbing pads are available in both glass and acrylic safe versions.
Caution should always be used when working with magnetic tools:
Never put your hand, fingers, toes or other valued objects between the two magnets, this should be pretty obvious.

Always check the scrubbing pad and both magnets prior to use for any sand or particles that can potentially scratch or damage the aquarium.

Be careful not to pick up any sand with the magnet while cleaning, especially near the bottom of the aquarium.

Always lay the scrubbing pad face up to prevent any debris from being picked up while transferring to and from the aquarium.

We suggest removing the magnet while not in use to prevent any accidents from occurring.

Watch out for snails!
Scrubbing pads and Melamine foam erasers are useful as both a hand tool for scrubbing and wiping and can be used in conjunction with a magnet cleaner. The scrub pads are available in glass or acrylic safe versions and the foam eraser is safe for both materials.

We use the Pro Scraper and the Mag-Float together to clean our aquariums. The scraper is used for low sand line applications, the tight corner areas, and high above the water line. Then, we use the magnetic tool to easily clean the bulk of the middle zone of the aquarium without having to go near the sand with the magnetic tool.
A Moment of Clarity
Now that the inside of your aquarium is sparkling, let's turn our focus to the outside panels and what we can do to improve their appearance. The residual water drops and salt creep trailing down the glass are common culprits that disfigure the otherwise beautiful work already performed.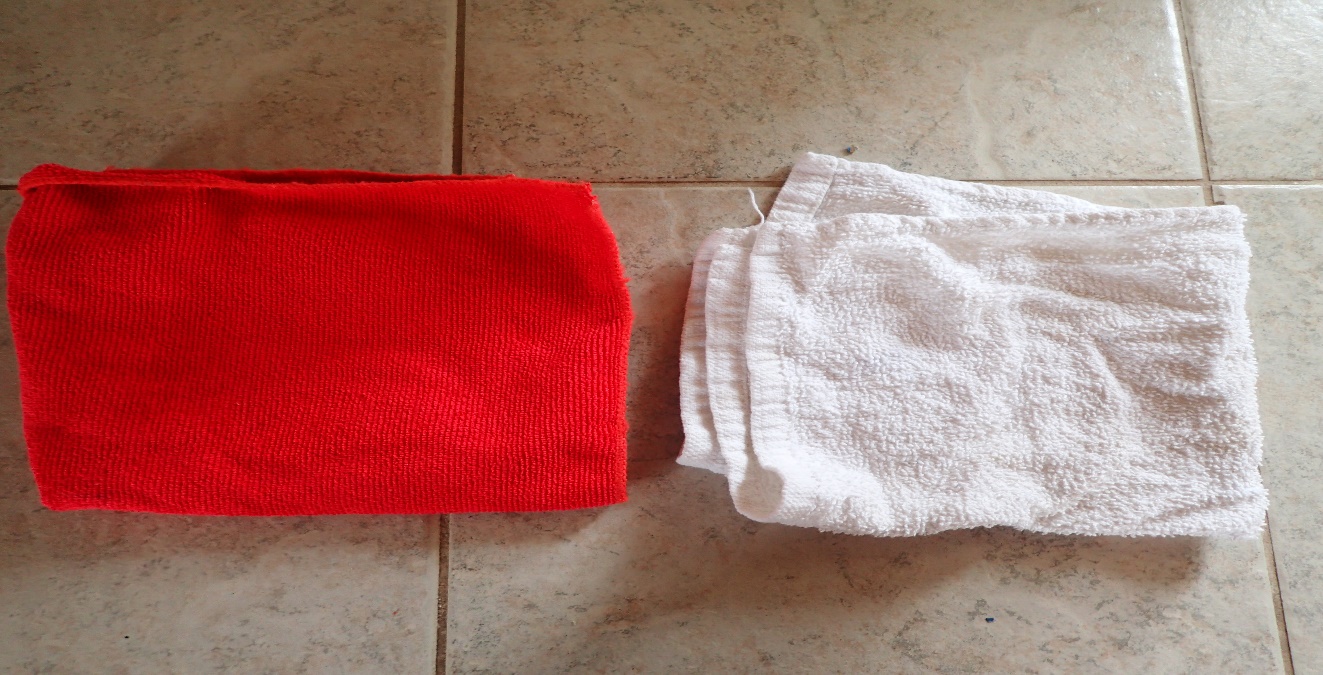 A cotton towel can quickly absorb any remaining wetness from water splashes or droplets as well as to remove dust from aquarium equipment. A micro-fiber is a great polishing towel that can help in getting that streak free finish. Use an aquarium specific polish to clean the exterior panels for both glass and acrylic aquariums.
This routine should be repeated as often as algae returns, an organized maintenance schedule will reduce the buildup of algae growth and the time it takes to complete a cleaning. The tools and techniques all take some practice, but they are generally easy to acquire either online or from your local fish store (LFS), and tell them we sent you.