Scuba Diving In Malta
By: Jeroen Den Burger
In 2015 me and my dive buddy Dirck traveled to Spain to dive at the Medes Islands. It was our first dive trip of our affordable diving project and as you can read about our trip to Medes here, it was a great success. Of course, we also would like to dive the Maldives, Soccoro, Raja Ampat, South Africa etc. but our wallet doesn't let us do this all the time. It doesn't mean we removed these locations from our wishlist though…
Anyhow, we decided to go to Malta in 2016, because it perfectly fits our demands. It is within 6 hours flying, it is a high ranked dive location and it is affordable. After all the great stories about the Medes Islands our friend Luka also got enthusiastic, so the three of us booked a ticket to Malta. We flew with Air Malta from Schiphol Airport, which was the best the deal we could find.


The tickets cost us 150 euro and included 20 kg luggage. We chose to dive with Go Dive Malta (based at Mellieha) because they had a great offer for the diving and accommodation, furthermore, they had great reviews on the internet. The package included 5 dives and 4 nights at the four star Pergola Hotel.
Because the Go Dive Malta dive center is located in the Pergola Hotel it was very easy to get there in the morning, and easy is also an important part of our short dive trips. The whole package cost us around 300 euros, so very affordable!
Upon arrival we checked in and went to the dive center where we met Lindsay and Kevin (who really looks like Tom Hanks by the way, there is a great story in that fact, ask them about it!). We shook hands and had a small talk, after that the three of us went upstairs to the swimming pool to enjoy the sun and some Corona's!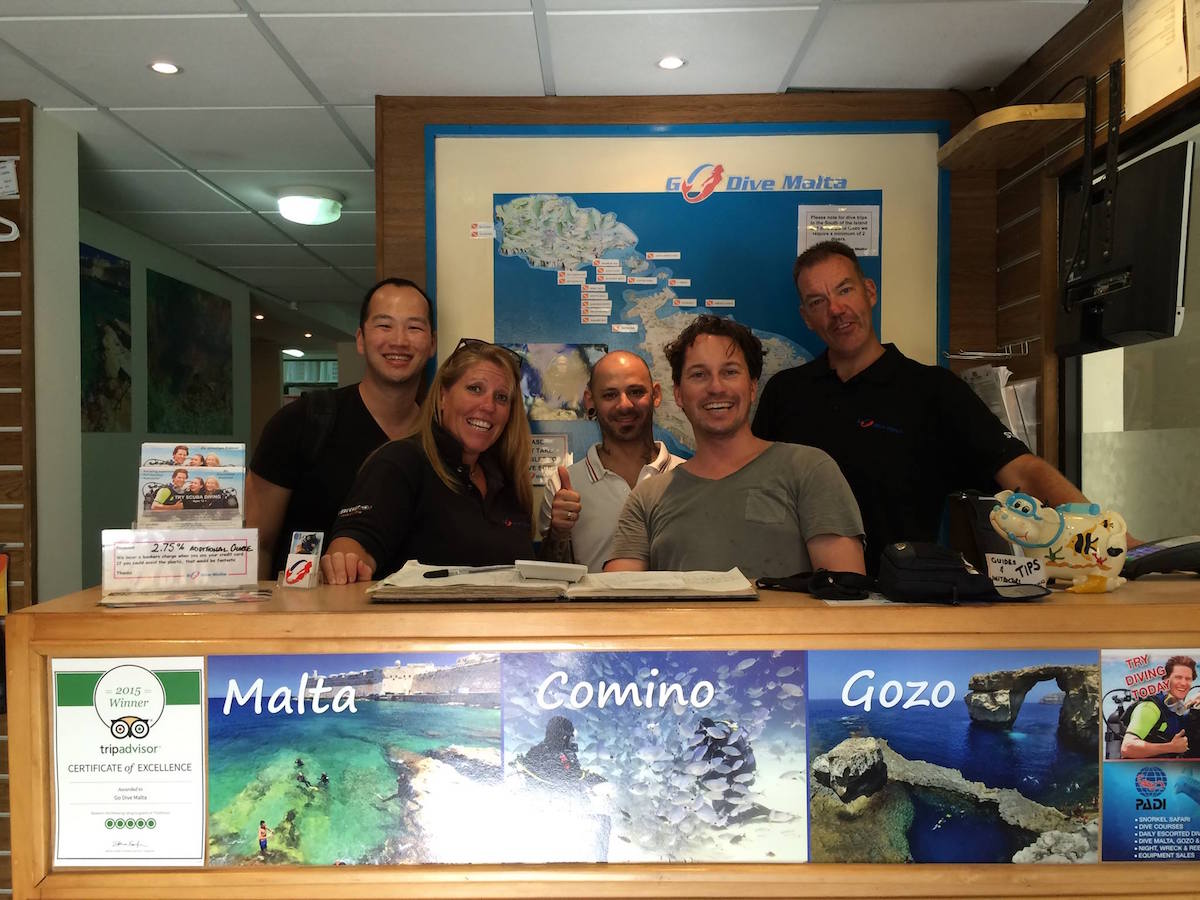 Diving Day 1
The next morning we gathered with the other divers and took off for the first dives. Our first dives were boat dives at Lantern Point and Santa Maria Cave. Although the Meditterranean Sea isn't known for its rich fish population we saw several stonefish, lots of fireworms, some parrotfish and blennies.
The waters around Malta are well known for its beautiful underwater landscapes and the blue color of the water. The scenery underwater is beautiful and when exiting a swim through the bright blue color of the water can be enjoyed at its best! We also have too mention the surface interval, because we stopped at the Blue Lagoon in front of Comino. Look it up, it is one of the best spots to have a surface interval.
After returning to the dive center we went for a quick bite because we had planned a night dive. The night dive was at Cirkewwa, we went there with Kevin and there were no other divers, so we had the whole location for ourselves.
It turned out to be a great dive, we saw several white spotted octopus, lots of baby scorpionfish, a couple of morray eel, lots of slipper lobsters, sea bunnies and a couple of cuttlefish. As you can understand we exited the water very happy and satisfied!
Diving Day 2
The following day we had to get up early because we were going to Gozo to dive at the Blue Hole & Azure Window and the Inland Sea. Although we had to get up early and it is not very easy to get to the Blue Hole when fully packed it is well worth the effort. Underwater you will experience a beautiful landscape of big rocks and swim throughs.
Furthermore entering and exiting through the Blue Hole is very nice experience. Unfortunately, a little while ago the Azure Window collapsed during a heavy storm. After the surface interval we went to the Inland Sea, which is nearby the Blue Hole. This was probably the most special dive of this trip.


The Inland Sea is formed by seawater flowing in through a crack in the embankment, when diving the Inland Sea you will swim through this crack entering the open sea. Although there is very little fish to see, you will constantly see the bright blue color of the water at the end of the crack. When exiting it feels like you are flying! It really is a great experience.
After returning to the dive center we went for a bite and met up with Lindsay, Kevin, James (one of the dive guides) and a couple of other divers. With a couple of beers we concluded two days of relaxed diving with Go Dive Malta. There wasn't a better way to conclude this Malta dive trip!
Interested in more information? Contact us at [email protected] and/or visit the website at www.thedivespotteam.com. On the website you can find information about how to get to dive spots, places where to stay and dive centers to dive with. Most places are visited by one of the divespotteam members, so truly a website by and for scuba divers!