Tela Honduras
Sometimes the best discoveries happen by accident. Finding the ultimate Scolymia habitat in Tela was just that. The day started with a GPS point named Flor, after fishermen often seen floating above the exact same spot in the middle of nowhere.
Bathymetry maps showed a small underwater peak rising from 82 feet to 55 feet depth. We decided to start our first of two dive on this unknown spot, ready to see what the adventure holds.
We suited up, jumped into the blue, and started to descend. The visibility was 30 feet or less so it took a few breaths before the bottom came into view. Aside from a few freediving fishermen, it is likely no one had even laid eye on this reef.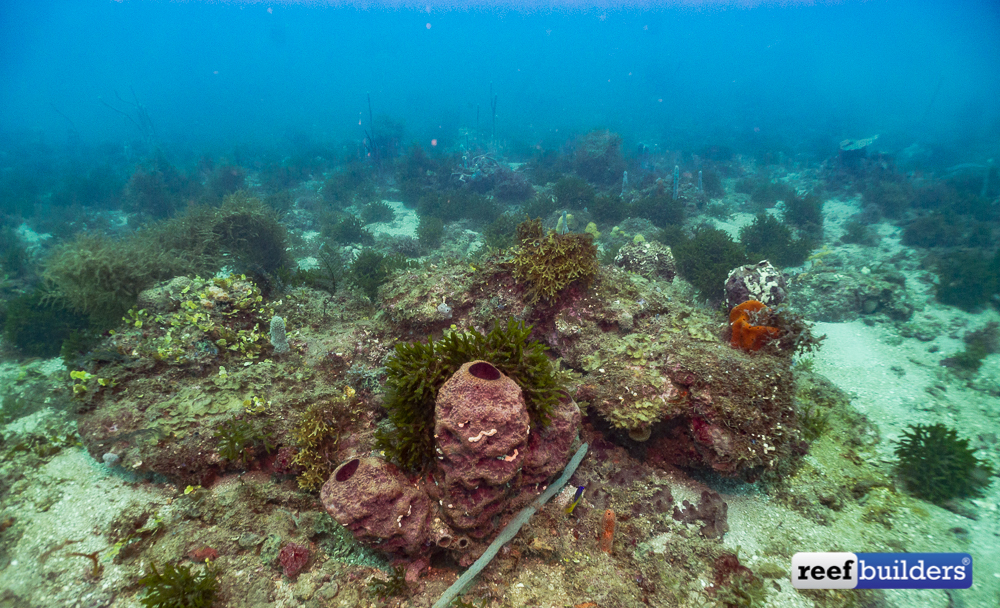 As we approached you could see the landscape was different. No mountains of Agaricia, and few stony corals to be found. This reef lacked the structural complexity found at shallower sites and the habitat was mostly seaweeds, sponges, and muck.
The typical reef profile in Tela begins with ridges covered in stony corals and sea fans with channels run between the ridges from 45 to 60 feet deep. But this reef was deeper and a little darker and further west than the main reef.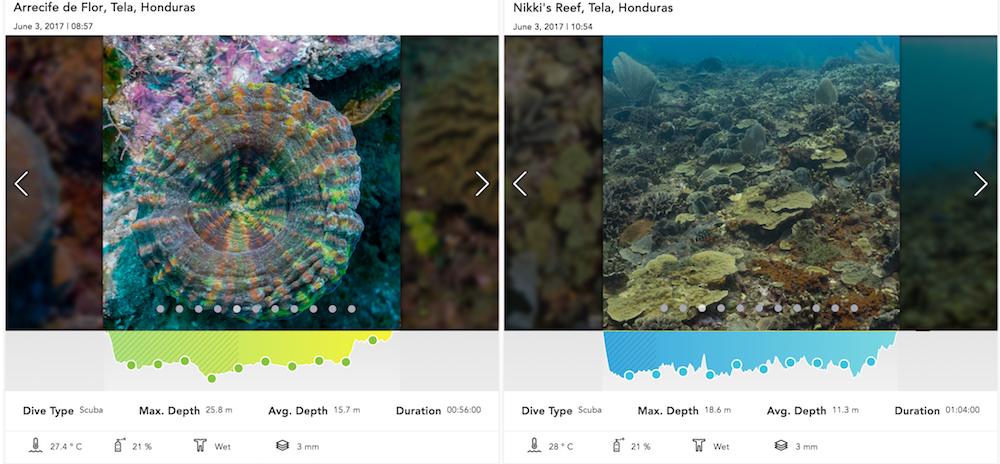 We started to look around and explore the area. Within two minutes we found our first gem. A small golden striped Scolymia, 2 inches across. This was a promising start.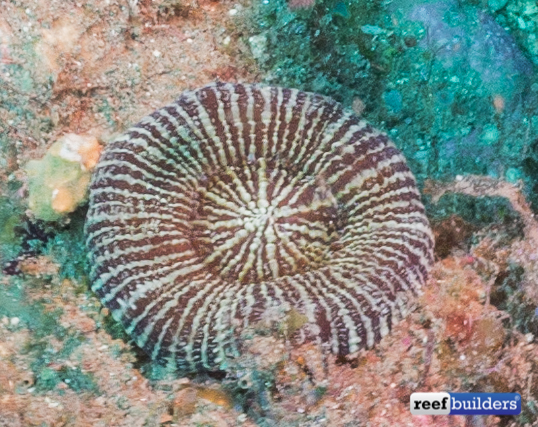 Swimming a little deeper we found more sponges, gorgonians, and some reef fish.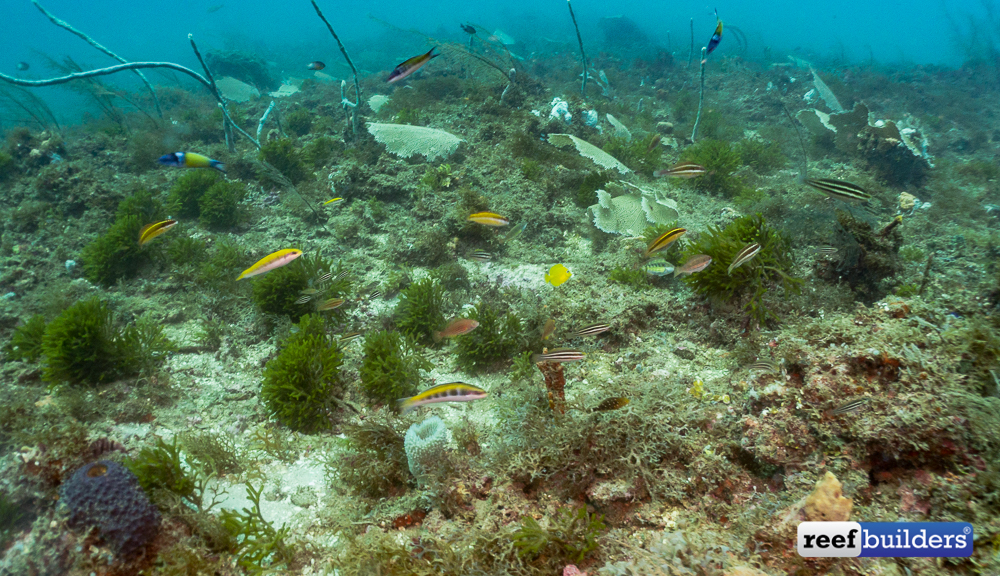 And then we saw it, a bright candy cane scoly at least 4 inches across. This was a sign of things to come, two smaller Scolymia clinging to a rock at 70 feet followed by another larger brighter piece.
It was interesting to find both species of Caribbean Scolymia on this reef. Scolymia cubensis the smaller of the two species has a lower profile and often found on the side of rocks. It looks to have a smoother texture around the exterior of the disk.
Scolymia lacera is the bigger flashier coral with visible skeletal teeth around the edge of the coral. These corals sit higher off the rocks and are attached by a single point from the bottom of the coral.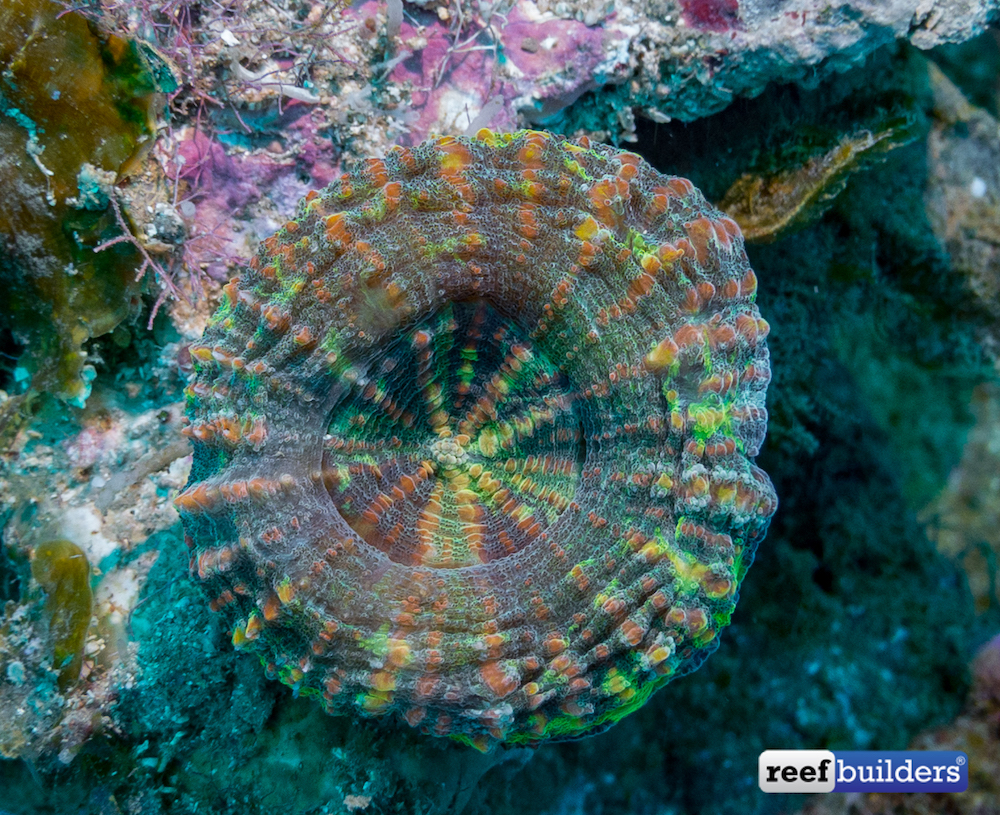 Out on the rocky reef, it is uncommon to find Scolymia unless you swim over the reef wall and head down past 60 feet. This is the only other place we've found this flowering single polyp coral in Tela.
We named the Scolymia dive Arrecife de Flor, which translated from Spanish means, Flower Reef. We found the name quite fitting for this Scolymia paradise.