The Butterfly Effect
We have always been told a swift "NO" on keeping most butterflyfish species in reef aquariums and it constantly reminds us of an old Mark Twain quote: "There is a charm about the forbidden that makes it unspeakably desirable."
The Ornate Butterflyfish (Chaetodon ornatissimus) is an extremely beautiful and colorful fish. The fishes within the genus Chaetodon include some of the most intriguing color patterns found throughout the oceans.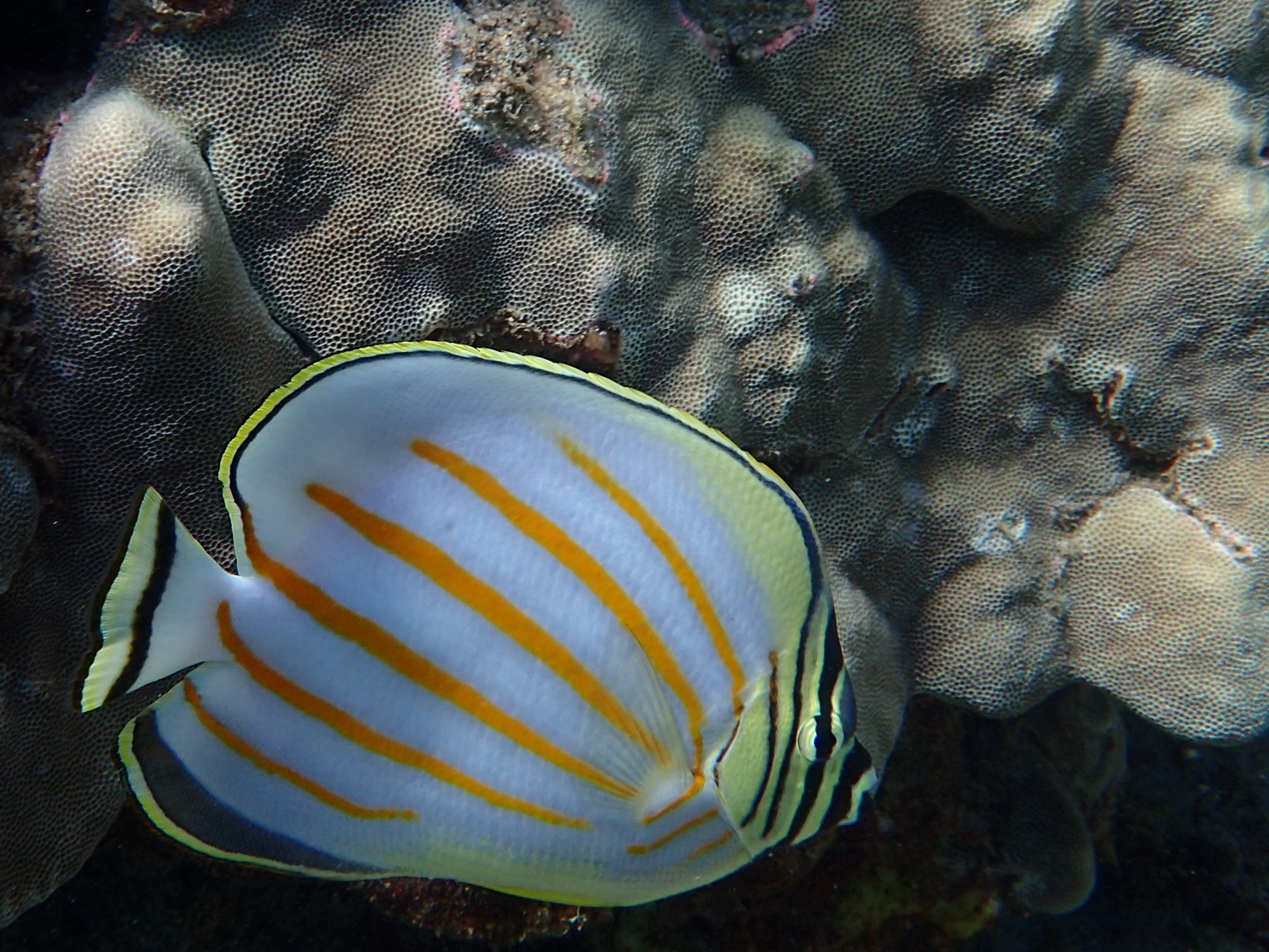 Ornate Butterflyfish (Chaetodon ornatissimus)
While many other fishes evolved to camouflage themselves in their environment, disguising their appearance to blend in better for survival, butterflyfishes have gone in the exact opposite direction, with bright colors and bold patterns.
Ornate Butterflyfish really live up to their name, with gorgeous orange bands extending over the length of the light blue body. Two yellow edged black bars are on the face; one over the snout and one running through the eye.
These beautiful Ornate Butterflyfishes are wide spread throughout the tropical Pacific. The young juveniles tend to stay in small groupings, while adults tend to pair or are often found singly on the reefs. They will tolerate other butterflyfish species, but those of the same species will be chased away from a territory.
SPS on the Menu?
Undoubtedly, there are a few reef keepers out there scratching their heads at this article on a coral eating butterflyfish. However, these fish do play a part in the reef ecosystem, and we know little about this role due to difficulty of keeping one in an aquarium long-term.
Studies in Hawaii have shown that the Ornate Butterflyfish feed on the broadest range of corals when compared against five other coral-eating butterflyfish species. It was noted they fed on ten coral species and had very little preference between species consumed.
Their extravagant beauty does come at a steep price, as many species of Butterflyfishes are not suitable for aquariums. The main reason is due to these fish being obligate corallivores, meaning that in order to survive, the majority of their diet must be made up of coral polyps.
The genus name of these butterflyfish Chaetodon is interesting and is based in Greek; Chaet meaning 'hair' and odon meaning 'teeth'. We can then picture these fine comb-like teeth of the butterflyfishes perusing the reef tops for food.
The Ornate Butterflyfish feed by scraping the coral, dislodging polyps with each pass of their mouth. These fish have been documented eating large amounts of coral mucus as well and yet they seem to do no noteworthy harm to wild reefs.
This could be in part due to the large territories they roam and maintain daily. A nip of one coral here and one there, then moving on seems to be a strategy these butterflyfish have seemingly mastered.
In reality keeping an Ornate Butterflyfish would require a massive reef aquarium with endless coral growth for this butterflyfish to casually graze upon. An aquarium overtaken and overgrown with Pocillopora species could make keeping these fish a possibility for an ambitious aquarist one day.
For the meantime, we can just enjoy these attractive Ornate Butterflyfish on tropical dive and snorkeling trips throughout the Pacific. There we can observe their inquisitive behaviors and decorative colorations with our own curiosity.