For a saltwater tank, salinity is quite literally the most important measurement we can make, yet the entire hobby basically treats salinity as an afterthought. Since a proper salinity measurement can give you a basic overview of all of the elements in your aquarium's seawater, getting an accurate and precise measurement of salinity is the first step is getting good chemical balance in a reef tank.
The hobby has made some baby steps towards improving its understanding of seawater, salinity, and its measurement through better refractometers, both analog and digital. No matter what kind of measuring device you are using, it's paramount to have a good seawater standard to double check your measurements.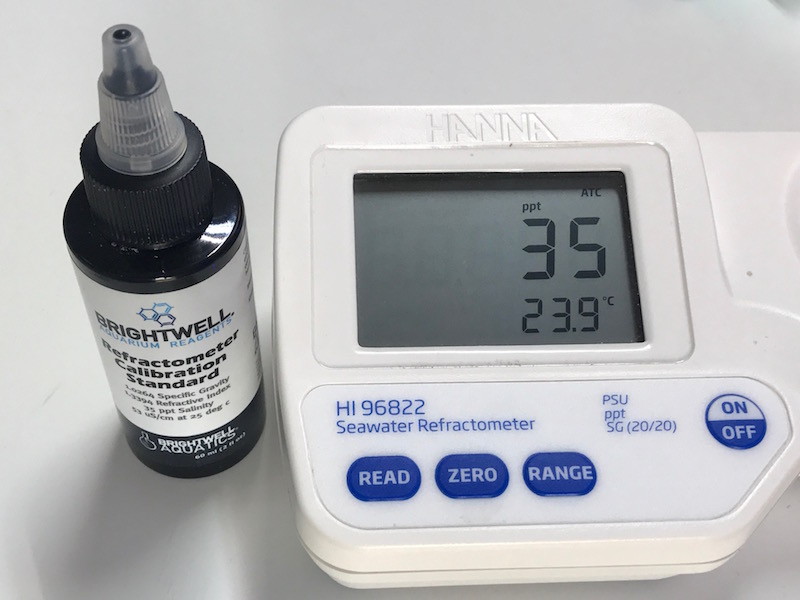 Heck, with a standard to use for calibration you could theoretically use a floating banana to measure salinity, but we definitely recommend the refractometers made for saltwater aquarium use. As important as seawater references and calibration standards are, it's only recently that we're seeing companies offer these solutions to ensure that we're all hitting a properly salinity level.
Brightwell Aquatic's Refractometer & Hydrometer Calibration Standard is very specific, with a target 35ppt for salinity and even a target specific gravity of 1.0264 at 25C. The Brightwell Calibation Standard is available in a regular 250 ml bottle, as well as a smaller 60ml size with a very handy applicator tip that makes it super simple to dial in whatever salinity measuring tool you happen to be using. A calibration standard is a must-have to ensure you are hitting the target level for the most crucial measurement you can make in a saltwater aquarium, the salinity.